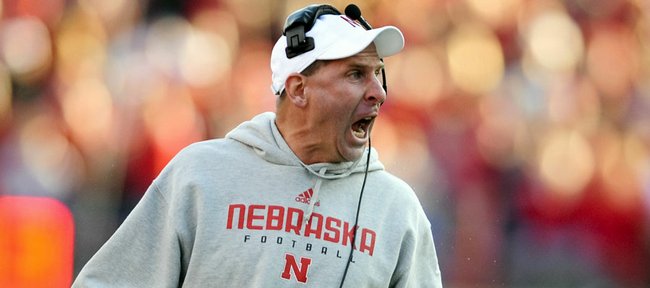 Lincoln, Neb. — No one told Bo Pelini that rebuilding Nebraska would be easy.
In the middle of his second season leading the Cornhuskers, Pelini finds himself dealing with a quarterback controversy, his own volatile temper and an image problem.
Things started so well, too. Nebraska, 5-7 in 2007, won six of its last seven games last year to finish 9-4 and rose to No. 15 in the AP Top 25 after winning four of five to start this season.
But the last two games have seen the offense scuffle along for all but the fourth quarter in a 27-12 road win at Missouri and for all 60 minutes in last week's 31-10 home loss to Texas Tech.
Now the Huskers (4-2, 1-1 Big 12) are back on the outside looking in at the national polls. And the quarterback competition has been reopened, with Zac Lee fighting for his job against fan favorite Cody Green.
A decision isn't expected until shortly before Saturday's game against Iowa State (4-3, 1-2).
Pelini calls it a rough patch, one the Huskers will get through. Yet he is being taken to task by fans and media for sparring with officials and bullying reporters in post-game interview sessions.
Pelini harangued officials throughout the Texas Tech game over calls. It wasn't as extreme as last year's meltdowns — his tirades in the Oklahoma game were made into a YouTube favorite — but they certainly drew unwanted attention for a Tom Osborne-led athletic department that prides itself on doing the right thing and doing it calmly.
"You know what the interesting thing is, I think this year I've been pretty tame with the officials," Pelini said Tuesday. "I've been making a pretty conscious effort of that. Sometimes you find yourself in a situation where there's only so much you can stand, and I found myself in that situation the other day. You have to continually work at it."
Nose tackle Ndamukong Suh said Pelini's sparring with officials doesn't affect the players.
"I think the coaches do what they have to do," he said. "I'm always behind their back because it's in our best interest. Whatever they say or do with the officials, that's between them."
Reporters also have drawn Pelini's ire. After losses to Virginia Tech and Missouri, he shot back when asked to explain his team's breakdowns: "You watched the game. What do you think?"
Pelini also was annoyed when questioned about his handling of the Blackshirt tradition that dates to the 1960s. He told a reporter to "get over it" when asked about handing out the coveted black practice jerseys to the defensive starters.
Columnists for the state's biggest newspapers, the Omaha World-Herald and Lincoln Journal Star, have criticized Pelini for his blowups. "Boorish Bo" appeared over a column that appeared in Tuesday's Omaha paper.
Asked whether he's concerned about how he's perceived by fans and, maybe more important, prospective recruits, Pelini gave a one-word answer.
"No."
After a pause, he added, "I'm never disrespectful. I answer things pretty directly. I'm very black and white."
Meanwhile, Nebraska's passionate fan base is watching every move Pelini and his players make, just as it did when Bob Devaney and Osborne were winning national titles.
The difference now is that when fans' hackles are raised — and they were at times when Devaney and Osborne coached — vitriol flies at warp speed through cyberspace.
Nebraska's fans long have had a reputation for displaying good sportsmanship and even applauding opposing teams as they entered and left the field. But that's when things are going well.
Boos became more prevalent at Memorial Stadium during the Bill Callahan era that preceded Pelini's hiring, and Lee was hit by a loud chorus of them in the fourth quarter against Texas Tech.
"He feels the whole state of Nebraska is against him," Pelini said.
Green said he and Lee sometimes commiserate about the intense scrutiny.
"Zac and I joke around that if (fans) could be in our locker room, people would pay millions and millions of dollars just to sit in there and listen to what we talk about," Green said. "It really is a fishbowl. It's something you have to deal with here."
More like this story on KUsports.com