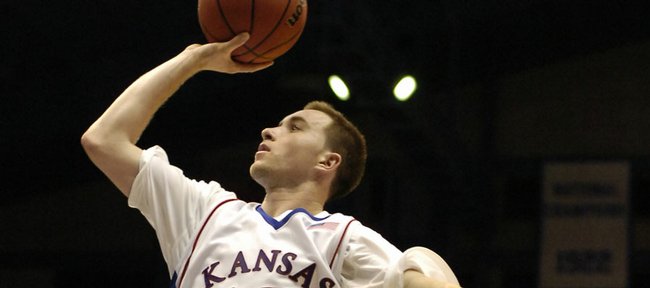 Douglas County prosecutors have granted a diversion to Kansas University basketball player Brady Morningstar, who was arrested and charged for driving under the influence on Oct. 3, court records said.
Morningstar, 23, was fined $500 as part of the diversion agreement in the case, which also included charges of speeding and failing to keep his car in a single lane.
A Kansas Highway Patrol trooper said Morningstar was driving 78 mph in a 70 mph speed zone and weaving out of his lane of traffic multiple times. Reports indicate that he had nearly twice the legal limit of alcohol in his system when he was pulled over at 3:25 a.m. on the Kansas Turnpike, just east of Lawrence.
As a part of his diversion agreement, Morningstar must:
• refrain from using drugs or alcohol while on diversion;
• complete an alcohol treatment program;
• take drug and alcohol tests when requested;
• and not drive if his driver's license is suspended or restricted, though Morningstar's license is presently valid, according to a Kansas Department of Revenue record.
In addition to the fine, Morningstar paid $150 for an alcohol assessment, a $150 diversion fee and $148 in court fees.
Because of the diversion agreement with Douglas County District Attorney Charles Branson's office, the basketball guard will not make an appearance in district court.
Morningstar, who admitted to driving after drinking and violating team curfew, has been suspended from games on the basketball court and is banned from competition during the first semester.