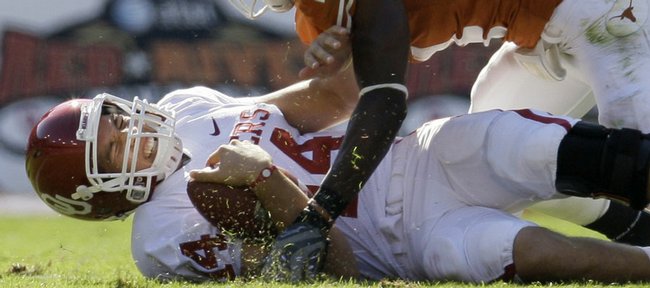 Norman, Okla. — Heisman Trophy winner Sam Bradford has been ruled out of No. 25 Oklahoma's game this week at 24th-ranked Kansas, but coach Bob Stoops says any decision beyond that is yet to come.
"I think the fair thing to say is right now, he's not going to play this week," Stoops said Monday night after the Sooners' practice. "I just assumed everyone understood that. From there, the path hasn't been determined yet."
Bradford re-injured his right shoulder on Oklahoma's second possession during a 16-13 loss to No. 3 Texas on Saturday. The quarterback had previously been out a month with a sprain of the AC joint in his right, throwing shoulder.
Stoops said Bradford would be visiting with doctors and his family over the next few days, and he didn't expect to have an update on Bradford until at least Wednesday or Thursday.
Bradford had been projected as an early NFL draft pick, but decided instead to return for his junior season with the Sooners. He was injured just before halftime against BYU and missed Oklahoma's next three games before returning to throw for 389 yards against Baylor.
He was hurt again when Texas cornerback Aaron Williams sacked him in the first quarter Saturday.
"We'll see what the path is, what everyone determines is best for him — what he and doctors and everyone else feel is the road to take," Stoops said.
Bradford said after the game that he wouldn't make any decisions about whether his college career was over until after the season. He was not available for interviews after practice Monday.
Stoops said his only advice to Bradford was that he do whatever is best for his future.
"He understands that I'm for him, and he's been told that," Stoops said. "I'm for whatever he feels. We're behind him 100 percent, whatever he feels is best for him. But he's the guy that can answer that."
Stoops also said that starting left guard Brian Simmons will be "out for several weeks" with a right knee injury that forced him to miss the Texas game and it's uncertain if he'll return this season.
"We'll see," Stoops said. "That's down the road."
More like this story on KUsports.com