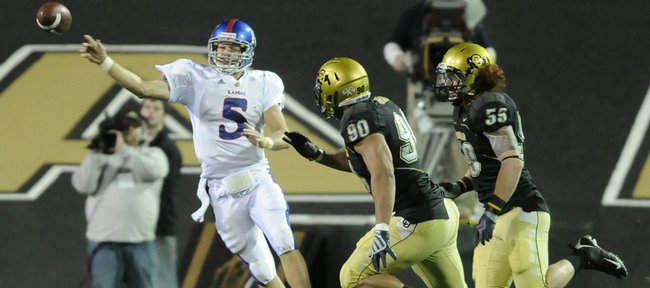 The Kansas football team fell six spots to 21st in the USA Today coaches poll and seven places to No. 24 in the Associated Press poll. Both rankings were released Sunday.
The Jayhawks fell in the polls after suffering their first loss of the season — a 34-30 setback to Colorado — on Saturday in Boulder, Colo.
KU is the only Big 12 North team that remains in the top 25. Other Big 12 teams in the polls include Texas (No. 3 AP, No. 3 coaches), Oklahoma State (14, 12), Texas Tech (21, 24) and Oklahoma (25, NR). Big 12 teams receiving votes were Nebraska and Missouri in the AP and Oklahoma, Nebraska and Missouri in the USA Today coaches poll.
KU's game against OU on Saturday will be the sixth time in the last three seasons that the Jayhawks have played a game that has featured two teams ranked in the AP poll.
Click here to see how Journal-World sports editor Tom Keegan voted in the AP poll.
The full rankings are below.
AP Top 25
Alabama (39)
Florida (20)
Texas
USC
Cincinnati

Boise State
Iowa
Miami (FL)

LSU
TCU
Georgia Tech
Oregon
Penn State

Oklahoma State

Virginia Tech

Brigham Young

Houston
Ohio State

Utah
Pittsburgh
Texas Tech

West Virginia
South Carolina
Kansas
Oklahoma
Others receiving votes: Notre Dame 61, Mississippi 59, South Florida 57, Nebraska 52, Michigan 41, Central Michigan 39, Arizona 25, California 9, Arkansas 8, Oregon State 5, Missouri 4, Navy 4, Wisconsin 4, Idaho 4, Auburn 3, Boston College 3.
USA Today coaches poll
Florida (49)
Alabama (9)
Texas (1)

USC
Boise State
Cincinnati

TCU
Iowa
Miami (FL)
LSU
Penn State
Oklahoma State

Georgia Tech
Oregon

Virginia Tech
Brigham Young

Ohio State (tie for 17th)

Houston (tie for 17th)
Pittsburgh

Utah
Kansas
West Virginia
South Carolina

Texas Tech
Mississippi
Others receiving votes: Oklahoma 113, South Florida 104, Nebraska 84, Central Michigan 34, Notre Dame 31, Boston College 26, Wisconsin 26, Arkansas 19, Michigan 13, Georgia 12, Missouri 11, Oregon State 10, Idaho 8, Auburn 8, California 7, Arizona 7, Michigan State 5, North Carolina 1, Rutgers 1.
More like this story on KUsports.com