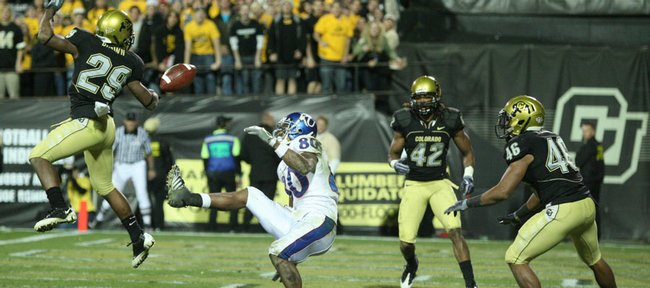 FINAL: CU defeats KU, 34-30
On third-and-2, Hansen completes a pass to McKnight for seven yards and a crucial first down.
KU's defense gives its offense one last chance, though. On third-and-7, tackling Hansen short of the first down.
Daymond Patterson makes a crucial error on the punt return, going backwards seven yards and more importantly, costing the Jayhawks valuable time. Reesing will have 59 seconds to take the Jayhawks the length of the field.
Reesing fumbles after getting sacked, but Sharp scoops it up and runs for seven yards. Following an incompletion, Reesing slings the ball over the middle to Briscoe, who is tackled at the 50.
Meier catches a ball on the sideline for seven yards, and Briscoe catches a jump ball over the middle for 24 yards.
After a spike, KU has seven seconds left with the ball on the CU 19. Reesing's pass to Meier at the goal line is batted away at the last second. On the final play with three seconds left, Reesing lofts a ball in the end zone for Briscoe, but the ball bounces off his hands and falls incomplete. It would have been a tough catch, but Briscoe did get his hands on it. The junior stayed on the turf with his hands on his helmet for a long time after not coming up with the catch.
The CU students immediately rush the field following the upset. KU loses its first game of the season.
CU 34/KU 30 — 4:14 left in 4th quarter
Reesing knew he was going to get leveled, but he still delivered a strike to Briscoe over the middle for 15 yards. Tack on 15 more with a roughing-the-passer penalty, and KU is already at midfield.
Reesing does his patented spin out of the pocket to buy more time, then finds a cutting Wilson for 15 more yards.
The Jayhawks are fortunate to keep the ball, as Reesing floated a pass that was nearly intercepted. The next play, when trying to dance out of trouble, Reesing is swallowed for a 14-yard loss on a sack. After a delay-of-game, KU faces an near-impossible third-and-29.
But then Reesing and Briscoe make the biggest play of the season. Reesing rolls to his right to buy time, then throws up a jump ball for Briscoe. The junior skies above the defenders for a 41-yard catch.
Reesing appears to give KU the lead with a four-yard TD pass to Meier, but KU is flagged for an offensive pass interference penalty. That's a huge call to go against KU.
Reesing scrambles for 15 yards up the middle to make third and fourth downs manageable from the CU 6. A third-down pass to Meier is incomplete, though, and Briscoe is jarred from a pass in the end zone on fourth down. CU takes over deep in its own territory.
CU 34/KU 30 — 8:36 left in 4th quarter
CU converts on a third-and-three, as Geer makes a great hands catch over the middle. Even worse for KU, the Jayhawks are whistled for a roughing-the-passer penalty that moves the Buffs to the KU 25.
KU forces CU into a third-and-2, but Hansen lowers his head and bulls over a KU defender to pick up the extra yard he needed for the first down. KU's defense looks tired.
The next play, Stewart bounces off KU defenders and falls into the end zone, going 13 yards for the score. KU will need one more comeback to win the game.
KU 30/CU 27 — 10:33 left in 4th quarter
Another false-start for CU. Those are coming back to haunt them at the worst possible times.
Hansen is looking like Houdini in the pocket, somehow sidestepping and sliding his way away from pressure. On third-and-15, he eludes two KU rushers and finds Geer over the middle for 28 yards. That was a Reesing-like play there by Hansen, who truly made a big play out of nothing.
CU takes its third and final timeout. Coach Hawkins might regret later that he challenged a play early in the second half.
KU 30/CU 27 — 13:02 left in 4th quarter
KU finds a way to get Sharp involved in the passing game, as he catches a pass out of the backfield and steps through a tackle, gaining 20 down the right sideline.
Following a six-yard run by Sharp, the Jayhawks freeze the coverage with a play-action pass, and Reesing finds Briscoe in the end zone for a 25-yard score. Briscoe had his man beat by a step, and Reesing delivered the ball in the perfect spot (high) so that Briscoe could come down with it.
And after trailing by as many as 21 early, KU has somehow regained the lead with lots of time still left.
CU 27/KU 23 — 14:43 left in 4th quarter
KU catches a huge break from CU on third-and-5. Hansen danced around to buy tons of time, and he delivered a pass on the hands of a wide-open Demetrius Sumler, who had lots of empty space in front of him. Sumler couldn't bring in the throw, though, juggling away the Buffs' chance at a big play.
CU's three-and-out means another punt, and KU will start at its own 42 with a chance to take its first lead since 3-0.
CU 27/KU 23 — 1:15 left in 3rd quarter
Branstetter with another huge tackle on a kickoff return. Scott even cringed before he was hit knowing that the kicker was going to deliver a blow. Again, Branstetter saves a TD.
KU's defense comes through again with another turnover. Arist Wright sacks and strips Hansen, and Ryan Murphy recovers the fumble at the CU 24.
The Jayhawks' offense is still out of sync, though. Sharp's rush goes for no gain. Reesing overthrows Wilson when Meier was wide-open in the flat. A screen to Briscoe is snuffed out by CU, and the receiver is tackled for a two-yard loss.
KU creeps closer, though, as Branstetter wraps up his team's special teams player of the week award with a 42-yard field goal. The longest three field goals of his career have come in this game.
CU 27/KU 20 — 3:32 left in 3rd quarter
KU's defense comes up with a big turnover, as Jeff Wheeler strips Scott of the ball on a run play and Richard Johnson Jr. recovers. KU takes over at the CU 41.
The offense squanders can't take advantage of the opportunity, though. A deep second-down pass to Briscoe is overthrown, and Briscoe can't hold on to a third-down pass over the middle.
KU's special teams come up with the next big play, though, as a fake punt is executed to perfection. Rojas rolled to the right like he was rugby-styling his punt, and instead he dumped it off to tight end Tim Biere for 16 yards and a fresh set of downs.
Once again, KU's offense can't get anything going. Reesing is sacked on third-and-3, but Branstetter comes through with a new career-long field goal of 42 yards to bring KU back to within a score.
CU 27/KU 17 — 7:24 left in 3rd quarter
This is why KU is never out of a game. Reesing gets pressure from his blind side but still finds Wilson on the sideline for 11 yards. The next play, he hits Meier for 13 over the middle.
Then, he circles around to buy time and throws a perfect strike to a sprinting Briscoe for 26 more yards.
The QB hurts his team with a poor decision, though, throwing the ball at his offensive linemen's feet when getting pressured. The result is an intentional-grounding penalty, and KU is moved back 10 yards.
Reesing throws a nice touch pass on third-and-20 to Wilson, who gains 19 on the left sideline. KU gets a huge break when CU linebacker B.J. Beatty jumps on top of the KU offensive line before the play for an offsides call and a free KU first down.
What a play call from Ed Warinner, as Reesing throws a backward lateral to Meier, who throws it back to Reesing. The quarterback juked one defender and ran for 14 yards, fully extending before coming up two yards short of the touchdown.
In order to try to set a new NCAA record for reviews, the game is halted for an unnecessary replay review.
Opurum finishes the drive with a two-yard TD run up the middle, and KU's offense is showing the firepower needed to make a comeback.
CU 27/KU 10 — 10:36 left in 3rd quarter
KU's defense holds on a third-and-15, but it's too late to prevent points. Goodman knocks through a 39-yard field goal, and KU is once again down three possessions.
CU 24/KU 10 — 10:40 left in 3rd quarter
Huge, huge hit to start the second half by Branstetter, who flew in put a lick on Darrell Scott. Good thing, too, because Scott might have gone for a touchdown otherwise.
The Buffs are gashing the Jayhawks for big chunks of yardage on the ground to start the second half. Hansen runs for 10, and Stewart follows with rushes of 18 and 10 yards.
Following a Jeff Wheeler sack, Hansen dumps it off on a screen pass to Scott for 19 more yards and a first down inside the 20.
On a side note, we just received a notes package from CU media relations that included this halftime quote from CU coach Dan Hawkins on his defense: "They're just balling out there."
Stats of note
Kansas
• Reesing 13-for-23 passing, 141 yards, TD, INT
• Jake Sharp 10 carries, 15 yards
• KU's team rushing total: 13 carries, negative-one yard
• Kerry Meier 8 catches, 79 yards
• Dezmon Briscoe 0 catches, 0 yards
• Drew Dudley had 12 first-half tackles, and nine of them were unassisted
Colorado
• Tyler Hansen 8-for-14, 97 yards, two combined TDs
• Rodney Stewart 12 rushes, 36 yards
• CU is 4-for-7 on third downs
Some KU notes, courtesy of KU football sports-information director Mike Strauss
• Cornerback D.J. Beshears and defensive end Quinton Woods made their first appearances of the season on KU's defense in the first half.
• Jake Laptad has now recorded a sack in five of his six games played this year.
• Branstetter's 37-yard field goal in the first quarter was his career-long. His previous best was a 34-yarder against Missouri last season.
• Before today, KU had fallen behind five times this season and responded with a game-tying or go-ahead touchdown on the next drive four times. KU fell behind 10-3 in the second quarter today but had to punt on its next possession.
• Meier has caught at least eight passes in each of his last four games.
CU 24/KU 10 — Halftime
KU strings a drive together on offense when it absolutely has to. A shovel pass goes to Jake Sharp for 13 yards. A pass to Briscoe goes for nine yards and another goes to Meier for 13.
Meier makes a spectacular catch over the middle, stealing the ball away from two defenders while spinning off both of them for a 26-yard gain.
With precious few seconds left in the half, KU manages the clock perfectly. A pass over the middle to Meier goes for 15 yards to the CU 4, and Mangino wisely uses the team's final timeout with 15 seconds left to give the team multiple chances at a TD.
Reesing makes it look easy on the next throw, finding a wide-open Meier for a four-yard score with 11 seconds left. Suddenly, KU's deficit looks a bit more manageable.
CU is content to kneel down for the final play of the half, taking a 14-point lead into the break.
CU 24/KU 3 — 2:24 left in 2nd quarter
KU's offense might have won the game last week, but it's in danger of losing this game before halftime.
Reesing leads his receiver too far, and CU's Jalil Brown picks the pass off and returns it down the sideline all the way to the CU 2.
Two plays later, Hansen sneaks in the end zone from a yard out, and KU has dug itself a huge hole.
CU 17/KU 3 — 4:16 left in 2nd quarter
KU's offense doesn't seem to be figuring things out. Briscoe can't come down with a jump-ball attempt on second down. CU brings an all-out blitz on third down, and Reesing throws off his back foot, leading Briscoe too far. Sure, KU's defense hasn't played well, but KU's offense has been worse. The Jayhawks have just two first downs and 50 total yards at this point.
The student section has already started a "Ty-ler Han-sen" chant, and it's just the second quarter.
Hansen does his best Reesing impression on third-and-10, as after dancing around in the pocket, he finds an open field and 17 yards before running out of bounds.
Hansen makes a huge miscue on the next play, though, as he throws into double-coverage where Darrell Stuckey is waiting. The senior safety leaps up to make the catch and give KU a much-needed stop.
CU 17/KU 3 — 6:57 left in 2nd quarter
On second-and-long, Hansen picks his way through the left side for a 20-yard scramble. And a hero is born. The fans here are going wild for their new QB.
Angus Quigley makes a great open-field tackle to bring down Stewart for a five-yard loss. But KU's defense can't seem to get off the field, as after getting fooled on play-action, KU's defense allows an eight-yard reception to McKnight on third-and-8. CU is an impressive 3-for-6 on third down conversions. KU is just 1-for-5.
Chris Harris gets beat deep soon after, and a 37-yard connection from Hansen to Markques Simas moves CU inside the KU 15.
The next play, Geer sneaks behind KU's defense on a throwback pass, and the tight end dives into the end zone for the 12-yard score.
CU 10/KU 3 — 11:07 left in 2nd quarter
Toben Opurum is in for KU, and after a one-yard run on first down, he hobbles back to the huddle.
After dropping a catchable ball on the last drive, Johnathan Wilson comes back with an excellent hands catch on third-and-six for a nine-yard gain.
Following two ineffective runs, Reesing short-hops Meier on third-and-5 to force another KU punt. Reesing looks upset with the play call (or maybe the execution) while walking back to the sideline.
CU 10/KU 3 — 14:31 left in 2nd quarter
Huge turnover by KU. On second down, Reesing backs up to make a play, and he runs into Jeff Spikes, which forces the QB to fumble the ball. CU falls on it at the KU 4-yard-line, and on the next play, Stewart muscles his way into the end zone for a touchdown run. Huge swing of events, as CU's struggling offense gets a major gift with a short field.
KU 3/CU 3 — 14:55 left in 2nd quarter
Sure enough, I put up the ugly stat and Goodman drills the 45-yard field goal through the uprights anyway.
KU 3/CU 0 — End of 1st quarter
A completion from Hansen to Scotty McKnight for six yards seems to get the sophomore quarterback going. Hansen follows with a risky pass over the middle (that was nearly intercepted) to Riar Geer for 19 yards.
Poor tackling haunts KU later, as Arist Wright misses a tackle that allows Stewart to run for 11 yards and another first down.
KU forces a third-and-10, but this time it's Hansen that makes a play with pressure around him. After moving up in the pocket, he finds Will Jefferson for 11 more yards.
Angus Quigley is on the field at linebacker for KU. He's made a monumental move up the depth chart.
Already, CU has committed two false starts. Looks like those problems last week haven't been ironed out yet.
Hansen passes to McKnight for one yard on a third-and-17. CU will attempt a 45-yard field goal after the quarter break. CU kicker is just 1-for-5 on kicks of 40 yards or more this season.
KU 3/CU 0 — 6:01 left in 1st quarter
We get our first "Reesing being Reesing" play on second down, as after feeling pressure from his backside, he moved to his left and threw an ugly duck of a ball to Bradley McDougald for a 28-yard gain down the left sideline. Another great example of Reesing just making a play.
KU only manages one first down, though, as Reesing is sacked on third down. Jacob Branstetter splits the uprights with a 37-yard field-goal attempt, and KU takes the early lead.
KU 0/CU 0 — 9:08 left in 1st quarter
Jake Laptad gets a sack on second down for KU, but give the credit to Maxwell Onyegbule. He didn't bite on CU's play-action fake, and his pressure forced Hansen to turn back into Laptad.
KU continues its excellence on third-and-long. CU can't convert on third-and-11, as pressure in the middle forces Hansen to scramble out of the pocket. His throw to the sideline sails high, and after a good punt return by Daymond Patterson, KU's offense will start at the CU 48.
KU 0/CU 0 — 10:45 left in 1st quarter
KU's offense continues to sputter. On second down, Todd Reesing gets pressure up the middle, and he overthrows Kerry Meier down the field. On third-and-four, Reesing just flat misses an open Briscoe, and KU has its second three-and-out.
The punt return is an adventure for CU, as Alonso Rojas' rugby-style kick rolls up and hits CU punt returner Jason Espinoza. After a scramble for the ball, Espinoza comes up with it to avoid the turnover.
KU 0/CU 0 — 11:49 left in 1st quarter
Jake Sharp is in for KU's first offensive play following a touchback on the kickoff.
KU continues its struggles offensively in the first quarter, as Jake Sharp is stopped for a two-yard loss on third-and-2 on a sweep around the right side.
John Williams starts for KU on the defensive line. Lubbock Smith also is a surprise starter, and he makes a nice open-field tackle to stop Darrell Scott for no gain.
KU's defense takes care of business on the first two downs, holding the Buffs to just one rushing yard on two plays. The statistics hold true with KU's third-and-long defense, as Steven Foster bats down a pass to force a CU punt.
6:08 p.m. CST
Colorado wins the toss and defers. KU will get the ball first.
6:06 p.m. CST
KU fans have shown up in force for this one, as the better part of three lower-level sections are filled with blue-clad fans. I'd say there's a good chance that all these fans will stay after halftime.
Ralphie the real buffalo completes his lap around the field without any casualties. We're about ready to go in this one.
5:59 p.m. CST
Something interesting to remember in this game: According to the advanced stats, KU's defense is best in the Big 12 in the second quarter, while CU's offense in worst in the Big 12 in the second quarter. Also, KU's defense plays worst in the third quarter, while CU's offense plays best in the third quarter.
In other words, it might be time to worry if you're a KU fan and the Jayhawks are trailing at halftime.
5:51 p.m. CST
The loudest cheer from the crowd during the starting lineups comes when starting quarterback Tyler Hansen is announced on the scoreboard. I think that tells you all you need to know about the CU fans' patience with Cody Hawkins.
5:45 p.m. CST
I didn't think leaving Kansas to come to Colorado in mid-October would bring an improvement in weather, but we've had nearly perfect weather since stepping off the plane in Denver on Friday.
Right now we have clear skies with temperatures in the upper-50s. It should be a great night for football.
A couple notes:
• True freshman wide receiver Chris Omigie made the trip and is out there taking passes. Could we see him lift his red shirt in today's game?
• Angus Quigley is in uniform and is getting pre-game work with some of the first-team defense. Who knows if that means something.
• Jake Sharp broke the huddle with the first-team offense for goal-line drills, something he hadn't done the previous two weeks. It looks like he'll play.
5:15 p.m. CST
Some names of note are set to be joining us in the press box for this game, including ESPN.com's Rick Reilly.
Also expected to be here is Holiday Bowl representative Steve Cushman and NFL scouts from Detroit, New Orleans, San Francisco and Tampa Bay.
5:05 p.m. CST
All right, here are our true/false, fill-in-the-blank question for today's game.
True or false: Dezmon Briscoe will have more than 150 receiving yards against Colorado.
True. Though Colorado's defense played well against Texas last week, the Buffaloes' weakness this season has been alllowing the big play. CU's biggest questions are in the secondary, and teams have had success testing the defensive backs down the field. Expect Todd Reesing to take some shots down the field with Briscoe. My fearless prediction: at least one touchdown of 50-plus yards from Briscoe after working his way behind the CU secondary.
True or false: CU's Rodney Stewart will rush for 100 yard against KU.
True. Watching last week's tape, the Buffaloes ran the football almost every first down, perhaps somewhat fearing the possible consequences that come with throwing the football. In a bit of a surprise this season, Stewart has been the Buffaloes' workhorse back, while highly touted backs Darrell Scott and Demetrius Sumler haven't been used much. Stewart's yard-per-carry average isn't great (3.9 yards per rush), but I'll say that he barely gets to the century mark today while carrying the load again for the Buffs' offense.
Keep an eye on:
Colorado's penalty situation. The Buffaloes racked up 20 penalties for 140 yards last week. CU had an especially tough time with false starts, as the team couldn't seem to get set properly after Tyler Hansen replaced Cody Hawkins at quarterback. The Buffaloes had five false-start penalties in the fourth quarter alone, and infractions like that are especially detrimental to a limited offensive team like CU.
If KU wins, it will be because ...
the Jayhawks' defense stops Colorado on first downs. If you read the posted statistical analysis blog, you know that KU has been one of the best teams in the Big 12 when defending in second- and third-and-long situations. Unfortunately for the Jayhawks' defense, they performed so poorly on first and second downs last week that the Cyclones didn't face many third-and-long situations. KU should expect CU to run the ball on most first downs, and if KU can stop the Buffaloes there, it will be putting itself in a great position to succeed on passing downs against the Buffs' shaky pass offense.
If CU wins, it will be because ...
Cody Hawkins doesn't play. What I mean by that is that if Tyler Hansen performs well today as the starting quarterback, CU coach Dan Hawkins has promised that he won't yank the sophomore. The Buffaloes' offense needs a spark for sure, and a poor performance from Hansen followed by a quarterback merry-go-round in today's game would be a sure sign of disaster for the Buffs.
Prediction: Kansas 38, Colorado 24
I don't think KU's offense will score 38 points against CU, but I think the Jayhawks' defense and special teams will chip in with positive plays after a subpar performance last week. CU's inability to stop big plays on defense should hurt the Buffs, and inconsistency and instability on offense won't help, either. Let's get specific: I'll say the Jayhawks lead by 14-17 points at halftime, CU comes back to make it a seven-point game for the start of the fourth quarter and KU tacks on a TD late to seal it.
4:25 p.m. CST
Welcome back to the Newell Post Live, coming to you from Folsom Field in Boulder, Colo., where the Kansas Jayhawks are getting set to take on the Colorado Buffaloes.
Already it's been a crazy day in the Big 12, as Texas survived a slopfest against Oklahoma and Nebraska is down three touchdowns to Texas Tech at halftime. If the Huskers' result holds, KU could take over sole possession of first place in the Big 12 North with a victory tonight.
We still have lots of time before kickoff, so if you want to read some in-depth analysis on both KU football and the game today, be sure to check out my statistical analysis blog posted this morning.
Check back closer to gametime for more analysis, including our normal fill-in-the-blank and true/false questions.
More like this story on KUsports.com