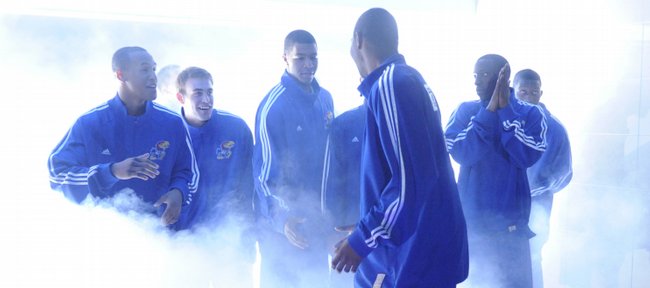 The 25th-anniversary edition of Kansas University's "Late Night in the Phog" had a lot in common with so many season-opening basketball extravaganzas of the past.
"They made us do some goofy stuff tonight," KU freshman guard Xavier Henry exclaimed Friday after the Jayhawk men's and women's teams danced, performed a skit apiece and scrimmaged to the delight of 16,300 fans in Allen Fieldhouse.
The goofy stuff included:
• KU men's coach Bill Self wearing a green jacket and tie and impersonating ESPN announcer and former Notre Dame Fighting Irish coach Digger Phelps.
• Women's coach Bonnie Henrickson mimicking former American Idol judge Paula Abdul.
• All the players gyrating to a wide variety of music, the highlights including freshman guard C.J. Henry wearing yellow basketball short-shorts from the mid 1980s, freshman big man Jeff Withey frolicking in a blonde wig and seniors Mario Little and Sherron Collins shuffling while wearing black hats and slacks and bright red shirts with suspenders and a white Michael Jackson glove.
"Anybody notice Elijah Johnson looks a lot like Eddie Murphy out there?" Self joked. "I hope for our sake Jeff Withey can play ball better than he dances.
"I thought the highlight of the dance was the seniors. I thought Mario acted like he knew what he was doing."
As far as the 20-minute scrimmage ... the Jayhawks acted like they knew how to play basketball, at least on the offensive end.
Sophomore Markieff Morris hit three three-pointers in three tries — yes he's the same 6-foot-9 player who made three of 16 treys his freshman campaign — and scored 15 to pace the Blue team to a 42-39 victory over the Travis Releford-led Red squad.
Sophomore forward Releford hit all six shots from the field, including two threes, and scored 15 points for the Red squad, which made 61.5 percent of its shots to the Blue's 53.3 percent mark.
"If Travis shoots the ball like that, he'll have a chance to play all the minutes he wants," Self said. "He has really worked hard on his shot. It's one thing he had to improve on ... to be more consistent shooting the ball. If he can knock down his perimeter shots, he'll be hard to guard because he can drive the ball."
As far as three-point bomber Morris: "I don't think anybody can go 3-for-3 every night," Self said. "Last year he didn't make many shots. When we recruited him, he was a good three-point shooter. One game in high school he made 10. He won't shoot that many for us. It is nice to have a big guy who can stretch the defense or be a threat to because that'll definitely isolate Cole (Aldrich) down there."
The soft-spoken Releford said he has put on five pounds since last season. He now weighs a solid 205.
"Nothing was really structured. I knocked down a few good shots. A few teammates saw me and got it to me," Releford said. "I don't know what my role will be this year. I know I'm going to try to get extra possessions, try to get other people shots and knock down open shots. That's what coach wants me to do."
Of the Jayhawk newcomers, Thomas Robinson had nine points off 3-of-8 shooting (he hit a three) and five rebounds. Henry and Elijah Johnson each had six points, Johnson knocking down a three. Xavier Henry had three steals and hit a three.
"I was just happy to be out there. It was nerve-wracking knowing you had to be that goofy in front of people, but you just have fun with it," Henry said. "We stressed over it the whole week. We were nervous up until the time we went out there. Once we went out there, it went away."
Xavier's big brother, C.J., who had a basket in his KU debut, knew baby brother was tense.
"Watching the (highlight) video, he was over there holding his hands together, looking real nervous. I could tell. I'm his brother," C.J. said.
"I tried to talk to him when we got out there, to just have fun. It's basketball, the same game."
Sort of. Late Night basketball can be a bit sloppy.
"Guys made shots because nobody guarded anybody," Self said. "It was a H-O-R-S-E contest, pitiful play in some regards. You can't expect anything other than that. I do think we have some nice pieces. It was good for the freshmen to get out there more so than anything, in the lights and see what it's like. I thought a couple played pretty well."
The Jayhawks will get after it for real with a morning practice today.
"We've got a lot of stuff we need to clean up. We have to all get on the same page," C.J. Henry assessed.
• A previous version of this story contained an error.
More like this story on KUsports.com