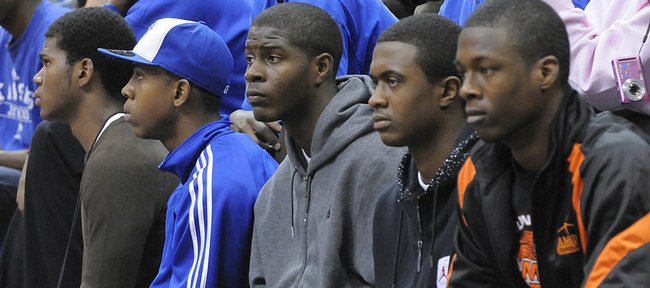 Recruits welcomed
Five top high school basketball prospects received a loud, enthusiastic ovation as they entered Allen Fieldhouse through the northwest tunnel at Friday night's Late Night in the Phog.
They included three uncommitted high school senior prospects from the Class of 2010 on weekend visits to Kansas University: Harrison Barnes, a 6-7 forward from Ames (Iowa) High; Josh Selby, a 6-2 point guard from Lake Clifton High in Baltimore; and Doron Lamb, a 6-4 shooting guard from Oak Hill Academy in Mouth of Wilson, Va.
Barnes, who is Rivals.com's No. 2-rated player, is considering KU, Duke, North Carolina, Oklahoma, UCLA and Iowa State. No. 4-rated Selby is considering KU, Baylor, Indiana, Kentucky, Miami and Syracuse. No. 21-rated Lamb is considering KU, Arizona, Kentucky and Oklahoma.
Also on hand was Royce Woolridge, a 6-3 senior guard from Sunnyslope High in Phoenix, who has orally committed to KU. Woolridge is Rivals.com's No. 117-rated player. Woolridge broke into a big smile when KU athletic director Lew Perkins shook hands with the player before the action.
Josiah Turner, a 6-3 junior shooting guard from Sacramento (Calif.) High, also attended.
Taylor's back in action
Tyshawn Taylor, who suffered a dislocated left thumb on Sept. 22, had five assists and four turnovers in the 20-minute scrimmage.
"They cleared him to play today," KU coach Bill Self said. "I thought he looked really out of sync. That doesn't bother me at all. He's been out a month."
Henry brothers losing weight
Self said Friday that Xavier Henry and C.J. Henry both have lost some weight since arriving on campus.
"C.J. came in over 200. He's about a buck ninety-eight," Self said.
"Xavier came in at 230 plus. He's probably down to 220. He's a strong, powerful athlete. There's not many 18-year-olds like that."
C.J., who suffered a knee injury and stress fracture in his foot last year at the University of Memphis, has been banged up since he has been on Kansas' campus.
"He's healthy, but there's something nagging all the time. Right when he got healthy, he hyperextended his elbow, so he missed some time," Self said. "I hope," he added of C.J. having a healthy season. "That's the way he's been. He fights it every day."
Self's thoughts on playing Digger
Self had the line of the night while impersonating ESPN announcer Digger Phelps in a skit.
"I believe Kansas has the best point guard in Sherron Collins, a very good recruiting class, impressive players, and now we know they've got a little fight in them," Self cracked.
He was asked if it was good to put the hoops team's feud with the football players behind and joke a little about it.
"I wasn't really joking. It was just a play on words," Self said. "We've been reminded a lot by you guys (media) of what has transpired. It is what it is. It did happen."
More like this story on KUsports.com