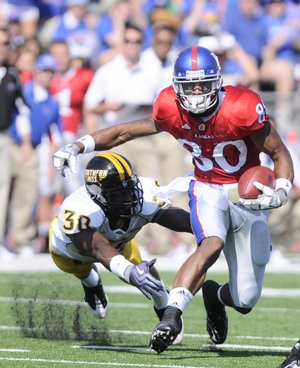 They try everything.
Three-man rushes. Eight-man drops. Two-deep zones. Cover fours. Stunts. Double teams. Blitz after blitz after blitz.
Every week, in an attempt to slow down Kansas University standout receivers Dezmon Briscoe and Kerry Meier, opposing defenses have emptied the playbook. And in just about every instance, nothing they've tried has been too terribly successful.
Entering the No. 17 Jayhawks' 6 p.m. matchup with Colorado today in Boulder, Briscoe and Meier have emerged as one of the nation's top 1-2 receiving punches. They are averaging a combined 224.6 receiving yards per game, the second-highest total of any Div. I duo (Hawaii's Greg Salas and Rodney Bradley average 239.4 per game) and have paced a Kansas passing attack that ranks fifth in the country.

"What they do is put extreme pressure on a defense," said KU coach Mark Mangino, whose Jayhawks are 5-0 overall and 1-0 in the Big 12. "... You're dealing with two pretty high-level players that run well, have good ball skills, and they're going to be able to catch a ball in the crowd."
Nowhere was this more apparent than in Saturday's victory over Iowa State, when the duo combined for 28 receptions, 328 yards and four touchdowns, while also kicking off what figures to be a tight and ongoing battle for the school's career-receptions record.
Heading into the game, both narrowly trailed former KU receiver Mark Simmons, who caught 155 passes from 2002 to 2005. In a matter of minutes against the Cyclones, though, Briscoe had surpassed that total, before Meier, boosted by a nine-catch second quarter, pulled ahead for a slight 167-165 advantage.
"I told him I'd get him next game," said Briscoe, who finished with 12 catches for 186 yards and two scores.
Part of the reason for their torrid early-season success, teammates attest, is that, in terms of skill, the two seem to complement each other almost perfectly.
Briscoe, a speedy 6-foot-3 and 202 pounds, is a guy who can spread a defense vertically and has developed a knack for attacking the ball in the air and coming up with big gains (through five games, he's ranked first in the Big 12 in yards-per-reception — 17.2 — among players with at least 30 catches).
Coaches praise his innate ability to disguise his routes off the line of scrimmage and to make difficult plays look nonchalant.
"I believe a lot of the great ones just do things and can't tell you how," KU defensive coordinator Clint Bowen said. "The really good ones, it just happens."
Meier, on the other hand, is the unit's workhorse, as close to a sure thing on third-and-eight as you're likely to find. He's a player who can find the holes in coverage and uses his knowledge of the quarterback position — he used to be Kansas' starter — to exploit defenses as a receiver.
"The worst thing is going against a player like Kerry when he has an option route, when he has the option to do whatever he wants to you," said senior safety Darrell Stuckey, who has grown accustomed to Meier's quiet brilliance during afternoon practices. "He's going to take advantage of you."
At the same time, both have shown the ability to do a multitude of things on a football field.
Meier, for instance, is no stranger to the deep ball, as evidenced by his 62-yard touchdown catch against Southern Mississippi, and Briscoe has steadily improved his intermediate route-running, as well.

"It's two different skill sets," quarterback Todd Reesing said, "but they both do a lot of things very well. They do a lot of similar stuff."
Last year, in his first season at receiver, Meier caught a single-season school record 97 passes, and this fall he's on pace to shatter that mark. Briscoe, despite missing the team's first game due to suspension, is second in the nation in receiving yards per game and, to this point, has outplayed the Big 12's most highly touted receiver, Oklahoma State's Dez Bryant.
Given the vast talents of both players, meanwhile, the natural question is whether the two can co-exist happily while sharing a limited number of passes.
Briscoe admits that the two are notably competitive, and Reesing said this week that — even given his propensity to spread the ball around to a number of receivers — they will still come back to the huddle and make sure the quarterback's looking for them.
But all involved say there never has been a hint of jealousy between the two players.
"Our players understand for the University of Kansas to be a very good football program, we're going to have to have everyone toeing the line in the same direction," Mangino said. "They're smart enough to understand that, and they've always done that since I've been here."
They're smart enough to know, too, that things are only going to get tougher as the season progresses. In addition to an increasingly difficult schedule — following today's game, the Jayhawks won't play a team that currently possesses a losing record — they'll be forced to deal with defensive coordinators who'll make it a point to slow the team's rampant passing attack.

Which will mean more three-man rushes and eight-man drops and double-teams and constant blitzing — more tactics aimed at keeping Kansas' top-tier receivers from building upon that school record.
"It ain't gonna be easy," Meier said of today's game. "These guys, the type of coverages they play and the amount of coverages they play, at times it can get confusing — and I'm sure it's going to get confusing (Saturday)."
More like this story on KUsports.com