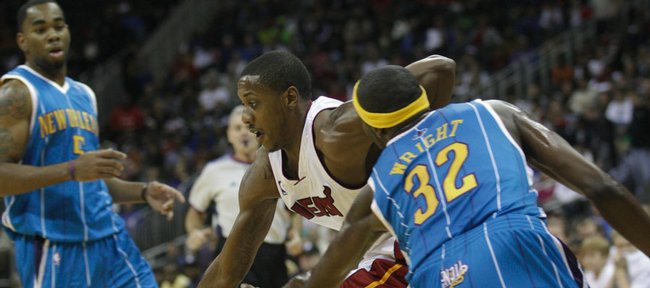 Kansas City, Mo. — There was a good chance the plan would end up blowing up in his face, but once the Kansas University men's basketball team advanced to the 2008 national championship game against Memphis, Julian Wright really had no choice but to attend.
So the day of the game, the former Jayhawk standout and then-New Orleans Hornets rookie booked a flight to San Antonio, made it there for tipoff, watched buddy Mario Chalmers' game-tying three-pointer hang in the air ("I knew it was going in," he says now), celebrated like a madman in the locker room afterward and prayed his 6:30 a.m. flight the next day would get him back in time for the team's 9:30 morning shootaround.
"It was worth it," said Wright, who had left Kansas the previous year to enter the NBA Draft. "It was almost a heart attack, but I made it."
On Thursday night in Kansas City, Wright again got to watch Chalmers play the hero —although this time around the circumstances were a bit less strenuous.
Chalmers' 10-point, five-assist, five-rebound performance paced the Miami Heat to a 97-81 victory over Wright's Hornets during the teams' preseason NBA matchup at the Sprint Center.
The game marked a reunion of sorts for the former teammates, who were once pictured together on Sports Illustrated's annual college basketball preview issue, and provided an opportunity to rekindle some old memories prior to tipoff.

"For me and Julian, it's crazy," Chalmers said. "It's what, 30, 45 minutes away (from Lawrence)? With Julian driving, maybe 15, 20 minutes. But it's good. You get to come out and play in front of our crowd, it's going to be fun."
Earlier in the week, Wright had expressed his plans to put on a display during pregame warmups, and he made good on that promise Thursday, carrying out some aerial feats during warm-ups and following them up with the (almost) play of the game when he dunked two-handed in the second quarter — though it was whistled off following an away-from-the-ball foul.

He finished with 12 points, nine rebounds and four assists in 26 minutes, turning in one of his best statistical games this preseason, in which he has been given a starting role by New Orleans coach Byron Scott.
On Thursday, the coach praised the player's recent development, save for a few mental miscues.
"Some of the mistakes that he made tonight are mistakes that he shouldn't be making," Scott said after the game. "But he still had a pretty good game. He's made improvements from the last couple of games, and we want to keep that in mind and keep striving for him to become a better basketball player."
While Wright says he has grown increasingly comfortable this preseason, he has been around long enough —he was selected No. 13 overall in the 2007 NBA Draft — to know that a starting spot in an NBA lineup is far from stable.
"It's always competitive in practice," Wright said. "You could be playing 25 minutes and then play 30, two weeks later play 10, and the next week you're in the doghouse, and you ain't even dressing. So you just gotta always be on top of everything."
Chalmers' starting role, meanwhile, seems to have been solidified following a rookie season in which he averaged 10 points and 4.9 assists per game and set a single-game franchise record with nine steals.
Fresh off his rookie season, in which he was famously booted from the NBA's rookie symposium — along with Heat teammate Michael Beasley and former KU big man Darrell Arthur — for breaking multiple league rules, Chalmers talked about the early transition from college to the NBA.
"You've got a lot of free time on your hands, a lot of time to get better," he said of the transition from college to the NBA. "Being in college, you still got classes to go to, tutors to go to, and once you're (here), it's just the gym. You've got a lot of free time, and you've just got to figure out what to do with (it)."
The extra gym time seemed to do the trick Thursday, as he edged his old teammate in front of a crowd that reserved its loudest pregame ovations for the former Jayhawks.
"I guess you could say it's bittersweet," Wright said.
Chalmers 'surprised' by KU football-basketball in-fighting: A two-day feud between members of the KU football and basketball teams that involved at least two fights and resulted in a dislocated thumb for Kansas basketball player Tyshawn Taylor came as a surprise to Chalmers, who said it was uncharacteristic for both programs.
"When we went to school, we was cool with the football team," he said Thursday. "There might have been a little bickering back and forth, but nothing like that."
More like this story on KUsports.com