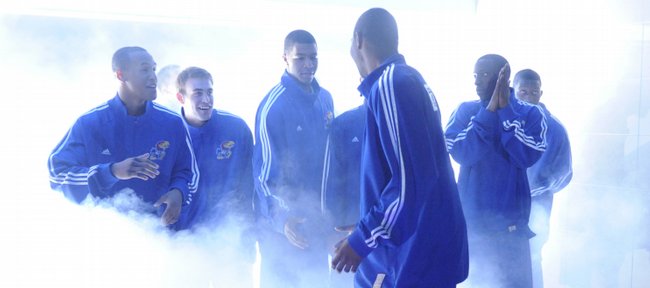 Stats:
Remember when I said Releford was having himself a night? He didn't miss from the floor, going 6-for-6 with 15 points in 16 minutes. Markieff Morris was the only one to match Releford's point total, but he added four rebounds to his stat line.
Tyshawn Taylor didn't score, but he had three steals and an impressive five assists in just nine minutes of play. However, he also committed four turnovers. Sherron Collins played 16 minutes and added eight points with three assists, but had even worse turnover issues than Taylor with five.
Thomas Robinson probably looked the best out of the newcomers. His shooting percentage wasn't great for a big guy, going 3-for-8, but he scored nine points and pulled down a team-high five rebounds in 15 minutes. Going up against Withey, his athleticism really stuck out (Although coach Self had some fun with him in the media room afterward, joking about his botched layups).
10 p.m.
Sherron Collins addressed the crowd immediately after the scrimmage:
"We appreciate all the fans. We're working hard every day. The coaches are working us. We're getting better every day. Just wanted to let you know we love you guys, and thank you for everything."
Gary Bedore's write-up on him earlier today spoke of the leadership Collins exudes, and there's an example of that.
9:50 p.m.
You can tell these guys are having a lot of fun. Aldrich got some "oohs" and "ahs" from the crowd after stripping Collins, and they both jawed a little bit running back down the court with grins on their faces. Releford has certainly had the most impressive game. He drains a three to close out the match, but his red team falls to blue, 42-39.
9:45 p.m.
Xavier has his first points (unless you count the point they give just for getting to the free throw line). He hit a three from the right wing. Thomas Robinson just tugged his jersey looking for a sub. He deserves it, too. Earlier he had a nice block on Withey that knocked Withey to the ground. With 3:29 to go, blue is up 38-32.
9:40 p.m.
Markieff Morris is on fire. He's got three three-pointers. The blue team is up 29-26 with 8:20 to go.
9:37
Xavier doinked a free throw after being fouled in the lane by Releford. The fact that Releford looks at the refs with such surprise tells you how competitive these guys are - even in pickup. CJ Henry showed his coast-to-coast ability with a nice lay-in. The Morris twins look really good. Marcus and Markieff have their respective teams' last two buckets.
9:33 p.m.
Elijah Johnson hit a three from the top of the key. He's got a pretty nice touch. Sherron answered with a drive to the lane, putting the ball high off the glass and over Aldrich and Withey - no easy task. Markieff Morris has also added a three for the blue team. It's 13-12, Red Team, with 15:30 left.
9:28 p.m.
They guys are on the court and ready to tip off for their 20 minute scrimmage. Pretty much everybody put up some spectacular dunks during warmups.
Here are the line-ups, in no particular order:
Red Team:
CJ Henry
Jordan Juenemann
Marcus Morris
Tyshawn Taylor
Jeff Withey
Cole Aldrich
Elijah Johnson
Travis Releford
Blue Team:
Tyrel Reed
Markieff Morris
Mario Little
Chase Buford
Xavier Henry
Conner Teahan
Sherron Collins
Thomas Robinson
It starts out with an alley-oop dunk from Taylor to Releford. Releford followed it up on the next possession with a fast-break dunk. Good start for him.
9:07 p.m.
The intro video, about 10 minutes long, for the men's team has the crowd all jacked up for the scrimmage. It covered everyone from Wilt Chamberlain to Danny Manning to several of KU's Big 12 championships, and, of course, the 2008 National Championship. The smoke machine is warmed up and the players are about to run out of the tunnel.
8:45 p.m.
Seniors Mario Little and Sherron Collins waited out a couple of minutes of technical difficulties by free-styling to the crowd's improvised "boom boom clap" of "We Will Rock You." After the music finally started working, they knocked out Michael Jackson's "Billie Jean." For the record, they both did the robot.
8:41 p.m.
The groups of sophomores and juniors each came out in jeans and white tanktops. I've gotta say, it looks like Cole Aldrich actually put some work into this.
8:38 p.m.
The newcomers Thomas Robinson, Jeff Withey, C.J. and Xavier Henry, and Elijah Johnson came out in short shorts and 'fro wigs and rocked out to Lil' Flip's "This is the Way We Ball." Coach Self's take: "I hope Jeff Withey can play better than he can dance."
8:34 p.m.
The first men's skit features the "ESPN Gameday crew" panel, comprised of Barry Hinson, Bill Self, assistant coach Kurtis Townsend and Brett Ballard, all posing as ESPN Gameday analysts.
Coach Self played Digger Phelps, who always found a way to bring the conversation back to Notre Dame. For example:
Brett "Reese Davis" Ballard: "Don't you have any thoughts on Kansas?"
Coach "Digger Phelps" Self: "Sure I do. They don't play in the Big East, which is where Notre Dame plays."
8:21 p.m.
The crowd was treated to a five-minute montage featuring Jayhawks currently in the NBA. Especially loud cheers accompanied fan-favorite Darnell Jackson's video, but no reaction topped Mario Chalmer's introduction. The reaction after "The Shot" was replayed on the big board was deafening. I have a feeling that will probably never change, either.
Coach Self addressed the crowd afterward, saying that Kansas now has the best facilities in America. He also promised the players would make "complete fools out of themselves" tonight. The team is in the tunnel, some with afro wigs. Sounds like he'll make good on that promise.
8:00 p.m.
A free throw tied it up 10-10 as the buzzer sounds. Maybe some nerves rattled them, as the ball handling was less than perfect. Goodrich looked quick, though.
7:56 p.m.
Junior Rhea Codio is running point for the red team. Redshirt freshman Angel Goodrich, who I mentioned earlier, is the floor general for the blue team. Danielle McCray and Porscha Weddington join Goodrich as starters for blue.
Another player for blue is freshman Annette Davis, who is guarding the red team's freshman center Carolyn Davis. Carolyn is listed at 6-foot-3, and she looks every bit of it. Despite that, the blue team's Davis blocked her counterpart twice in a row before committing a foul on her third try.
The blue team is up 10-8. McCray has two points and Krysten Boogaard has contributed two for the red team with two minutes left in this five-minute scrimmage.
7:45 p.m.
The women's team is warmed up and ready to go. The most unexepected eruption from the crowd came when Miley Cyrus' "Party in the USA" came on during layup drills. What is it about that song? Big Jay also swiped my camera and snapped a shot of me and Gary Bedore while we waited. It's always shenanigans with that guy.
7:36 p.m.
Coach Henrickson addressed the crowd and discussed her appreciation for the new facilities and the fans' support. The media was given a tour of the renovations a couple days ago, and it's quite impressive. The women's team should be coming out to warm up in just a bit.
7:17 p.m.
The first skit involving players is an American Idol spoof, with Bonnie Henrickson and two of her assistants acting as a panel judging the women's players. The first group came out to "Can't Touch This," complete with gold outfits and hammer pants. The second bunch had a routine to Beyoncé's "Single Ladies." Sade Morris was the only player brave enough to sport a blonde wig — interesting look.
And what would Late Night be without a Michael Jackson tribute? The final act starred Danielle McCray and four others as zombies, breaking out the Thriller Dance.
The crowd vote went with the M.C. Hammer group. I think they made the right call. Hammer Time.
7:13 p.m.
A few lucky fans had the opportunity to play "simon says" at half court. About 30 guys and 30 ladies lined up at the top of the three-point line on each half of the court. It took five minutes to decide the victor on the guys' side and about one minute to eliminate all but one lady. Steve Max, the host, is ridiculously fast at this, so kudos to the winners there. Wow.
6:45 p.m.
The cheer squad just wrapped up a routine, followed by a skit involving Big Jay and Baby Jay battling swine flu (a guy dressed as a pig). They threw him into a "meat grinder" box and a hot dog mascot came out the other end. Our concerns are over.
6:15 p.m.
Welcome to the 25th Late Night in the Phog, live from Allen Fieldhouse. Kansas fans are packing the place and there's no doubt all the seats will be filled by the time we officially kick things off.
The noise of the Fieldhouse never disappoints, but one of the goodies given to fans as they entered were white thundersticks with ends that glow purple when you bang them together. Should be plenty loud in here tonight and, combined with the camera flashbulbs, will make for a pretty sweet looking arena come time for players entrances when the place goes dark.
What are you all most looking forward to tonight? I think it'll finally be nice to see Xavier in action. I'll bet he's ready to show fans what he can do live and in person as well. On the women's side of things, Angel Goodrich should be ready to go. This will be her second Late Night, but the highly touted point guard hurt her knee before last season started and took a medical red shirt.