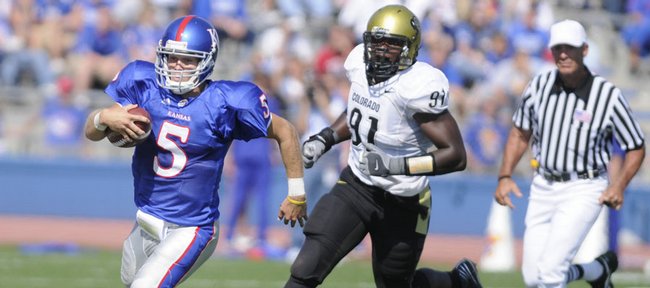 By now, it's as well known to Kansas University football fans as the nickname "Sparky," the gunslinger antics or the story about the undersized, overlooked quarterback from Texas getting a chance in the Land of Oz.
Ask anyone who the Jayhawks were playing the day Todd Reesing made his KU football debut, and it probably won't take long to answer.
The day was Oct. 28, 2006, and 39,000 fans — seems small doesn't it? — had filed into Memorial Stadium hoping to see the Jayhawks keep their bowl hopes alive.
Remember, this was before words like "BCS," "Orange Bowl" and "back-to-back bowl victories" were accepted terms within KU football circles.
With the Jayhawks struggling against a Colorado team that finished the '06 season with just two victories, then-fifth-year head coach Mark Mangino made a move that will go down in Kansas football history as arguably the greatest coaching decision of all-time.
Out went Adam Barmann, off came the red shirt and in went Reesing, a sparkplug with fast feet and a fiery spirit. Instantly, his presence lifted the Jayhawks, who turned a 9-0 halftime deficit into a 20-15 victory. Reesing tossed two touchdowns and ran for another while going 7-of-11 for 106 yards in the second half of that one.
Although he has moved on to bigger and better things since then — like being a three-year starter and leading KU to a 25-6 record in his 31 starts — Reesing still has fond memories of that fall Saturday in 2006.
"It stands out above other games," Reesing said recently. "Because it was the first one. But I've played so many games in the last few years now that that first one, especially in a season that ended up not having a whole lot of meaning, kind of gets lost in the cards a little bit."
KU went on to win its next two games that season and did become bowl-eligible. But the Jayhawks were not invited to a bowl. The next year, with Reesing under center, the Jayhawks went 12-1 and won the Orange Bowl.
Reesing has done damage to just about every opponent the Jayhawks have faced since he took over. He also has had his share of struggles against a few teams. But he has yet to play a poor game against the Buffs.
During KU's Orange Bowl season, in a 19-14 win in Boulder, Reesing finished 20 of 29 for 153 yards and a TD. Last year, in Lawrence, he was 27 of 34 for 256 yards and a TD.
While those numbers don't exactly stand up to what Reesing has done with his arm thus far this season — 133 of 192 for 1,579 yards and 13 TDs — he also has delivered a blow to the Buffs with his feet. In three meetings with Colorado, Reesing has averaged a little more than seven carries per game and has torched the CU defense for 207 yards and a touchdown.
"Just because it's worked out that way the last few years has no reflection on what's going to happen this Saturday," Reesing said. "We've had a good streak here the last few years, but I'm sure they're looking forward to a chance to get us back for that."
It's not so much that Colorado is looking forward to facing Reesing again. In fact, if CU coach Dan Hawkins had it his way, he'd just as soon never see Reesing in the opposing huddle again.
"He's a really good player and he's very competitive," Hawkins said of Reesing. "He's got a good arm, he can run and he's got all the intangibles. He's in a nice package, he's got nice players around him and they do a great job with him. It's all the above. There's a reason they're playing well and they're ranked and he's one of the better quarterbacks in the country. He's got the whole deal."
Asked how his 1-4 Buffaloes might minimize the Todd Reesing effect, Hawkins did not mix words.
"You can't neutralize a guy like that," he said. "You try to do what you can to slow him down and play good football. But he's too good."
The irony of Reesing's final meeting with Colorado — 6 p.m. Saturday at Folsom Field — is that Hawkins and Co. find themselves in a situation similar to the one Mangino and the Jayhawks faced in 2006.
In last week's loss to Texas, Hawkins benched junior starter — and son — Cody Hawkins and replaced him with sophomore Tyler Hansen, a more mobile QB who burned his red-shirt season by playing against the Longhorns.
Like Reesing in 2006, who said he didn't hesitate when asked to give up the red-shirt, Hansen also jumped off the bench without pause.
"Coach had talked to me about (playing) the week before and had asked me if I'd be OK with it if they needed me," said Reesing, recalling the sequence leading up to his KU debut. "And, of course, I was. I wanted to make the most out of every opportunity I had to play. I knew that was a chance for me."
More like this story on KUsports.com