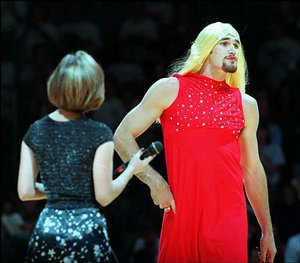 Last year at this time, I commented on — OK I bragged about — the fact yours truly is believed to be the only person to have attended all 24 season-opening Late Nights in Allen Fieldhouse.
You still want proof?
Let's see if you can handle the proof.
• Considering there have been three different Kansas University head basketball coaches and four athletic directors in 21⁄2 decades ... there's no way any KU athletic department official has made each and every Late Night.
No way.
• Considering the hoops scrimmage tipped after midnight from 1985 until 2005 ... and deadlines are what they are ... there's no way any other media member has ventured into the Phog for 'em all.
No way.
What about the fans?
• It's highly unlikely any KU zealot has witnessed all 24 Late Nights, considering both the "lateness" of the event for so many years and the fact it sometimes was held on a weekday night.
Also, no fan has called or e-mailed me to dispute my claim in the past calendar year, leaving me the one and only self-proclaimed "Late Night Expert" entering today's Late Night No. 25.
As event historian, it's my duty to rank the most significant happenings in Late Night history.
So here, without any further ado, are the five top moments spanning Late Night With Larry Brown, Later with Roy Williams, Late Night With Roy Williams and Late Night in the Phog.
5.) Alonzo Jamison shattered the backboard during pre-scrimmage warmups in 1988.
The dunk gone awry pushed back Williams' first Late Night scrimmage to about 12:40 a.m.
"I was sitting there and remember it vividly," former KU assistant athletic director Doug Vance said. "Alonzo dunked it and the goal standard came crashing down. The crowd went crazy. Glass was everywhere.
"Looking on the floor, you had to worry about Alonzo's health. There was the potential for serious injury, but he was able to maneuver away from all the debris," Vance recalled.
KU fortunately had a backup goal standard on hand.
"Alonzo's debut was a big bang, that's for sure," Vance quipped of the California junior-college transfer making his first appearance as a Jayhawk.
4.) Eccentric KU senior power forward Scot Pollard proposed marriage to girlfriend Mindy Camp in 1996. She accepted.
"Egotistically speaking, I don't think that can be topped. Not many things that go on at Late Night are life-altering events," Pollard said. "As far as important, that's as big as it gets."
Pollard, who wore nailpolish and a dress in a skit that night, wants to set the record straight about the proceedings.
"A common rumor is I was in drag when I proposed. That's not true. I was changed and in normal clothes. It was 45 minutes after I was in drag," Pollard said.
Those in the stands were amazed, to say the least.
"I think Scot's proposal is more memorable than most," Vance said. "To propose marriage in front of 16,000 fans may not be as romantic, but he got the reaction he was looking for. He got the answer he was looking for."
Indeed ... "It worked. She said yes," said Pollard, who has been to five Late Nights.
"I've been to 25 percent of them. Twenty percent. You can see I'm good at math," he joked. "I'll be ignorant and say that moment (proposal) was the best."
3.) KU charged admission in 1989 to offset the cost of a pair of bands — "Shooting Star" and "Nace Brothers."
It's what happened once spectators paid the $5 freight and entered the fieldhouse that really caused a stir. Fans of the bands packed the building and, as at many concerts, decided to light up marijuana joints.
"There certainly was an unusual aroma permeating the fieldhouse that night," Vance said. "It left our security people busy. A few people got tossed out.
"Having the music was a logistical nightmare," Vance added. "Setting up the staging, bringing in lights and getting them out of there quickly for what people wanted to see ... basketball. I think we learned a lesson that night ... that Late Night was a basketball event that should be free of charge. I know coach Brown, Williams and coach (Bill) Self have stressed making it a fan-friendly event at no cost to the fans throughout the years."
Then-KU coach Williams, who is now at North Carolina, took that fiasco in stride.
"I think in life you always try different things. Some work. That didn't," Williams said. "It's funny. Some of the people came just to hear the bands. Some people were coming in, but some were leaving after they played."
At least the stage made possible a memorable Late Night moment. KU players Mike Maddox, Jeff Gueldner, Freeman West and Rick Calloway climbed the huge soundstage and lip-synched the Robert Palmer song, "Simply Irresistible."
"A third of the way through the song, my (1988) championship ring slipped off my finger and flew into the crowd," Maddox said. "The last two-thirds of that song, I did it thinking I lost my ring. I didn't think I'd see it again. Fortunately a cheerleader caught it. As I walked off stage, she handed it back to me."
Maddox married that cheerleader.
Kidding.
Only Pollard has a Late Night marriage proposal story.
2.) Williams danced ... and danced ... and danced some more.
Williams' dancing stole headlines from 1990 to 2002 — his final Late Night.
"I guess I kind of started the deal of getting coach Williams to dance," Maddox said of the 1990 Late Night. "Coach criticized Mark Randall and my dancing the year before and was always laughing at us, so we thought it'd be fun to get him out there."
Maddox dragged Williams on the floor to boogie with the Crimson Girls.
"I criticized Maddox so much he got a couple of the Crimson Girls to drag me out there," Williams said. "Needless to say I didn't want to do that, to get out there. But there's 16,000 people. You either have to fake it or get booed. I faked it and sneaked out in 30 seconds."
Williams accepted good-natured teasing about his lack of dancing ability each and every year from KU athletic department members.
"Deep down, he probably had enough ham in him that he enjoyed it. People looked forward to it every year. The players certainly did," Vance said. "I don't think he dreaded it. It became one of the traditions here."
1.) 2008 national title banner was unfurled.
KU didn't recognize the Jayhawks' 1988 national title during Williams' first Late Night back in '88. After all, Brown — the coach of that '87-88 team — moved on to take a job with the NBA's San Antonio Spurs, leaving NCAA sanctions in his wake.
In contrast, the 2008 title was mentioned A LOT at Late Night '08.
The crowd unleashed the loudest ovation in Late Night history when the banner dropped in the south rafters at 8:57 p.m., Oct. 17.
"I almost started crying. I don't think I was the only one," KU coach Self said of the moment a temporary '08 title banner was unwrapped under the Kansas state flag, smack in the center of the rafters.
It fell at the conclusion of a spirited NCAA Tournament highlight video.
"I watched every bit of it," KU senior guard Sherron Collins said of the video as well as the banner ceremony. "I think me, Cole (Aldrich) and a couple others off that (title) team ... it was more emotional for us. It all came back," Collins added of KU's overtime victory over Memphis that gave the Jayhawks the '08 crown. "It was a great year."
Some honorable-mention Late Night greatest hits:
• Self's first Late Night in 2003 in which he received a standing ovation.
"I have been in a lot of loud places," former University of Illinois coach Self said, "but that was a little bit overwhelming."
• Brown's second Late Night (the second in KU history) in 1986 when guest of honor was Larry Bud Melman of the Late Night with David Letterman Show. "He was a cult hero among the students," Vance said. "I couldn't tell any difference between the way he was acting on the floor and off the floor. He was a typical old New York guy."
Ex-Jayhawk forward Mark Randall added: "He was the big guy everybody came to look at. To have the Letterman Show icon in the house was cool."
• The '87 Late Night in which current KU assistant coach Danny Manning and teammate Scooter Barry sang The Temptations' song: "My Girl." KU went on to win the national title.
"I remember the players were in the portals and came out from various spots. They chose to sing 'My Girl,''' Vance said. "The fans seemed to come to life and Late Night was born with skits and everything. It was well-orchestrated and we went on to win the national championship."
• Williams' first Late Night in 1988 when fans gave him a rousing standing ovation and chanted, "Roy, Roy."
"I wasn't skeptical that I would be accepted, still you don't know what's going to happen," Williams said. "Then when I was introduced, the people there, the reception they gave me is still something as emotional as anything that's ever happened to me."
• Baseball Hall of Famer George Brett and golfing great Tom Watson joined former Royals' center fielder Brian McRae and ex-Chief defensive back Deron Cherry as honorary coaches at the 1994 Late Night. It's the only time honorary coaches were used; Williams felt a bit guilty they had to stay up so late, then drive back to K.C.
• Tuxedo-clad seniors Keith Langford, Michael Lee, Aaron Miles and Wayne Simien bowed their heads reverently while grasping KU's 1988 national-championship trophy at the conclusion of a poignant skit to start the 2004 Late Night.
More like this story on KUsports.com