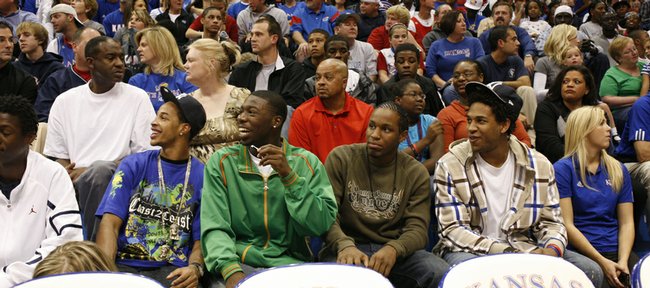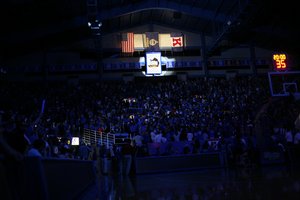 Past Event
Friday, October 16, 2009, 6:30 p.m. to 9:30 p.m.
Allen Fieldhouse, 1651 Naismith Drive, Lawrence
All ages / Free
It's safe to say no high school recruit ever has been more impressed with Kansas University's Late Night in the Phog than Las Vegas Cheyenne High's Elijah Johnson.
He orally committed to KU last October while still on campus for his official recruiting visit — less than 24 hours after the season-opening hoops extravaganza was completed.
"On a scale of 1 through 10, it was a 25," Johnson said of last year's Late Night. "It was crazy. The fans were crazy. The fieldhouse was crazy. It was overwhelming.
"All I remember is the noise. Echoes of noise. Everywhere just noise," Johnson added.
He's definitely looking forward to tonight's Late Night 2009, his first as a Jayhawk player.
"I guess I can get on stage and dance for my Kansas fans. They love me that much, I can dance for them," said a smiling Johnson, who remembers fans chanting his name while waving his high school jersey number as he walked through the northwest tunnel to his seat behind the bench a year ago.
Johnson's ears and those of the current KU players were ringing at Late Night '08 when a temporary 2008 NCAA title banner dropped in the south rafters.
"That was pretty sweet. That was one of the loudest times I've seen. It's one of those moments that will always stick in your head," junior Cole Aldrich said. "It was such a special night. Every Late Night is special in its own way."
He would know.
"It's the 25th Late Night? I've probably been to half of them," said Aldrich, who hails from Bloomington, Minn. "I've gone to six Late Nights, quite a few when I was in high school. I've gone to a fourth of the Late Nights here so far."
Sherron Collins is working on his fifth Late Night.
"I committed to KU after coming to Late Night," the Chicago native said. "The crowd sold me. The atmosphere sold me. There's no Late Night out there that would top this one. We have great fans, fans from all over the country who support us. The school goes on fall break, still the fieldhouse is full of fans to support us."
Like Collins, the sophomore Morris twins attended Late Night as seniors in high school.
"I remember walking through the fog when the players were warming up," Marcus Morris said of fog in the northwest tunnel. "The fans were yelling stuff when I first came out. I saw myself on the screen, me and my brother and Travis (Releford) were up on the scoreboard. It was really exciting."
His first Late Night as a player last year was just as exciting.
"When the juniors were dancing, they were funny. Mario (Little) and Sherron were really funny," Morris said. "I really was nervous when I was out there (in skit). I was sweating a lot, more than usual.
"I'm really looking forward to this one," he added. "The support we get, just for a regular little day called Late Night ... we get a sold-out crowd. That's special to me. The people come see us and all we are doing is basically playing pick-up for 20 minutes."
The players compete in a batch of pick-up games prior to Late Night.
"I think this is held to start the season on a good note, a positive note," Johnson said. "Before Late Night we take care of a lot of business people don't see behind closed doors. That's kind of the after party, but not necessarily the celebration yet. It's to get everybody to know, 'Hey, it's time to get on a roll.' It's more an excitement thing."
More like this story on KUsports.com