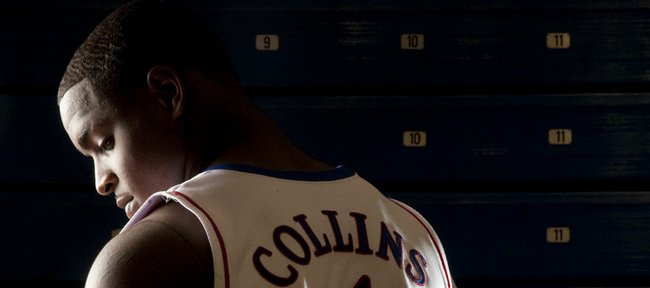 Audio clips
2009 KU men's basketball media day
Sherron Collins — who moved out of Jayhawker Towers into an off-campus apartment for his senior year at Kansas University — has a new roommate.
That'd be his mother, Stacey.
"This is temporary," the 22-year-old Collins said, joking with reporters about his new digs Thursday during a men's basketball Media Day interview session in Allen Fieldhouse.
Now, don't get the wrong idea. Collins loves his mom dearly. Her name is tattooed on his left arm.
It's just that, like most college upperclassmen, he prefers independence at this stage of his life.
"She's going to find an apartment hopefully in the next couple days," Collins said of Stacey Harris, who has moved from Chicago to Lawrence to take in all of her son's home games in his final campaign at KU.
"It's been fun. I don't get enough time to spend with my family, especially my mom," added Collins, who last summer was relieved to find out Stacey had been given a clean bill of health after some lumps on her body were deemed non-cancerous.
"She's been fixing me salads every night and doing my laundry, so I don't have much to do now. I think having her here will help me be more focused. I won't have to worry about her as much. She'll help me keep my head straight and be here enjoying all the moments with me."
Collins hopes his senior season turns out to be his finest and not just because mom will see so many games.
"It's my last chance to leave my mark," he said.
KU's floor general actually could leave his imprint while experiencing a decline in point production. The 5-foot-11 point guard, who averaged 18.9 points off 14.9 shots a game a year ago, might be more of a distributor this season.
"I think if he scores as many points as he did last year, I don't see him being nearly as effective a guard," KU coach Bill Self said, noting Collins' supporting cast might be a tad more talented than in 2008-09.
"At the next level, he will not be judged if he can get his own shot as much as, 'Does he make other guys on the court better?' I still want him to look to shoot and at the end of the clock want to get the ball in his hands and let him go. We're going to give him a ton of freedom. He just can't abuse it."
Collins said scoring stats have never mattered to him.
"There's a chance my points could go down. I wouldn't care. I just want to win," he said.
He realizes he can help KU win by expanding his leadership role at practice and in games. Self has said Collins already is the best leader he has coached in six full seasons at KU.
"I think I did a good job of leading us when we were down, keeping everybody positive," Collins said of last year's Big 12 title team that finished 27-8 and advanced to the Sweet 16.
"Now it's second nature. Sometimes I lead and don't even know I'm doing it. It comes to me naturally."
He has led during intense offseason pickup games — "there's a lot more jaw-jacking this year," he said — and during the two hours of allotted offseason practice time allowed by the NCAA the past few weeks.
"When practice is slow, I'm talking," Collins said. "Instead of coach yelling at somebody, I might tell coach, 'I've got it.' Just talking to them (teammates) in a mannerly voice instead of them getting hollered at by coach."
Collins received criticism from father-figure Self — "He always has my best interests at heart," Collins said — in late June when he weighed in at 228 pounds at the Deron Williams Skills Academy in Dallas.
Collins now weighs 203 pounds and, according to Self, is in the best shape of his career at this stage of a preseason.
"It's something I'm always concerned about. With coach ... he sometimes overblows it up, (but) every time when the ball is thrown up, I'm ready. I'm in shape. My weight is fine," Collins said.
More than a "fine" player, Collins actually has a chance to go down as the winningest collegiate player of all time.
The former Chicago Crane High standout currently has been part of 97 victories. KU would need 40 victories this season for him to catch the Memphis trio of Antonio Anderson, Robert Dozier and Chance McGrady, who were part of 137 wins. However, those three stand to see 38 wins erased as part of an NCAA decree forcing the Tigers to forfeit wins from two seasons ago because of violations.
If a Memphis appeal fails, Collins needs 36 victories to tie Shane Battier's Duke class of players from 1998 to 2001, who claimed 133 wins.
"It'd be nice to get. I don't try to think about it," Collins said. "If it comes, it comes. If it doesn't, I'm just happy to be here."
He's here with mom and, on special occasions, his son, Sherr'mari, who visits from Chicago from time to time.
Sherr'mari is now 2 years old.
"He's growing, getting big," Sherron said. "He watches the games on TV. If I'm sitting at home and watching an old game, he runs to the TV and says, 'That's daddy. Shoot the ball. Shoot the ball.'
"He shoots and dribbles it, but not too well. He's slamming that thing down (on the ground)," Collins added with a laugh.
If Collins' dreams come true, he'll be able to support his family next year with a lucrative NBA contract.
His goal is to win his second NCAA title in three years, then take his leadership skills to the pros.
"That's my plan," he said. "I've just got to listen to coach. He hasn't steered me wrong yet."
More like this story on KUsports.com