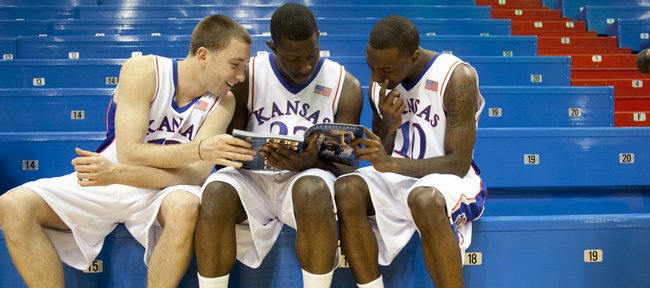 Morningstar apologizes
Kansas University junior guard Brady Morningstar, who issued a written apology to fans following his arrest on suspicion of driving while intoxicated, on Thursday reiterated he's sorry for his actions.
"I'm upset with my decisions," said Morningstar, who has been suspended from playing in games first semester. "I made a tough mistake, something nobody should ever do. I've got to live with it, be a man about it, take your medicine and move on."
Morningstar plans to contribute at practice.
"My goal is to help the young guys, make sure they learn the system," he said.
Sophomore Tyshawn Taylor said the Jayhawks are doing their best to support their buddy.
"Whenever somebody on the team has a problem, Brady is the one to put his arm on your shoulder and ask what's wrong," Taylor said. "We'll show him love, show him we're here for him."
Taylor's thumb
Taylor said his dislocated left thumb is close to 100 percent healed, yet he might not participate in tonight's Late Night in the Phog scrimmage.
"I haven't talked to the trainer yet," Taylor said. "I think I've been looking good, but I don't want to take any chances of injury. It hasn't set me back that much," added Taylor, who was hurt on Sept. 22. "I've been getting a lot of shots up. I can shoot a little better now."
Late Night will run from 6:30 to 9:30 p.m. in Allen Fieldhouse. Doors open at 5:30 p.m.
Withey's recovering
KU freshman center Jeff Withey recently missed a week of workouts because of mono.
"I lost a couple pounds," said Withey, who is listed as 7-foot, 225 pounds. "I feel a little drained after practice but am starting to feel a lot better."
Parents in town
Several Jayhawks have parents now living in Lawrence.
The mothers of Sherron Collins, Taylor and the Morris twins live in Lawrence, as well as Withey's mom and dad. The mother of Xavier and C.J. Henry is moving here, also.
Withey's mom works at an elementary school in Topeka and his dad in construction. The Morris twins' mom works for First Management. Taylor's mom works at Hy-Vee.
"My mom lived in Florida awhile. She was going to move back to Florida (from New Jersey). I told her I want her to come here until I leave," Taylor said. "She made it happen. My mom and two sisters are here."
"My mom moved to Arizona when I did, too," said Withey, a transfer from the University of Arizona originally from San Diego. "She wants to be there to support me and stuff. As soon as she found out the twins' mom was here she was, 'I'm definitely moving.' All the moms have seen that and want to help their kids out."
KU coach Bill Self has no problem with the parents living here.

"Times have changed. Across America, I think it's a vogue thing to do," Self said. "Parents are relocating or trying to get closer to watch their kids play more. It doesn't make any difference to me. I want their support group close to them, but not at the expense of growing up."
Self said he'll talk to parents about anything except playing time. "That'd be a discussion you have with them one time," Self said.
Rotation
Self said he envisions a rotation of eight or nine players, though he could use 10 early.
"We could throw a red shirt on two or three of 'em, too," he said, not naming any red-shirt possibilities. "If I'm a young guy and thought I wasn't going to be in the rotation and had a chance to start here eventually, then I'd want to be red-shirted. We'll see how it plays out."
New look
The Jayhawks are clean-shaven this year.
"No facial hair. As soon as I suggested very strongly we will be clean-shaven, C.J. said, 'Oh gosh, just like the Yankees,''' Self joked of C.J. Henry, who played minor-league baseball for the New York Yankees.
George Steinbrenner allows no facial hair on his Yankee baseball players.
"It's just to look sharp," Self said.
Late Night TV info
Parts of tonight's Late Night will be on TV. Metro Sports (Ch. 37, Sunflower Broadband) will air its Metro Madness show starting at 6:30 p.m. ESPNU (Ch. 141) will air a Midnight Madness special starting at 8 p.m.
More like this story on KUsports.com