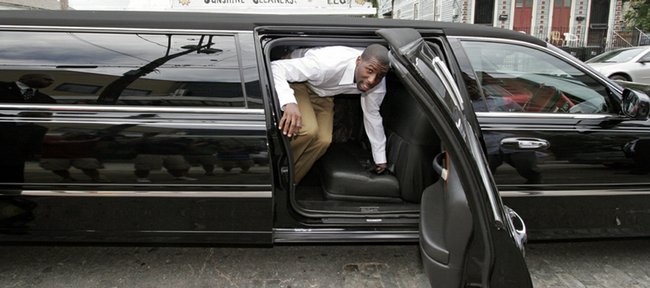 Chalmers still starting
Mario Chalmers, who was a second-round pick in the 2008 NBA Draft, started for the Miami Heat as a rookie. He's ticketed to do the same this season.
"I'm still a nobody in this league right now — that's how I look at," Chalmers told the Miami Herald.
"So to me, it's a lot of competition. I'm trying to get star status in this league, trying to be recognized as one of those great players that you have to worry about on game night. That's my drive."
Chalmers, who had a Heat record nine steals last Nov. 5 versus Philadelphia, averaged 10.0 points and 4.9 assists a year ago.
"I'd say the highlight of my season was breaking the steals record," Chalmers told the Journal-World.
"It was just like college, still playing the lanes, getting ready for the offense."
Of his starting role, he said: "It was not given to me. It's something I worked for. For my second season I need to improve, get more comfortable with the game and teammates, know the system better and keep finding my way."
Kansas City, Mo. — Fans need to keep a close eye on New Orleans Hornets forward Julian Wright during pre-game drills tonight in the Sprint Center.
"I'll try hard in warmups ... try to do something spectacular and give them something to talk about — maybe a couple nice dunks," Wright said of action preceding the New Orleans-Miami Heat NBA exhibition game, set for a 7:30 p.m. tipoff.
"My body will be used to the rigors of training camp (by the Hornets' fifth practice game). Hopefully I'll be able to win bragging rights from Mario," added Wright, a former Kansas University teammate of Heat point guard Mario Chalmers.
Wright — he's been awarded a starting position in this, his third year in the NBA — said playing in K.C. is his first reward of training camp.
"Man, I think training camp is tough. I think about Boot Camp during training camp," Wright said of the Bill Self basketball Boot Camp he survived in his two seasons at KU (2005-06, 06-07).
"The thing that made Boot Camp so hard was it was so early in the morning. The NBA is physically tough. The season is long. I think it is too long, but it's a business. The business side of the NBA does a good job marketing and keeping the fans' interest all year.
"Some of my friends in Kansas tell me they only watch the NBA during the playoffs. In New Orleans ... I think the community rallies around us and follows us all year."
Wright is considered a fan favorite in New Orleans, just as he was at KU.
Coach Byron Scott, who is tough on young players, told Wright before this season that finally the job was his to lose. Wright, who was selected No. 13 overall in the 2007 Draft, was a reserve his first two years in the pros.
"I think we've been very patient with Julian and I think his development is coming," Scott told the New Orleans Times Picayune. "This is the most driven I've heard in my conversations with him," Scott added of Wright who averaged 4.4 points and 2.8 rebounds in 54 games a year ago.
"I still believe Julian is going to be a heck of a basketball player. This could be his breakout year."
Wright logged just 14 minutes, 18 seconds in the games he played last year after averaging 11:11 as a rookie.
"I accept the pressure and burden," said Wright, who slumped to two points off 1-of-11 shooting in the Hornets' 88-79 victory over Oklahoma City last Saturday. He was 1-of-6 for two points the game before that, a loss at Charlotte.
"It's exciting. They are not asking me to be the savior and do things that I'm not capable of doing. I want to be in an environment where I work hard and earn my minutes," Wright said.
Tonight could be a huge night in the development of Wright, considering he figures to be fired up playing so close to Lawrence. He had 10 points off 5-of-7 shooting with four rebounds in Tuesday's 121-86 loss to Orlando in Wichita.
"I think it'll be great to come back and play before a full house. It's not like Allen, but I hope it's close," Wright said. "I hope there are more KU fans than K-State. We've got two KU players in the game to one from K-State (Miami's Michael Beasley of Kansas State)."
More like this story on KUsports.com