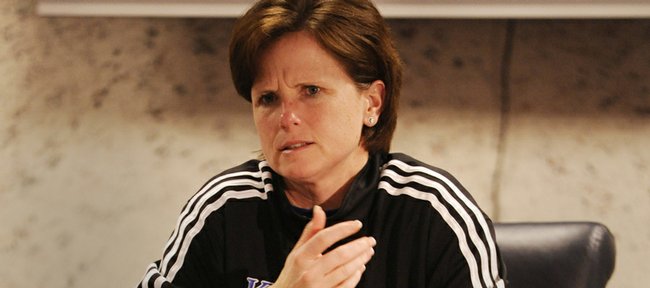 High expectations have translated to a high selection for Kansas University in the Big 12 Conference preseason women's basketball poll.
Baylor was tapped the preseason favorite in the coaches' balloting, with Kansas and Texas tied for second.
The Jayhawks, who finished in a tie for seventh in the league standings last year, received three first-place votes in the voting announced Thursday by the league office.
It's the highest pick for a KU team in a decade, or since then-coach Marian Washington's 1999-2000 team was also predicted to finish second.
Kansas' stock received a boost from its runner-up finish in the WNIT in March and the emergence of Danielle McCray, who was chosen by league coaches last week as the preseason player of the year.
"We have our work cut out for us," KU coach Bonnie Henrickson said.
It was a tight race for the top three spots, with Kansas and Texas falling just three points behind the Bears. The first-place votes were spread among four teams, as Baylor earned five, KU and UT three each and fourth-place Texas A&M; one.
"I think this year, in particular, there is a lot of depth and talent all over the league," Henrickson said, "so several teams should be starting the season feeling like they truly have a chance of winning a championship. We feel like we are one of those teams."
Oklahoma, last year's preseason favorite and regular-season champion, was picked to finish fifth, followed by Nebraska in sixth, Iowa State seventh, Kansas State eighth, Oklahoma State ninth, Texas Tech 10th, Colorado 11th and Missouri 12th.
The complete poll is below.
2009-10 Big 12 Conference Women's Basketball Preseason Poll
Baylor (5) 109

T2. Kansas (3) 106

T2. Texas (3) 106

Texas A&M; (1) 87

Oklahoma 86

Nebraska 80

Iowa State 59

Kansas State 44

Oklahoma State 41

Texas Tech 38

Colorado 22

Missouri 15

(First-place votes in parentheses; coaches not allowed to vote for their own team)