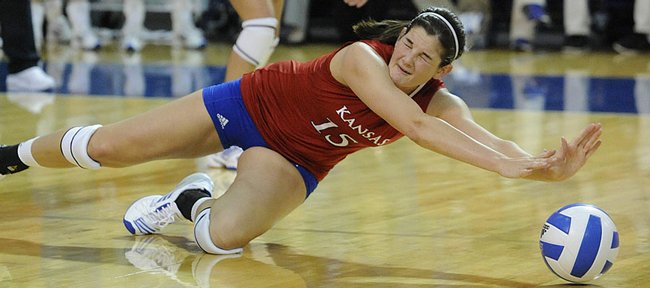 When you open for The Beatles, your notes can't be flat.
Using that mentality, the Kansas University volleyball team played sweet music for parts of the first and second sets Wednesday against No. 2-ranked Texas at Horejsi Family Athletic Center.
In the end, though, it was the Longhorns who produced another No. 1 hit, sweeping the Jayhawks 25-16, 25-22 and 25-12.
"We had some good moments tonight," KU coach Ray Bechard said. "But when you start to lack in any phase, execution-wise, this team will make you pay for it. They're ranked No. 2 in the country but I'd like to see a better team."
Early on in the opening set, the Jayhawks looked like a team that was ready to compete. KU matched Texas in effort and hustle and even held a lead midway through the first.
"You can't have a bad five-point sequence against these guys," Bechard said. "In those first five points, you've gotta come out strong or you dig yourself a hole like we did in the third set."
Although the Jayhawks faded down the stretch of set No. 1, they rediscovered their focus to open the second set and, once again, made things tough on the Longhorns for half a set.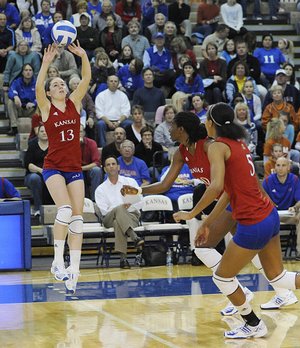 "If they wanted to win, we were going to make them earn it," said junior Karina Garlington, who tied for the team lead in kills with nine on Wednesday. "We respected them but we figured, 'Why not have fun and play hard while we're out there?'"
The carefree attitude combined with intense focus was the gameplan for the Jayhawks, who fell to 9-8 overall and 2-6 in Big 12 play. Prior to the first serve, Bechard emphasized that his team should not be intimidated by the Longhorns.
"One of the keys of the match was, they don't get any points in warm-up," he said. "So just because they're good, they're athletic, they're No. 2 in the country, don't say, 'OK, wow,' and just hand them five points by reputation. I think there were times in the third set where that took over a little bit."
Of course, so, too, did UT All-American Destinee Hooker. Hooker, whom Bechard said should be the leading candidate for national player of the year, led all hitters with 18 kills. She made just three errors all night.
"She's a threat wherever she is," said Garlington of Hooker. "She's really something special. She's going to do what she's going to do and you just have to expect it and accept it and do the best you can against her."
One bright spot for the Jayhawks was the play of senior Brittany Williams, who played right-side hitter and tied Garlington for the team lead in kills. Williams was one of the few Jayhawks who could match UT's athleticism.
"I wasn't scared of (Texas)," Williams said. "But I was scared to death because I was playing right-side hitter for the first time in my life."
The Jayhawks have lost four straight conference matches since opening Big 12 play at 2-2. They'll travel to Kansas State on Saturday for a 1 p.m. Sunflower Showdown.
More like this story on KUsports.com