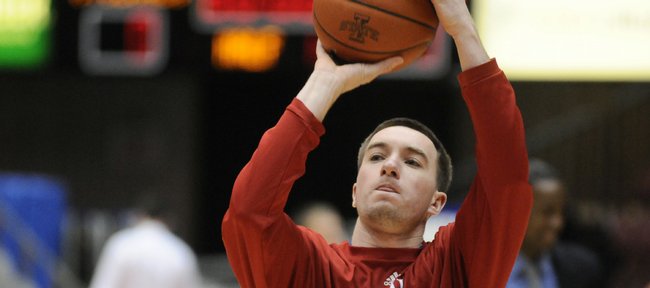 Suspended Kansas University basketball player Brady Morningstar had nearly twice the legal limit of alcohol in his system when he was arrested on suspicion of driving under the influence on Oct. 3, according to a law enforcement report obtained by 6News and the Lawrence Journal-World.
In the report, Kansas Highway Patrol Trooper Jeff Heryford said Morningstar passed his patrol car while driving 78 mph in a 70 mph zone and weaved out of a lane multiple times as he traveled west on the Kansas Turnpike.
The trooper said Morningstar failed four sobriety tests, almost fell down and had a blood-alcohol content of .144, which is more than the legal limit of .08.
Morningstar, 23, is scheduled to appear Friday in Douglas County District Court on charges of DUI, speeding and lane violations for the incident, which occurred at 3:25 a.m. Oct. 3, just east of Lawrence, court records said.
When Heryford tried to pull the vehicle over at mile post 205, he said Morningstar was "slow to react but eventually stopped properly on the right hand shoulder" of Interstate 70.
The trooper said that Morningstar had "an odor of an alcoholic beverage coming from his breath and that he had watery, bloodshot eyes." The trooper also noticed a club stamp on Morningstar's hand.
According to the trooper's report, Morningstar was polite and cooperative, but used profanity. At first Morningstar said he had not been drinking, but later told the trooper he'd had a few beers, the report said.
While being transported to jail, Morningstar stated he "does not do jail, this is not me," the trooper said, and asked the trooper if he "could make this go away."
As a result of his arrest and violation of the basketball team's curfew, the junior basketball guard from Lawrence has been suspended from playing in any games during the first semester.
Last Thursday, Morningstar wrote an apology letter to his fans saying he "used extremely poor judgment in driving after drinking and violating curfew."