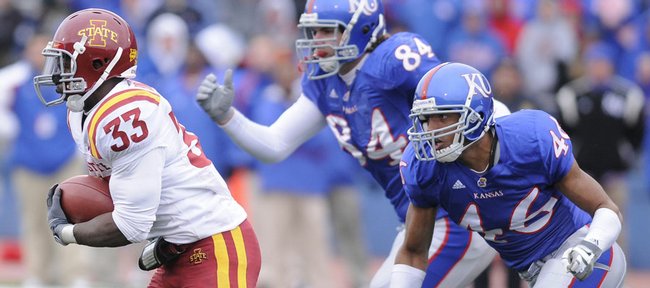 Bill Miller had something to say, and so Kansas University's first-year linebackers coach/co-defensive coordinator gathered his unit following Saturday's narrow 41-36 victory over visiting Iowa State.
Then he did something a bit unexpected: He apologized to players for what he deemed a poor coaching performance on his part.
"I've got a couple of very bright young men in that linebacker group," said Miller, who during his 31-year coaching career has served as an assistant at Florida, Miami and Oklahoma State. "And when they're not playing as fast as they have to play, then that's a coaching error on my part."
Miller called it "paralysis by analysis," and in the aftermath of a quasi-meltdown, in which the previously anemic Cyclones offense rolled up 512 yards and five touchdowns against the No. 17 Jayhawks, Miller wasn't alone in his diagnosis of the team's defensive shortcomings.
Kansas head coach Mark Mangino and defensive coordinator Clint Bowen both said Tuesday that they felt defensive players probably had too much thrown at them so far this season, a problem that would have to be addressed heading into Saturday's 6 p.m. matchup with Colorado.
"More than anything, we as coaches have to know what our players are capable of doing and do it," Mangino said. "We have a lot of good things in our package, but we have to do what our players can do."
This wasn't always the case during a recent three-week stretch in which Iowa State — and, to a lesser extent, Southern Mississippi — exposed weaknesses in the Jayhawks' defense that went largely undetected during early-season blowouts over Northern Colorado, UTEP and Duke.
Despite holding a 5-0 record, Kansas has allowed an average of 453.5 yards and 32 points during the past two games (compared to 282.7 yards and 8.7 points in the first three), and multiple players — veterans included — admitted Tuesday to being overwhelmed at times during the team's first five games.
"Of course, at the beginning of the season, you're going to try out this and try out that and try out this and try out that," said KU senior safety Darrell Stuckey, an All-Big 12 selection last season. "And after a while you're like, 'Uh, I think we're doing too much at once; we need a little at a time.'"
In addition to the complex game plans, however, Kansas has been faced with the same problems that afflict most teams on a yearly basis.
In the team's two-deep secondary depth chart, for instance, a number of young players are still working to get their bearings, while breaking in a linebacker corps that lost three starters — all of whom were named All-Big 12 at some point during their careers —from last year's team has proven, at times, to be difficult.
So, too, have some of the position switches. In the past two seasons, for instance, defensive back Justin Thornton has started at cornerback, safety and nickelback, as the Jayhawks have attempted to settle upon a final secondary unit.
"At times, it can be a little confusing out there, especially being moved from position to position," Thornton said. "It's hard to fine-tune the small techniques that come with each position when you're being bounced around like that. It's not like I don't know what I'm doing out there, but there were a couple times (Saturday) where I was slow to recognize things."
The result has been a trickle-down effect, in which some of the team's most experienced players have found themselves attempting to help teammates, leaving them vulnerable in their own responsibilities.
"It's a tricky thing," Stuckey said. "A lot of people in my position do feel like that. I'm not going to lie, I felt like that at first. But you start to realize that when you try to do too much, you don't do enough. Because what happens is, the ball finds you, and you're not in your position where you're supposed to be because you're over trying to do somebody else's job."
The good news, coaches say, is that the majority of the recent problems are correctable. Poor tackling, undisciplined play and a lack of on-field communication each contributed to Saturday's effort, and Mangino seemed confident he and his staff could right the recent wrongs — even if he declined to discuss the specifics of possible schematic or personnel changes.
Asked Tuesday whether coverage changes were afoot, Mangino joked, "Why would I tell you that?"
What he — and other coaches — would say, however, is that they were using this week to evaluate things in an attempt to align the team's defensive schemes with the skill sets of the unit's players.
"We had a hell of a lot of schemes for that Iowa State attack, and they were all good on that chalkboard, believe me," Miller said. "But it's what those guys can execute and what they can do on the field at full speed that matters."
More like this story on KUsports.com