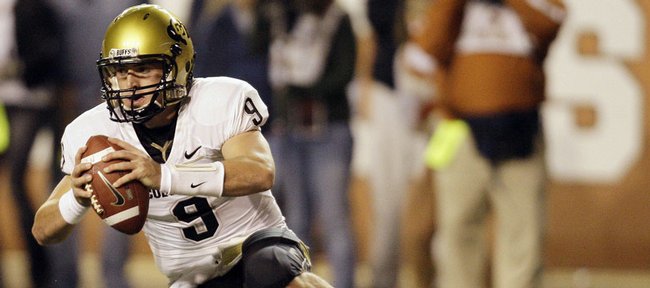 Following Saturday's loss to Texas, word out of Boulder, Colo., was that Colorado quarterback Cody Hawkins — son of head coach Dan Hawkins — would be benched this season in favor of sophomore Tyler Hansen.
Tuesday, however, in an interview with the Journal-World, the coach said he expects both players to figure prominently into the team's offensive plans throughout the rest of the season.
"We'll end up playing both of those guys," said Dan Hawkins, whose Buffaloes (1-4, 0-1 in the Big 12) host Kansas University at 6 p.m. Saturday. "... It's probably a case of me pulling the trigger a little bit quick. It's like anything else, there's a whole compounding thing that goes into it. But Tyler's a good player, so is Cody, and we'll try to maximize both of those guys."
Hansen had his red shirt pulled for the second straight season during Saturday's game against then-No. 2 Texas after the younger Hawkins threw two second-half interceptions that helped pave the way for the Longhorns' come-from-behind win.
Afterward, Dan Hawkins announced that Hansen would start against the Jayhawks, and CU offensive coordinator Eric Kiesau went as far as to tell the Associated Press that Hansen would remain the team's starter for the duration of the season.
"I don't want to get into this back-and-forth, back-and-forth packages," Kiesau said. "I want one guy, and I want the team to see that. And right now, Tyler's our guy."
That sentiment stood in stark contrast, however, to Dan Hawkins' Tuesday comments, which included an insistence that Cody Hawkins could see playing time as early as Saturday's game against the No. 17 Jayhawks.
In five games this season, Cody Hawkins has completed 104 of 205 passes for 1,113 yards — sixth in the Big 12 — but has thrown as many interceptions (nine) as touchdowns for the Buffaloes, who are ranked last in the Big 12 in total offense and 11th in scoring offense.
His replacement, meanwhile, attempted just five passes (completing three) in limited action against Texas, making Saturday's start his first extended action of the year.
Hansen admitted Tuesday that the whole situation has been a bit awkward, but — despite the occasional questions he gets about his status from classmates — he has managed to avoid the swirl of media attention the CU quarterback situation has spawned in recent weeks.
His focus, he said, is on helping Colorado turn around what, to this point, has been a disappointing start to the season.
"Naturally, it's a little awkward just because of the situation," said Hansen, who called Cody Hawkins a great friend. "Because you're going against your coach's son who was the starting quarterback in front of you and you've taken his job. But with Cody and coach Hawk, they're both real comfortable people to be around, and they're real cool about it."
Dan Hawkins, meanwhile, praised the work of both quarterbacks this season, adding that he has had no trouble balancing the role of coach and father in determining what's best for his program.
"I coach 'em all like they're my kid; I really do," he said. "People always go, 'Yeah, yeah, yeah,' but if you're in our program and you saw how I dealt with kids, I love 'em all. I die when they get hurt. I die when they don't play. I die when they don't travel. I've been a scout-team guy, I've been injured before, I've been left off the travel squad. For whatever reason, I've probably experienced all those things so I have a great deal of empathy for all those kids and all they go through in all those situations."
More like this story on KUsports.com