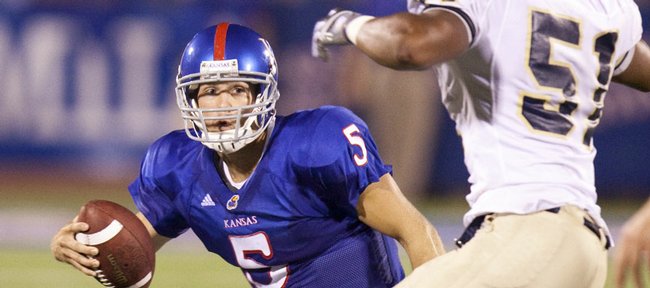 Kansas coach Mark Mangino isn't one who usually advocates for personal awards for his players.
That changed a bit on Monday when Mangino was asked about his quarterback Todd Reesing.
"We've only played five games, but he certainly — and this is an opinion — he certainly merits the right to be a part of the Heisman (Trophy) conversation," Mangino said during the Big 12 coaches teleconference. "When you look at him statistically, you're impressed, but I think the true way you judge Todd Reesing is you have to see him play.
"If you watch him play, the way he just has great leadership, the way he's in control, the way he can take what looks to be a minus-yardage play and turn it into a gain or a big gain, the real appreciation you have for Todd Reesing is after you watch him play. It's not fair to just look at his statistics."
Reesing is tied for fifth nationally with 315.8 passing yards per game. In five games, he has thrown for 1,579 yards and 13 touchdowns with three interceptions.
"I've kept my word. We're not having any Heisman campaigns, and we're not going to do any of that," Mangino said, "but I think when you watch him play, whether you're an opposing coach, an opposing fan, a broadcaster or a journalist that covers the game, you walk away saying, 'That's kid's a pretty doggone good football player.'"
More like this story on KUsports.com