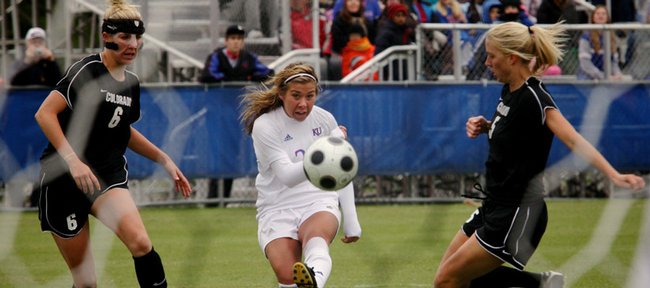 Nobody ever said soccer was fair. Take Sunday afternoon, for example.
Kansas University unloaded 20 shots against Colorado — 14 in a relentless second half — and failed to score. The Buffaloes, meanwhile, took only seven shots.
Colorado won, 1-0, at the Jayhawk Soccer Complex.
"We came out on fire in the second half," KU senior Monica Dolinsky said. "We just got unlucky in front of the goal."
Some KU shots were wide, some were over the goal. A couple even hit the crossbar. And CU goalkeeper Kara Linder was credited with four saves.
"We've played a lot worse than that and won," KU coach Mark Francis said.
Of the Jayhawks' furious final 45 minutes, Francis said: "That's probably the best half of soccer we've played all year, and we came out losing. That's the way soccer goes sometimes."
Sunday's lone goal occurred 151⁄2 minutes after the first kick, when CU freshman Erin Bricker dribbled through the defense and fired a shot to the far post past diving KU netminder Kat Liebetrau.
With that goal and a bunker second-half defense, Colorado boosted its Big 12-leading record to 5-2, although the Buffs are only 8-7 overall. Kansas is 9-5-1 in all games, but 1-4 in the conference.
If Francis is concerned by the Jayhawks' poor league record, he didn't show it.
"We have five games left," he said, "and we're very capable of winning the next five. But right now we're thinking of Oklahoma."
Kansas has one more road trip — to Oklahoma on Friday and Baylor on Sunday — before finishing with home games against Nebraska (Oct. 23), Iowa State (Oct. 25) and Missouri (Oct. 30).
"If we keep playing like that," Francis said of Sunday's second half, "we'll win more than we lose. We can't always be that unlucky."
Whitney Berry, who had scored twice in Friday's 3-2 victory over Texas Tech, led the Jayhawks with five shots. Dolinsky and Caitlin Noble were credited with three apiece, and Kim Boyer, Jeannette Francia and Emily Cressy two each.
Berry and Cressy were the Jayhawks whose shots hit the crossbar.
More like this story on KUsports.com