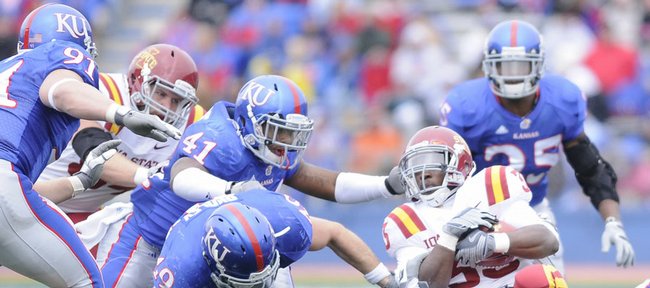 Kansas University football coach Mark Mangino said that defensive changes were imminent following his team's near-upset at the hands of Iowa State on Saturday, a game in which the Jayhawks gave up 512 yards of total offense to a Cyclones team that had averaged just 379 per game in its previous five outings.
Sunday, he began the process of making them.
"I don't know if I would use the term 'simplify,'" Mangino said Sunday, a day after admitting the team's coaching staff might have thrown too much at players. "I think there are some things in our defensive package that better suit our players than others. So the things that are not really fitting our personnel we probably will remove, and the things that do, we'll continue working in the areas of getting better at it."
Saturday's schemes certainly didn't seem to present many problems for Iowa State, which took Kansas (5-0 overall, 1-0 in the Big 12) to the wire in a 41-36 loss. The Cyclones' ground game rolled up 219 yards behind tailback Alexander Robinson, and quarterback Austen Arnaud — who completed 25 of 40 passes for 293 yards and two touchdowns despite entering the game ranked last in the Big 12 in passing yards per game — had little problem picking apart the Jayhawks' lackluster secondary.
"We had a great week of preparation for these guys," Arnaud said afterward. "They do a lot of the same stuff, and they are not going to change their ways, and we took advantage of some of the stuff they did today."
Despite the obvious issues Saturday, however, Mangino insisted he hasn't come close to giving up on the unit. He praised the play of the defensive line, citing the pressure his linemen applied despite finishing the game with just one sack, and spoke encouragingly of his team's ability to improve fundamentally.
The problems, it seems, stem from an underachieving secondary and an inexperienced linebacker unit that includes Justin Springer (coming off a torn ACL), Drew Dudley (making the transition from offense) and true freshman Huldon Tharp (who made his first career start against the Cyclones).
Following Sunday evening's practice, Mangino didn't write off the possibility of personnel changes heading into Saturday's matchup with Colorado, a team that struggled mightily early this year but led then-No. 2 Texas, 14-10, at halftime Saturday before eventually falling.
"I'm the type of coach that I always study our personnel, and I'm always looking to see that we get our best 22 players on the field, that we get the right players in the two-deep, and that we're using the right kids at the right times on the field," he said. "I always tinker with things. Anything's possible. But my focus right now is really just getting better at the things that fit our players."
For their part, players didn't dodge questions about their performance.
"We've got to get this fixed, or else we're just going to end up an average team," senior defensive back Justin Thornton said. "There's no way we're going to win the Big 12 North or beat some of these other teams in our league playing like that."
Sharp update: Much like the members of his team's fan base, Mangino said Sunday he wishes there were some concrete news involving injured running back Jake Sharp.
"I'm like everybody else — I'd like to know more," Mangino said. "I think our medical staff would like for it to happen right away. It's just a situation where he's just not healing at the rate that our medical staff would like for him to."
Mangino reiterated that he wants Sharp — who was in uniform on the sideline wearing a wrap around his calf — to be 100 percent before he returns, and, in truth, the team's running game hasn't seen much of a drop off in the senior's absence. True freshman backup Toben Opurum rushed for more than 100 yards in his first career start against Southern Mississippi on Sept. 26 and nearly reached that mark against the Cyclones, finishing with 98 yards and a touchdown on 24 carries.
"We could probably put him out there, (but) he would not be the Jake Sharp that we know, so that doesn't serve our program well, and it certainly doesn't serve Jake well," Mangino said. "So we've got to wait and just be patient. Jake is following the advice of our medical staff and just doing the best he can."
Jayhawks slip in AP poll: Following Saturday's uninspired performance against Iowa State, the Jayhawks dropped one spot to No. 17 in the Associated Press poll, though they held steady at No. 15 in the USA Today/Coaches poll.
Kansas, the AP's top-ranked Big 12 North team heading into the weekend, was supplanted by North foe Nebraska, which improved to 15th in the wake of Thursday's victory over Missouri. The Jayhawks are the fourth-highest rated Big 12 team in the poll, behind Texas (No. 3), Nebraska and Oklahoma State (No. 16), and ahead of Oklahoma (No. 20).
More like this story on KUsports.com