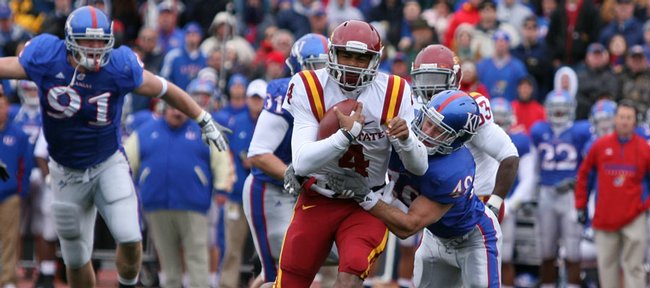 Podcast episode
The guys (Jesse Newell, Dugan Arnett) tie up loose ends following the Kansas football team's 41-36 victory over Iowa State. Is KU's defense this bad? What were KU coach Mark Mangino and the players' reaction to the defensive effort? The two discuss these questions and also reflect on stellar games ...
Reader poll
Todd Reesing (37-for-49, 442 yards, five combined TDs)

65%

1299 votes

Kerry Meier (16 catches, 142 yards, 2 TDs)

23%

466 votes

Dezmon Briscoe (12 catches, 186 yards, 2 TDs)

8%

168 votes

Other

2%

41 votes
1974 total votes.
Photo Gallery
Iowa State at Kansas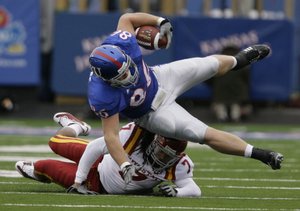 Todd Reesing passed for 442 yards, and Kerry Meier had a school-record 16 receptions for 142 yards in KU's five-point victory.
FINAL: KU defeats ISU, 41-36
Opurum seals the game for KU, as the freshman gains nine on a first-down run and one yard on second down to pick up a first down.
Two kneeldowns later, KU survives with a 41-36 victory.
KU 41/ISU 36 — 54 seconds left in 4th quarter
Not a good start for KU's defense, as Robinson breaks two tackles and runs for 17 yards to the KU 49.
Hamilton moves the chains with an 11-yard catch on third-and-4.
KU is out of timeouts, and with the clock running under two minutes, this figures to be the last possession for ISU.
Arnaud sails a ball too deep in the end zone for Hamilton, and a wide receiver screen to Williams gains just one.
On third-and-9, Chris Harris bats away a pass on a slant route.
KU's defense brings the blitz on fourth down, and after shuffling to his left, Arnaud delivered a deep pass to the end zone. Darks broke wide open on the play, but the ball was a step overthrown. KU takes over on downs.
KU 41/ISU 36 — 2:36 left in 4th quarter
The game might have to be decided by KU's defense.
After an Opurum eight-yard run, Reesing runs for no gain and Reesing short-hops Wilson on a potential catch.
Rojas delivers a short punt, and ISU will take over at its own 34.
KU 41/ISU 36 — 4:49 left in 4th quarter
KU's defense still doesn't seem to have figured out how to stop ISU.
Derrick Catlett sneaks behind the KU defense for a 26-yard catch down the sideline. Robinson adds 11 more after running through a huge hole on the right side.
KU's defense stuffs Robinson on a third-and-1 for no gain, but the Cyclones will go for it on fourth down. KU takes its second defensive timeout of the half to prepare for the play. Even though KU stacks the line, Robinson still has no problem falling forward for four yards and a first down.
Four plays later, Arnaud rolls to his left to find Darius Darks for an easy five-yard score.
Arnaud is just a little wide on his two-point conversion throw, though, and Darks can't bring it in with one hand. ISU still is only down five points and one possession.
KU 41/ISU 30 — 8:42 left in 4th quarter
Meier hauls in his 14th catch — tying the school record for receptions in a game — and more importantly for KU, picks up 13 yards down the sideline.
On a well-designed play, Reesing hits a wide-open Biere on a throwback pass for 18 more yards. That's 400 yards passing for Reesing.
On a third-and-6, Reesing shuffles forwards and falls ahead for eight yards and a crucial first down.
Meier brings in his 15th catch and moves the chains again for KU with a 14-yard gain over the middle.
And after 15 catches, ISU still decides to leave Meier wide open in the back of the end zone. Reesing slings one to him for the easiest six-yard TD reception you'll ever see.
Branstetter adds the extra point, and Reesing is up to 430 passing yards — the second-most in a game in KU history.
KU 34/ISU 30 — 13:03 left in 4th quarter
On third-and-8 for ISU, KU fans bring the noise, and this is the loudest I remember it at Memorial Stadium this year. Jake Laptad comes through with pressure up the middle and a sack-turned-rush when Arnaud falls forward for a one-yard gain. KU's defense holds, and following a punt, the Jayhawks will take over at their own 20.
KU 34/ISU 30 — 14:26 left in 4th quarter
Reesing trusted Briscoe to make a play, and make a play he did.
The KU quarterback launched a deep pass downfield for Briscoe, and the junior rewarded him by extending to make a 46-yard touchdown catch with a defensive back at his hip. From the press box, Reesing's pass appeared to be overthrown, but Briscoe seemed to have an extra gear late to catch up with the throw.
Branstetter's PAT is true, and KU desperately needs a stop from its defense.
ISU 30/KU 27 — 1:17 left in 3rd quarter
This game has turned into a shootout between two nearly unstoppable offenses.
KU's lead barely last three minutes, as ISU marched downfield with relative ease. Arnaud finished the drive with a 17-yard pass to Hamilton in the corner of the end zone, and the Cyclones are suddenly a powerful offensive team.
KU 27/ISU 23 — 4:02 left in 3rd quarter
Kerry Meier is limping a bit, and he asks to be taken out of the game. That's not something KU needs at this point.
A patented Reesing play wakes up the crowd a bit, as he bounces to the right, left then right again to freeze a defensive lineman before hitting Biere for a 19-yard gain.
A great block by Opurum on a blitzer opens up a big play for KU. Reesing, with the extra time, floats a ball deep into the back of the end zone where Briscoe runs under it for the score. Somehow, Reesing threaded it between two defenders and into Briscoe's arms. Branstetter's PAT gives KU a four-point edge.
ISU 23/KU 20 — 6:45 left in 3rd quarter
KU's defense doesn't seem to have any answers against ISU's offense. Robinson runs for 23 yards through a huge hole up the middle. Three plays later, Arnaud finds Hamilton deep down the sideline for 39 yards, and Hamilton catches it even though Daymond Patterson interfered with him.
Arnaud follows with a two-yard touchdown run, and the Cyclones regain the lead. KU blitzes on the two-point conversion, and Arnaud finds an open Jake Williams over the middle for the easy two.
KU 20/ISU 15 — 8:46 left in 3rd quarter
The Cyclones seem to have grabbed some momentum back after stopping KU's offense.
Meier drops a pass that would have been a short gain, and on third-and-8, Briscoe has a potential reception batted away by an ISU defender.
Following a Rojas punt, ISU will take over at its own 24 down by just five.
KU 20/ISU 15 — 9:58 left in 3rd quarter
Most of the KU students have had enough of the cold. Only about two-thirds of them remain for the second half of a one-possession game when their team is ranked 15th in the nation.
Iowa State, slowly but surely, moves its way down the field. The Cyclones convert a third-and-2 and a third-and-1 before Robinson breaks off a 21-yard run to the right.
The Jayhawks blitz on the next third down, and Stuckey comes up with a big hit to stop Robinson on a catch in the flat for a three-yard loss.
Mahoney knocks through a 34-yard field goal to end his mini-drought.
Statistics of note
• Reesing 22-for-28, 233 yards, two combined TDs, INT
• Meier 11 catches, 98 yards, TD (The school record for receptions in a game is 14.)
• Briscoe 6 catches, 76 yards
• Opurum 14 carries, 53 yards, TD
• Austen Arnaud 6-for-13, 125 yards
• Alexander Robinson 14 carries, 44 yards, 2 TDs
• KU had just one first-half penalty for five yards. ISU had no penalties that KU accepted.
• ISU's Jesse Smith has 10 first-half tackles and an interception.
Some thoughts
• Even with the interception, this has been Reesing's best game. He's been in sync with his receivers and accurate on his throws. I've also noticed that he isn't scrambling as much to get yardage, but instead moving in the pocket to find his receivers downfield. So far, it's worked.
• KU continues to rack up the yardage. The Jayhawks managed to gain 290 yards on just five possessions. They're also three-for-three in getting TDs on red-zone chances.
• I'm liking two of my pregame predictions (350 KU passing yards, 100 ISU rushing yards) but not the other one so much (three interceptions for Arnaud).
KU 20/ISU 12 — Halftime
After a short run by Arnaud, ISU wisely decides to kneel on it to bring us to halftime.
KU 20/ISU 12 — 30 seconds left in 2nd quarter
Reesing picks up right where he left off. Eleven yards to Briscoe. Five and 11 to Meier. Seven more to Opurum. Four and eight again to Meier.
Unfortunately for KU, a third-and-2 run from Opurum at the KU 20 is stuffed for a one-yard loss. With the kicking game's struggles today, Mangino decides to go for it, and Reesing moves up in the pocket to find Meier for nine yards and a first down.
Reesing has a patented rollout to the right after feeling pressure, but he underthrows Opurum for what could have been a TD. Reesing scrambles for eight yards on second down, then on third down, follows behind a blocker and bulls his way into the end zone for a 4-yard TD run. Reesing was hit hard at the end, but he bounces off the turf and jumps to celebrate with teammates.
Branstetter makes the point-after, and Mangino's fourth-down gamble pays off.
How's this for Reesing: 22-for-28, 233 yards and two combined touchdowns to go with an interception.
KU 13/ISU 12 — 2:45 left in 2nd quarter
The momentum has shifted to KU's side at the end of the half.
The Jayhawks defense forces a three-and-out, as Arnaud's third-and-8 pass is dropped by Marquis Hamilton across the middle.
Daymond Patterson fair-catches the punt, and he's had perhaps his most uninteresting game as punt returner: two punts, two fair catches.
KU will take over at its own 35.
KU 13/ISU 12 — 3:37 left in 2nd quarter
When KU's offense is clicking, it really is fun to watch.
Reesing makes it look easy, peppering passes all over the field. His main target is Meier, who catches passes of 11, 21 and 12.
Reesing ends the drive with a three-yard touch pass to Meier in the corner of the end zone. The Jayhawks execute a near-perfect six-play, 60-yard drive. Better yet, Branstetter splits the uprights, and the KU fans give out an extended cheer.
The Jayhawks have their first lead.
ISU 12/KU 6 — 6:13 left in 2nd quarter
KU has gone to its hurry-up spread, and ISU's defense hasn't been able to adjust well yet. Briscoe catches a pass for five yards, and Bradley McDougald takes a wide-receiver screen 10 yards for a first down.
With the help of great protection, Reesing finds Briscoe over the middle for 23 yards.
The drive ends in a hurry, though, as Reesing throws an interception over the middle to ISU linebacker Jesse Smith. I don't think Reesing even saw him. Big play by the Cyclones' best defensive playmaker.
KU's defense forces its first punt, as the KU linebackers are starting to catch on to Arnaud's constant scrambling. Arnaud scrambles for one yard on a third-and-12, and the Jayhawks will take over at their own 40 after the kick.
ISU 12/KU 6 — 10:02 left in 2nd quarter
Reesing throws a deep ball to Briscoe, but the junior can't come up with it. There appeared to be some contact there, as the ISU defender started to tackle Briscoe instead of playing the football. The KU fans don't like it, but the Jayhawks are forced to punt with no flags for pass interference on the field.
Rojas does a nice job with the rugby-style kick, as his punt and roll travels 51 yards with no return.
ISU goes back to work, though. Arnaud hits Josh Lenz for 15 yards on a perfect pass to the quarterback's left. Obviously, Arnaud has sorted out some mechanical issues this week.
On third-and-8, Arnaud scrambles for nine yards and another first down.
The Cyclones are forced into a fourth-and-8 at the KU 28, but Arnaud throws a strike to Jake Williams over the middle for 17 yards.
Two plays later, Robinson squirts around the right side for seven yards, diving in for a touchdown. Mahoney shanks the extra point again, though, missing wide left. Before today, Mahoney was 47-for-48 on extra points in his career, with his only miss coming last week against KSU.
ISU 6/KU 6 — End of 1st quarter
Reesing fumbles the snap on first down and is forced to fall on the football at the KU 1. Opurum gains five on second down, but KU will face third-and-long deep on its own end at the start of the second quarter.
ISU 6/KU 6 — 58 seconds left in 1st quarter
I have to admit I've been surprised so far at how easy Iowa State's offense is moving the football.
Arnaud looks like a new man, gunning a 13-yard pass over the middle to Collin Franklin. He's already made more good passes this week than he had all of last week.
Robinson doesn't look to be slowed down by his groin injury, either, knocking off runs of seven and eight yards.
KU's defense gets pressure on third down, though, and Arnaud overthrows a pass to the end zone. ISU's kicking struggles continue, though, as holder Derec Schmidgall can't get a handle on the football during a 26-yard field-goal attempt. The snap looked good, but Schmidgall just didn't get the ball down. After scrambling with the ball, Schmidgall threw the ball out of bounds, and KU catches a big break.
ISU 6/KU 6 — 4:08 left in 1st quarter
It didn't take long for KU's offense to answer with a touchdown of its own.
Reesing's favorite target was Dezmon Briscoe, and the two had connections of 12, 13 and 13 yards.
Once inside the red zone, Opurum took over. He picked up the final 20 yards of the drive on runs of five, eight, four, two and one to end the drive with a touchdown.
Jacob Branstetter clangs the extra point of the upright, though, so KU remains in a six-all tie.
ISU 6/KU 0 — 10:32 left in 1st quarter
Toben Opurum gets the start for KU, but the Jayhawks look content to throw it early.
Todd Reesing finds an open Johnathan Wilson for 20 yards, and on the next play, the Jayhawks go five-wide with an empty backfield. Reesing somehow avoids pressure and throws across his body to find tight end Tim Biere for another first down.
KU's drive fizzles, though, as Reesing's third-down pass falls incomplete. Alonso Rojas punts it away from inside the ISU 40.
Huldon Tharp and Ryan Murphy are both surprise starters for KU.
KU has a blown coverage on a third-and-8, and the play looks a lot like Jake Sharp's catch-and-run last year against ISU. A wide-open Alexander Robinson catches a pass on a wheel route and takes the ball 54 yards down the left sideline before Darrell Stuckey corrals him.
Three plays later, Robinson plunges in from a yard out, and ISU has taken the early lead. Grant Mahoney misses the extra point wide right, though, and that makes two straight misses for the Cyclones.
11:35 a.m.
Iowa State wins the toss and defers. KU will receive.
The fans are filling in nicely. Just a small area in the northeast corner where the students sit remains empty.
11:21 a.m.
Be ready for a mid-November game played in early October.
It's cold here. Really cold. Weather.com says 38 degrees with 14 mile-per-hour winds out of the north. That makes for a wind chill of about 30 degrees.
Not only will that affect the passing game, it also will most likely affect the crowd. This game was never listed as a sellout, and I'd expect to see some empties with the cold weather we have here today.
11:12 a.m.
Jake Sharp is out warming up with the running backs, but he was out there warming up two weeks ago as well against Southern Miss. when he didn't play.
Toben Opurum was the back in there for the team's first-team goal-line drills. He also was listed as the starter on the scoreboard. I'm guessing we won't see Sharp in this one.
10:43 a.m.
Today's football stories have been posted (special thanks to Asher Fusco) and you still have about an hour to check them out before gametime.
There's KU vs. ISU head-to-head, a story on the Cyclones trying to bounce back this week and a nice piece by Dugan Arnett about kicker Jacob Branstetter.
9:33 a.m.
Welcome back to the Newell Post Live, coming to you from Lawrence where the Kansas Jayhawks are getting set to take on the Iowa State Cyclones.
Before we get started, I wanted to apologize for us not having gameday football stories posted on our Web site. There was a mix-up on our part, and we will be posting those stories shortly. Thanks for your patience.
Let's get to some analysis of today's game, using our true/false, fill-in-the-blank format.
True or false: Iowa State rushes for 100 yards against KU.
True. This is the classic case of the old cliche, "Something's gotta give." KU comes in third in the nation in rush defense, allowing just 59.3 rushing yards per game. The Jayhawks, in fact, have not allowed a team to rush for more than 100 yards this season. Iowa State, meanwhile, has averaged 207.6 yards per game, which is third in the conference. So why do I think the Cyclones will rush for 100 yards? It's simple: Because the Cyclones will run the ball a ton. ISU has averaged 40.2 rushes per game this season. The reason is two-fold: Their offense has struggled in the passing game, making offensive coordinator Tom Herman more hesitant to call risky passing plays; and many of their passes turn into runs, as quarterback Austen Arnaud oftentimes runs with the ball when he feels any sort of pressure. If you do the math, you can see that even if KU does a great job of stuffing the run and allows just three yards per carry, after 40 carries that is still 120 yards. The Cyclones will pass the 100-yard barrier today, but that still might not help them win.
True or false: Kansas will throw for 350 yards against Iowa State.
True. The Jayhawks' high for passing yards this season (338) came against Duke, but I see the 'Hawks eclipsing that number today. Iowa State's rushing defense is not ranked high (10th in the conference, 157.6 yards per game), but remember, one of those games was against a military academy (Army), so the rushing numbers will be a bit higher. After watching last week's tape, I think offensive coordinator Ed Warinner will try to pick on the Cyclones' secondary early and often, much like the Jayhawks did in the second half of last season's game. Reesing should find some holes downfield to throw to, and expect big games from KU's big two: Kerry Meier and Dezmon Briscoe. KU might also be more inclined to throw if Jake Sharp is held out of today's game with his lower leg injury.
True or false: Austen Arnaud will throw three or more interceptions today.
True. Now I'm really going out on a limb. Last year, Arnaud came into the KU game brimming with confidence, and it showed in his 268-yard, three-touchdown performance. I didn't see the same confidence last week in his game against Iowa State. Arnaud is struggling to throw to his left, and coaches have diagnosed his problem, saying he is falling away from his throws. I remember seeing at least two instances where he one-hopped receivers in the flat to the left, and the coaches weren't even calling that many plays to the left. Arnaud has only completed 53 percent of his passes this season, and truth be told, he was lucky last week that a few more weren't picked off. If KU gets out to an early lead, and ISU has to play catch-up, Arnaud could be forced into trying to play hero for the Cyclones. If that happens, the KU secondary needs to be ready. Give me at least one interception for Daymond Patterson. Tom Keegan takes Darrell Stuckey, and he's even predicting a pick-six (his favorite prediction to give).
If KU wins, it will be because ...
the Jayhawks avoid negative plays/turnovers on offense. Iowa State, the less-talented of the two teams, will need big plays and turnovers to hang in this one. If KU quarterback Todd Reesing makes good decisions with the football, and makes smart decisions when pressure is coming to avoid big losses, the Jayhawks should be fine. Toben Opurum also is expected to get a heavy workload, and he has the Jayhawks' only two lost fumbles this season, so he needs to be mindful of taking care of the football as well.
If ISU wins, it will be because ...
Austen Arnaud finds the 2008 version of himself. Iowa State (and really, any team for that matter) will have to beat KU's defense through the air. The Jayhawks' weakness is in pass defense (11th in conference, 251.5 yards per game), but unfortunately for the Cyclones, that's where their weakness lies as well. Somewhere inside Arnaud's 6-foot-3, 224-pound frame is a good quarterback with a cannon arm, though we haven't seen much of it in the last few weeks. He'll most likely have time to throw, as ISU's offensive line has allowed just one sack this season, which is best in the nation. The question is whether Arnaud will be able to use that time to be able to find his receivers downfield. Though Arnaud's receiving weapons are limited, he will need to be much, much more accurate today to give the Cyclones any chance of pulling the upset.
Prediction: KU 41, Iowa State 17
I'll be honest: I just don't see how Iowa State is going to move the football. The Cyclones found some holes running the football against Kansas State last week, but I just don't see them having the same success against the Jayhawks. If the Cyclones turn to the pass, they're walking a tightrope. Arnaud has been inaccurate lately, and the ISU receivers have been struggling to pick up the new offense, oftentimes running the wrong routes and ending up in the wrong spots. I see KU getting up early in this one, and with a lead, ISU is forced to try to do something (pass) it's just not that good at. Give me KU in an easy victory, with the Jayhawks covering the spread (19 points) to boot. I just can't see KU overlooking ISU two seasons in a row.
More like this story on KUsports.com