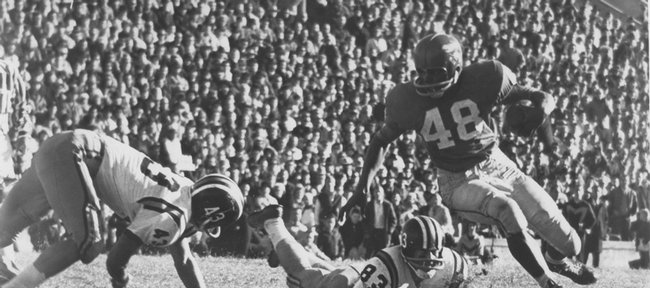 The Comet file
• Sayers KU stats: 3 seasons, 412 carries, 2,675 yards, 6.5 yards-per-carry, 19 touchdowns
• Sayers' NFL stats: 7 seasons with Bears (68 games), 991 carries, 4,956 yards, 5.0 ypc, 39 TDs
• One of 12 RBs at KU to rush for 1,000+ yards in a season (1,125 in 1962)
• Inducted into the Pro Football Hall of Fame in 1977
When the news hit last month that former Kansas University running back Gale Sayers was coming back to Lawrence to become the athletics department's Director of Fundraising for Special Projects, it didn't take long for his return to the program to make an impression with the members of the 2009 team.
Whether they had heard of him before arriving in Lawrence or not — and most were honest when answering that question — it didn't take long for this year's Jayhawks to learn about the man widely regarded as the greatest KU football player of all-time.
"As soon as I signed my letter of intent, I had people asking me if I knew who Gale Sayers was," said freshman receiver Bradley McDougald, who hails from Dublin, Ohio. "When we were in two-a-days, they showed a lot of film on him and showed a lot of history of KU and all the different things that the different players did to make KU the school it is today. I didn't know too much about him. I knew he was a great player and knew he did a lot of great things in the NFL, but I didn't know too much about him at KU."
Thanks to the highlight reel, that changed quickly as McDougald saw enough footage of Sayers' 412 carries, 2,675 yards, 6.5 yards-per-carry and 19 touchdowns over three seasons at KU to understand why the man they called the Kansas Comet earned such praise.
"After seeing all the clips and hearing all of the different things he did and records he broke, I'd have to say the best player in KU history is Gale Sayers, hands down," McDougald said.
The results of a recent, informal poll of about a dozen current Jayhawks, illustrated that McDougald's thoughts were shared by most of his teammates, although not all for the same reasons.
"Gale Sayers," senior safety Darrell Stuckey when asked his opinion. "He was relentless when he played here, his resilience and his passion for the game. And he had a great impact on this campus as a whole. Not only is his name on the stadium but he has his own computer lab and had a great influence academically, as well."
Added junior defensive back Chris Harris: "Gale Sayers. He's big-time. He's a Hall of Famer."
During the poll two separate questions were asked. The first, 'Who is the best-known KU football player of all-time,' was followed by the similar-but-different, 'Who is the best KU football player of all-time?' For most who answered, the name was the same: Sayers. But a few guys, like senior quarterback Todd Reesing, brought a twist to the table.
"Best-known, it's hard to pass up Gale Sayers or John Hadl, two guys we're lucky enough to have working with us," said Reesing referring to Sayers and Hadl, now an associate athletic director at KU. "As for the best, it's gotta be Gale or John, too. They both had such amazing careers both in college and in the NFL. Those two guys are definitely at the top of the class. I don't know if I want to pick a clear favorite right now. I don't want to get on anybody's bad side."
While most favored the old school answers, one member of this year's team, freshman running back Toben Opurum, tossed out a more modern name. Although he first said Sayers — adding, "He was here the other day and everyone knew who he was as soon as he walked in. He seems like a great person and I hope to get to meet him some day." — Opurum elaborated on his answer by saying, when it's all said and done, KU's senior quarterback could be mentioned in the conversation.
"If not Gale Sayers, I think Todd (Reesing) could go down leaving this place as one of the most talented guys to ever play here," Opurum said.
Reesing has racked up some serious statistics to back Opurum's claim.
In just three years as a starter, Reesing owns every major KU passing record — TD passes (career and season), passing yards (career and season), pass attempts (career and season), completions (career and season) and career completion percentage — and has led the Jayhawks to 24 wins against just six losses since Reesing led KU to a comeback win against Colorado late in the 2006 season.
Although he appreciated the nod from KU's leading rusher, Reesing wasn't so sure Opurum was thinking clearly when he answered the question.
"The fact that I was even mentioned in the same sentence with those guys is pretty astonishing," Reesing said. "But I don't think I've earned the right to be mentioned with guys like Gale Sayers and John Hadl at this point. They did some pretty unbelievable things. We'll leave that topic for another day."
More like this story on KUsports.com