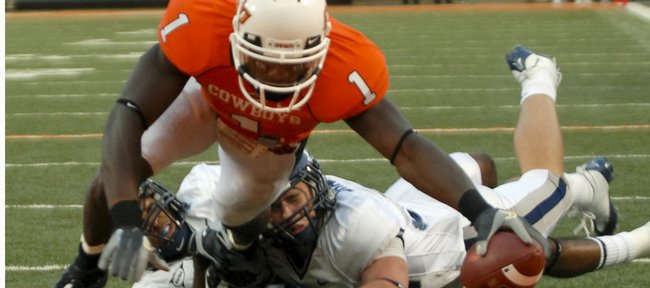 Stillwater, Okla. — All-America wide receiver Dez Bryant has been ruled ineligible by Oklahoma State, four days before the 15th-ranked Cowboys' first Big 12 game.
The university announced Wednesday that Bryant "failed to openly disclose to the NCAA the full details of his interaction with a former NFL player not affiliated with OSU."
Oklahoma State (3-1) said it had already begun the process of asking the NCAA to reinstate Bryant for the violation of bylaw 10.1(d), which prohibits players from knowingly providing false information to the NCAA regarding a possible rules violation.
However, NCAA spokeswoman Stacey Osburn said no student-athlete reinstatement request had been received from OSU. She said it is NCAA policy not to comment on current, pending or potential investigations.
"I made a mistake by not being entirely truthful when meeting with the NCAA," Bryant said in a statement released by the university. "I sincerely regret my mistake and apologize to my teammates, coaches, OSU fans and the NCAA."
A top NFL prospect, Bryant caught 87 passes for 1,480 yards and 19 touchdowns last season while also scoring twice on punt returns. He's the only one of last year's three finalists for the Biletnikoff Award that is still in school.
This season, Bryant leads the team with 17 catches for 323 yards and four touchdowns. He left Oklahoma State's 41-24 win against Rice after taking a hard hit and sat out a 56-6 win against Grambling State two weeks ago.
The Cowboys were off last week and open conference play Saturday morning at Texas A&M; (3-1).
Bryant's availability for Saturday's game was uncertain, though coach Mike Gundy has declined to comment on specifics of the receiver's injury.
"We are certainly disappointed, but we are moving forward as we would with any challenge during the season," Gundy said in a statement.
Oklahoma State said the situation "does not involve anyone associated with the OSU football or athletic department staffs, any employee of the university, alumni, donors, or any third-party affiliated with OSU."
Beyond that, the university said it would have no further comment.
Without Bryant, Oklahoma State's receiving corps is made up of unproven players who had combined for only five catches prior to this season. Former starters Jeremy Broadway and Damian Davis were kicked off the team after last season, and Bo Bowling was suspended after being charged with possession of marijuana and an anabolic steroid. He has pleaded not guilty and is awaiting trial.
That has forced a group of inexperienced players, including sophomore Josh Cooper, junior college transfer Dameron Fooks and redshirt freshmen Isaiah Anderson and Justin Blackmon to help an offense that's also been without all-Big 12 tailback Kendall Hunter (ankle).
"When it's their time, they've got to do it. Defenses are going to play you a little bit different with or without Dez, or with or without Kendall and where they're playing (quarterback) Zac (Robinson)," offensive coordinator Gunter Brewer said earlier this week. "Somebody's going to have a chance to make a play. It's just who and when."
More like this story on KUsports.com