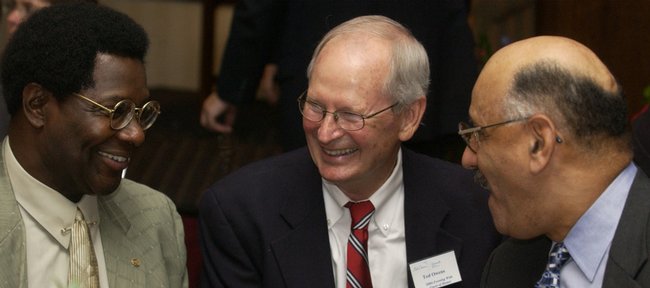 Wichita — Former Kansas University basketball coach Ted Owens, who was inducted into the Oklahoma Sports Hall of Fame in August, on Sunday was enshrined into the Kansas Sports Hall of Fame in an emotional ceremony in Wichita.
"They were both so special, but so different," Owens said Sunday night. "To have so many former players and friends of the program here tonight ... really meant a lot to me."
He was elated to visit with 1966 KU team captains Riney Lochmann and Delvy Lewis, as well as his first recruit, Al Lopes, plus Tommy Smith and David Magley.
"You walk through the Hall of Fame and see all the people who preceded you. It's the greatest of Kansas sports history, all the athletes and coaches," Owens added. "Oklahoma ... that's my home state and was special as well."
Owens summarized his speech:
"Anybody in life, no matter how hard you work, you cannot be successful without help and support of others," Owens said. "My parents, players, assistant coaches, family and friends. I'm so thankful."
Of his KU years, Owens said: "As Bill Self said, we are all just caretakers of the program during our time. I feel privileged to have had the opportunity (from 1964 to '83)."
Owens was one of 14 members of the Hall's Class of 2009.
Others with KU ties were Harold Patterson, Gwinn Henry and the late Paul Endacott.
Patterson, who graduated from Rozel High in 1950, was a letterman in football and basketball at KU. He earned All-Big 7 first team honors in basketball in 1954. He was a standout in the Canadian Football League, scoring 75 career TDs. He set CFL career receiving record with 9,473 yards and 64 TDs while averaging over 20 yards per catch for his career. He was named to the CFL all-Century team.
Henry, who was a world record holder in track from Southwestern College and College of Emporia, was athletic director at KU in 1937 and coached fooball and track during World War II as coaches went off to war.
Endacott, who is deceased, led KU to mythical national basketball titles in 1922 and '23.
Others who were inducted: Jesse Barnes, Don Calhoun, Orlis Cox, Steve Henson, Ken Mahoney, John Mason, Ken Roberts, Janell Smith, Eddie Sutton and Ken Swenson.
"Eddie was thrilled to be honored by his home state," Owens said of the Bucklin native and former Oklahoma State hoops coach.