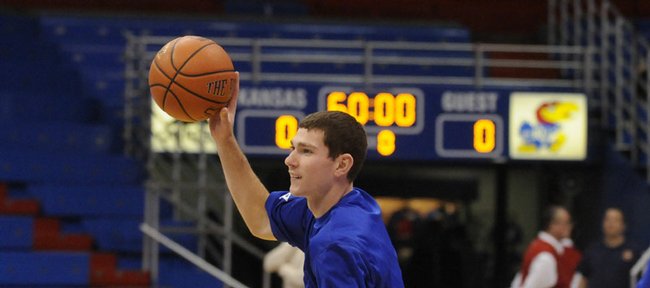 One of the biggest upsets in Boot Camp history took place early Friday morning in Kansas University's new basketball practice facility.
"It's the first time I can ever remember Tyrel losing a sprint," seventh-year KU coach Bill Self said of junior racehorse Tyrel Reed. "Tyrel's always leading the pack. He's always out in front. Somebody finally got him today."
It was sophomore guard Tyshawn Taylor who crossed the finish line a nose ahead of Reed in one of the Jayhawks' suicide sprints that concluded the first week of Self's two-week Boot Camp conditioning sessions.
"Few can get to the level where they always are first in sprints. Tyrel's at that level," Self said, naming the 6-foot-3 Burlington native the unofficial MVP of Boot Camp with five sessions remaining.
KU's coach said there have been several standouts.
"Thomas Robinson really works. C.J. Henry has had a good Boot Camp," Self said. "Brady (Morningstar), Tyrel, Conner (Teahan) all have done well. Sherron had a good week," he added, noting senior Sherron Collins was very close to the 5-foot-11 Collins' desired playing weight of 205 pounds.
Self said the team excelled during 6 to 7 a.m. workouts, which included a lot of running as well as defensive drills and backboard touches.
"It was a very good week and probably a lot harder than last year," Self said. "We had four real good days and one bad one. They understand they can't have any more bad days. It's as good a camp as we've had since we've been here without question.
"The guys are tired. There's no question they are tired."
KU freshman Xavier Henry was the only Jayhawk not to participate in all the drills Thursday and Friday.
"His knee is sore, stiff," Self said of the 6-foot-6, 220-pounder from Oklahoma City. "(But) he was definitely out there on the (stationary) bike. He'll be ready to go Monday."
The Jayhawks — who have been awarded the weekend off — will report back in the gym at 6 a.m. Monday.
"I wouldn't think so," Self said, asked if there was any chance Boot Camp would end before next Friday. In some past years, he has called off Boot Camp a day early as a reward to the troops for sustained hard work. "I don't know that for a fact, though."
Comment on investigation
KU associate athletic director Jim Marchiony had one comment in response to a story in Friday morning's Journal-World that indicated KU police have opened a disorderly conduct investigation into last week's fight between KU football and basketball players outside Burge Union.
"As it should be, it's being handled by the university," Marchiony said of the campus police investigation.
Fieldhouse shaping up
Renovations to Allen Fieldhouse and Booth Family Hall of Athletics are on track to be completed by the Oct. 16 Late Night in the Phog, Marchiony said Friday.
"I think the fans will really like the fact there will be expanded concessions. Wider concourses will make it easier to get around. Access will be expanded. The Hall of Athletics will be a huge draw. People will love the new interactive displays," he said.
Marchiony said there "will be some touching up being done through the month. But it'll definitely be ready."
Recruiting
The mother of Portland Jefferson High's Terrence Jones tells Rivals.com her son has not eliminated KU after all. She said if the 6-foot-8 forward does visit KU, however, it'd be on an unofficial visit. The No. 13-rated player in the Class of 2010 has official visits set up with UCLA, Oklahoma, Kentucky, Washington and Arizona.