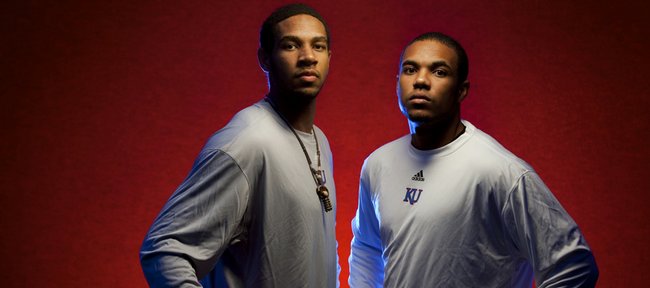 C.J. Henry, who as a professional baseball player attended spring training camps of both the New York Yankees and Philadelphia Phillies, now finds himself in preseason Boot Camp basketball drills at Kansas University.
So which is more grueling, C.J.: baseball or basketball?
"Spring training is pretty tough. So is this," a noncommittal Henry said of 6 to 7 a.m., workouts this week and next in KU's new hoops practice facility.
"Baseball is a skill game. So is this. You have to be well conditioned to play this, and baseball too. It's just a different type of strength. Some of those guys (baseball sluggers) are so strong. They put in different type of work in the weight room that basketball players don't do because they (basketball players) want to be lean, run fast and jump high," Henry added.
The 23-year-old Henry, who gave up baseball after 31⁄2 seasons, sat out last basketball season at the University of Memphis because of knee and foot injuries. Now 100 percent healthy after transferring to KU ... he's had a smooth transition back to hoops.
"I don't think you ever forget how to do something or forget how to shoot," said Henry. The 6-foot-4 freshman guard averaged 23.2 points and 5.2 rebounds a game his senior season at Oklahoma City's Putnam City High before being tapped in the first round of the 2005 MLB Draft.
"You have to get a lot of reps in. That's what I've been trying to do every day. The more reps you do, the better you will get at it, the better shape you'll be in. Everything works together."
Henry — he worked out last summer with his brother, KU freshman Xavier Henry, and a personal trainer back in the Henry's hometown of Oklahoma City — is more than holding his own during Boot Camp sprints.
"Tyrel Reed pretty much leads it every day. He's in front on the sprints," Henry said of the KU junior from Burlington. "I don't think he's ever gotten out of shape. I think that's why he stays in front. The last couple days I've been right behind Tyrel. I'm just trying to stay with him, maybe pass him. I doubt it, but I try to keep up with Tyrel and have him push me.
"I'm in pretty good shape. I don't know if it's the best I've ever been. It's good basketball weight. I'm probably 200, 205 now."
He said all of KU's first-year players have had productive Boot Camp sessions.
"Everybody is working hard," Henry said. "It'll take time for all the newcomers to get used to the system. It's tough when you are learning brand new plays. It's a whole different philosophy of playing the game (from high school)."
The Henry brothers are taking Boot Camp seriously. C.J. said he rolls out of bed at "about 5 (a.m.) so I can get up there about 5:15 for treatment and get on the court."
Xavier has been answering his cell-phone alarm at 4 a.m., 4:15 and again at 4:25 a.m., when he gets up for good. He's been cooking himself a breakfast of bacon and eggs — "no cereal because I don't want milk to sit in my stomach" — then after banging on the door of Jayhawker Tower roommate Chase Buford to awaken him — heads to KU about 5 a.m., to get ready for an hour of sprints and defensive slides.
"They (teammates) say I'm weird because I get up that early. By the time I'm at the gym, I'm wide awake and ready for Boot Camp. I don't want to be in there sluggish," 6-foot-6, 220-pound Xavier Henry said. "For some reason I'm naturally energetic all the time. I'm never tired."
The players will rest Saturday and Sunday, then return to the gym next Monday through Friday. After that, coach Bill Self will reward his troops with a week off prior to the Oct. 16 season-opening Late Night in the Phog.
"Mentally it's not that hard for me just to get in there and do the work and get it done and do it the right way the first time so we don't have to keep going over the same thing," C.J. Henry said. "Physically, as much stuff as we do, at the end of the two weeks my body will be ready to say, 'Let's take a little break.'''
Pickup
Xavier and C.J. said preseason pick-up basketball has been fast and furious.
"The games are different from high school. It's not like back home with buddies and all that. Our pick-up games are high level," Xavier said.
"Everybody is getting used to each other. It's been real competitive when we've been out there," C.J. said. "When we come close to the season, I think guys will start to separate themselves."
Recruiting
Terrence Jones, a 6-8 senior forward from Portland's Jefferson High, has sliced KU from his list of schools, Rivals.com reports. He has a final list of UCLA, Oklahoma, Arizona, Washington, Kentucky and Oregon.
More like this story on KUsports.com