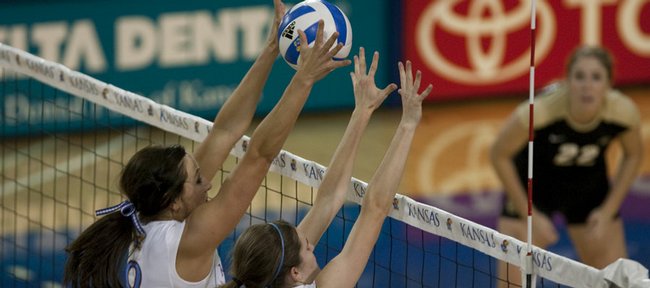 Denver native Karina Garlington never seriously considered playing volleyball at the University of Colorado.
"I didn't really want to stay in-state. I kind of wanted to expand," Garlington said after slugging a match-best 15 kills in Kansas University's 25-23, 22-25, 25-19, 25-19 victory over the Buffaloes on Wednesday night at Horejsi Center.
The 6-foot junior outside hitter out of Denver's Grandview High School admitted she was "amped up" to play against CU ... and not just because she'd missed the Jayhawks' last match — Saturday's 3-0 loss at Baylor — because of an undisclosed minor injury.
"It's always kind of like a little grudge match for me. I know a lot of the girls," said Garlington, who is 4-1 versus Colorado so far in her three seasons at KU. "It's kind of my K-State, I guess."
KU's Paige Mazour contributed 13 kills, Allison Mayfield 10, Lauren Hagan nine and Tayler Tolefree seven. Melissa Manda had 21 digs, while Melissa Grieb and Nicole Tate had 12 digs apiece and Mayfield 10. Tate also had 45 assists for the Jayhawks, who improved to 9-4 overall and 2-2 in the Big 12. CU fell to 5-9, 0-5.
"Coming off a loss at Baylor ... we wanted to get that taste out of our mouths," Garlington said. "We had an opportunity here at home, which you have to take advantage of."
The Jayhawks — 4-1 at home, 1-3 on the road and 4-0 on neutral courts — are now 4-0 in matches following a loss.
"Teams that don't have that ability in this league will bury themselves quickly," KU coach Ray Bechard said. "It's good we've managed to do that to this point. Hopefully we'll continue to do that."
Bechard on Wednesday picked up his 899th victory (against 224 losses) in 25 years as a head coach.
He'll have a chance for victory No. 900 on Saturday at Texas A&M.;
"That means I'm old. We must have played a lot of matches somewhere along the line," Bechard said with a smile. "I've been around a lot of good players, I guess."
Garlington said the Jayhawks would love to earn the milestone victory for their coach Saturday.
"Oh my gosh. That's news to me. It's something we definitely will want to win for him, give him the opportunity to get that," Garlington said.
Bechard gave his team passing marks for Wednesday's victory.
"I think we were a team tonight that played a little bit tight," he said. "I think this is maybe a match we were favored in. The expectation was a little different. I thought the first two games we were a little anxious. We settled down in games three and four. Overall we hit a lot of our statistical goals we wanted to hit."
More like this story on KUsports.com