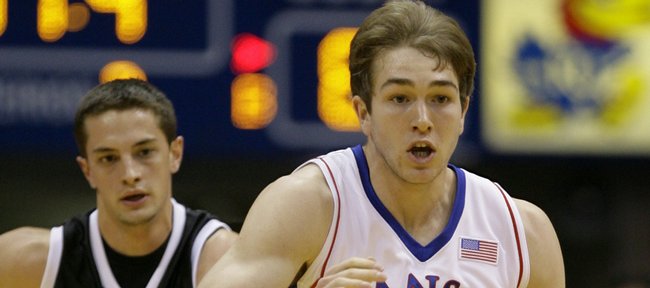 Jordan Juenemann was counting his points — six of 'em — and his blessings on Friday night.
"I am so happy and thankful during this time of Thanksgiving to get to go in. I was so excited. I loved it," Juenemann, Kansas University's 6-foot-4 sophomore walk-on guard from Hays, said after the Jayhawks' 112-75 rout of Tennessee Tech.
His three-pointer, with 2:05 left, accounted for the first official points of his KU career. He went scoreless last season after playing five minutes in five games.
"Conner (Teahan) drove in and I was yelling, 'Conner, Conner.' He kicked it out to me," said Juenemann, who drilled a trey from the corner, giving the Jayhawks a 107-69 lead.
Shortly after, Teahan missed a shot, Juenemann grabbed the rebound and scored again at 1:35.
"After Conner shot, it rolled out perfectly to me," Juenemann said.
Finally, he was recipient of a nice pass from Elijah Johnson, following a Johnson steal. Fouled inside, Juenemann hit one of two free throws with :21 to play. It was a productive two-minute outing for Juenemann, who scored two points against Fort Hays State and one versus Pittsburg State in the exhibition season.
"To play in the exhibition games was fun, but to come out in a regulation game, to score six points in a real game, it was really cool," Juenemann said.
He's played in four regular- season games and already logged 10 minutes after his five minutes of fame last year.
"With all the points we are putting up, I'm getting in with a lot more time," Juenemann said. "I'm getting a little more comfortable out there."
Last year, KU had 15 players on the roster with no red-shirts. KU has 17 players this year, but just 13 available for playing time with Jeff Withey and Brady Morningstar out until the end of first semester and Mario Little and Travis Releford red-shirting. Also C.J. Henry, who has battled injuries, has played in just three of five games.
"It'd be worth it," Juenemann said, asked if he'd be happy even if he played as sparingly as he did a year ago. "I'm born and raised in Kansas. I'm a Jayhawk. Being able to be on the team, learn from the coaches and get better, build relationships with the guys and interact with the guys ... I just love it."
He also loves helping the regulars improve while playing on the second team — the red team — at practice.
"With the addition of Mario and Travis this year, since they are red-shirts, we're really competitive against the blue team. Coach (Bill) Self says he's impressed with what we're doing. We're helping them get better, so it's a win/win situation," Juenemann said.
Next opportunity for playing time is Wednesday against 0-8 Alcorn State (7 p.m., Allen Fieldhouse). Alcorn has lost to Ohio State (100-60), Arkansas (130-68), Louisiana-Monroe (82-66), Albany (71-55), Robert Morris (107-76), Detroit (79-59), South Alabama (83-67) and Utah Valley (68-53). Alcorn State travels to Wichita State on Monday.
Beal to decide Monday: Bradley Beal, a 6-3 shooting guard from Chaminade High in St. Louis, tells Rivals.com he will announce his college choice at 10 a.m. Monday. The country's No. 7-rated player has a final list of KU, Illinois, Florida and Missouri.
More like this story on KUsports.com