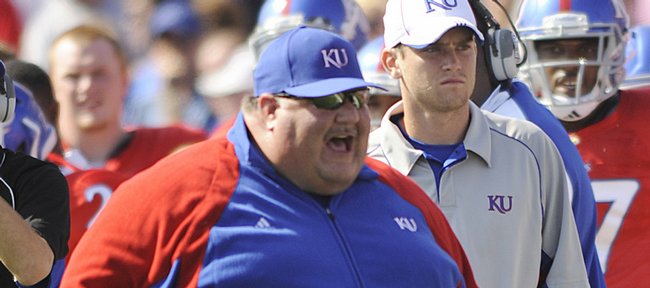 The Kansas University football team's season can be salvaged today.
That's how senior defensive back Justin Thornton sees it, anyway.
Yeah, Thornton knows his team is mired in a six-game losing streak, that a shot at a Big 12 title long since has evaporated and that the Jayhawks are taking on a Missouri team that is a 7-4 and sprinkled with future NFL Draft picks.
But he also knows this: "This game holds a little bit more power than every other game on our schedule," the St. Joseph, Mo., native said. "Even though we're 5-6 right now, we pick up this win and beat Missouri and go 6-6, and everyone's (still) disappointed with the season we've had, but at least we beat Missouri. And say we get to a bowl game and win a bowl game and finish 7-6.
"For as bad as things are, it doesn't look too terribly bad."
That's the hope that Thornton and the rest of his senior teammates are clinging to for today's 2:30 p.m. Border War matchup with Missouri at Kansas City's Arrowhead Stadium.
For Kansas, it has been a Murphy's Law-type season from the start — from the fights between members of the school's football and basketball teams in September to the inexplicable four-game slump of senior quarterback Todd Reesing to the current KU investigation into coach Mark Mangino's treatment of players.
There have been plenty of other things, too. Dropped passes. Tough calls. Extensive turnovers. Each week, it seems, has brought a truck load of adversity and disappointment.
Things got so bad last week, in fact, that former Kansas coach and noted Missouri-hater Don Fambrough organized a pep rally following Wednesday's practice to show support for the players and the distractions they've been forced to deal with over the past two weeks.
All things considered, however, there's still something to play for today. There's still a chance to get a sixth victory — a development that potentially would lock up a third-straight bowl berth for the program — which means there's still a chance to make something of this broken season.
"I'm not ready to be done here at KU," senior receiver Kerry Meier said. "I'm going to do whatever needs to be done to try to get a victory Saturday."
Added Thornton, "This is our Super Bowl right now. This is for all the marbles. Everything's on the line right now."
The team's seniors will use today's game as an opportunity to cement a legacy that has been tarnished a bit in recent weeks.
Without question, the group will go down as one of the most accomplished in school history: back-to-back bowl victories in '07 and '08; an Orange Bowl trophy in '07; an unprecedented 20 victories in a two-season stretch.
But there's no denying that the that past month and a half — based on the hefty expectations heading into the year — has represented a black mark.
"Anytime you go through so much adversity in a season, it's always important to end it with a victory," senior safety Darrell Stuckey said. "What better way to resolve the whole season than to end with a victory over your rival, to go out as a senior and wanting to do the best you can to keep the team going and moving in the right direction?"
What they have is one more game guaranteed, and, to hear players tell it, there's no lack of motivation going into it.
This is a game against Missouri, after all — not just a despised rival, but a team that spoiled Kansas' otherwise perfect 2007 season, ending the Jayhawks' hopes of a national championship game appearance.
"I know that's all I got my mind on," Thornton said. "Enough said. You don't have to pump me up or give me any kind of speech. It's Mizzou week, so I'm ready to go."
More like this story on KUsports.com