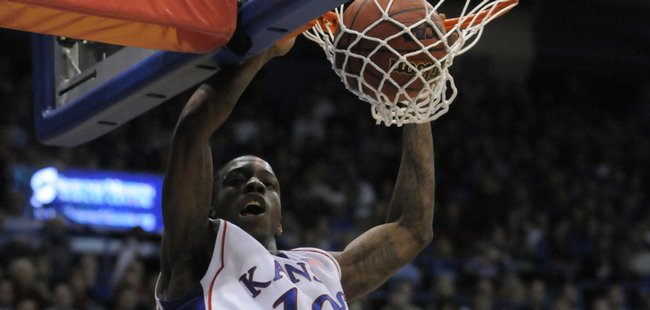 Kansas vs. Tennessee Tech
Reader poll
Cole Aldrich

21%

4 votes

Tyshawn Taylor

73%

14 votes

Sherron Collins

5%

1 vote

Tyrel Reed

0%

0 votes

Other

0%

0 votes
19 total votes.
Reader poll
Raef LaFrentz

38%

1098 votes

Keith Langford

28%

821 votes

Rex Walters

17%

499 votes

Xavier Henry

9%

271 votes

Other

6%

191 votes
2880 total votes.
KU scoring — Taylor 18, Xavier Henry 15, Aldrich 14, Collins 12, Markieff Morris 11, Robinson 9, Teahan 8, Marcus Morris 7, Juenemann 6, Reed 5, Johnson 4, C.J. Henry 3.
KU was 40-for-66 from the floor (60.6 percent), 14-for-25 from three (56 percent) and 18-for-27 from the free-throw line (66.7 percent).
TTU was 27-for-69 from the floor (39.1 percent), 6-for-11 from three (54.5 percent) and 15-for-19 from the free-throw line (78.9 percent).
TTU out-rebounded KU, 38-37. TTU had 15 turnovers to KU's 10.
FINAL: KU defeats TTU, 112-75
Johnson throws it into Robinson, who composes himself before putting in a turn-around.
Teahan drives into the lane and pitches out to Jordan Juenemann, who swishes a three from the corner. That brought an ear-to-ear grin from the walk-on, as he gets his first points of the year.
Juenemann's on fire now, as he follows a miss with a tip-in.
Johnson spins to the baseline before kissing a layup in off the glass.
Juenemann is fouled with 21.3 seconds left, and he hits one of two free throws to push his total to six points.
KU closes out a 112-75 victory.
KU 102/TTU 66 — 3:18 left in game
Collins with another three. He should be checking out soon.
Aldrich draws a double-team then dumps to Markieff for a slam.
Taylor fires up another open three, and this one banks in off the glass. If there was a statistic for banked-in threes, I think that shot might have moved Taylor into the top five all-time at KU.
Taylor checks out to a nice ovation, and he slaps his hands together. He finishes with 18 points on 7-for-9 shooting, and he needed a good performance after struggling the last few games.
C.J. Henry gets caught up in a double screen and can't get out to defend a TTU three, but on the other end he evens things out by swishing a three from the left wing.
Teahan knocks in a three from the corner, and he's threatening double figures. KU goes past the century mark before the final media timeout.
KU 86/TTU 57 — 7:56 left in game
With the shot clock winding down, Elijah Johnson is bailed out on a desperation three attempt when the officials call a foul on TTU. Johnson makes two of his three tries.
Markieff Morris makes a nice pass after faking a shot, and he finds Robinson in the lane. The freshman gets away with a travel before getting hammered inside.
After a made TTU basket, Collins races up the court and lobs to Robinson for an emphatic slam.
Self checks some of his starters back in with less than 10 minutes left, and guys like Aldrich and Collins will get a few more trips up and down the court.
KU's best highlight of the night comes on a lob from Collins, as Taylor grabbed the pass with one hand above the rim before throwing it into the hoop. It took an extremely athletic play from Taylor to make that play work.
KU 78/TTU 47 — 11:40 left in game
C.J. Henry checks in, but on his first defensive possession, he gets beat to the rim as Zach Bailey puts in a layup.
Xavier Henry takes over after that, missing a tough shot in the lane before snatching his miss and putting it off the glass for two.
Xavier follows with a steal at mid-court, and he takes it the rest of the way for a layup.
Markieff Morris drains a three from the top, and Aldrich throws in a left-handed shot off the glass with a whistle. C.J. Henry picks off a steal, and he dishes to Collins on the left wing for a three with his mouthguard hanging halfway out of his mouth. The Jayhawks are scoring in bunches now.
Evidently TTU didn't pay attention to Markieff's last three, as the Golden Eagles ignore him again up top. He takes a dribble, settles himself, and swishes another three from straight on.
KU 62/TTU 38 — 15:03 left in game
Xavier Henry lofts a left-handed pass into the air, using the same form as he would on a jump shot. The pass is true, as Aldrich gathers it underneath and puts it in for a layup with a foul.
Xavier follows with a long two, and KU has made its first two shots of the half.
KU beats TTU through the back door, as Aldrich slips a pass down low to Xavier for a finger-roll.
KU is off to the races again, and after starting up with a three, Collins finds Marcus inside for a short turn-around that swishes through.
The next two KU fast breaks are ones to forget. Taylor tries a lob to Xavier that sails approximately eight feet too high. The pass was so bad that Self doesn't even seem that upset on the bench.
The next run-out, Xavier dribbles the ball off his foot and out of bounds before he gets the chance to attempt a layup.
KU scoring — Taylor 13 (5-for-7 shooting), Aldrich 8 (7 rebounds), Xavier Henry 7, Collins 6, Marcus Morris 5, Reed 5, Teahan 5, Robinson 2, Markieff Morris 2.
KU was 19-for-36 from the floor (52.8 percent), 6-for-13 from three (46.2 percent) and 9-for-11 from the free-throw line (81.8 percent).
TTU was 11-for-31 from the floor (35.5 percent), 2-for-5 from three (40 percent) and 7-for-11 from three (63.6 percent).
KU out-rebounded TTU, 21-19. TTU had eight turnovers to KU's five.
Some thoughts
• Didn't it seem like KU had more than six steals in the first half? Though TTU didn't come in as a team that created a lot of turnovers, it had four steals in the first half as well.
• Rebounding has to be a concern for Self and KU. The Jayhawks pulled out the edge at half (21-19), but honestly, KU shouldn't have to catch up on the boards against an undersized team late in the half.
• Nice halves for Reed and Teahan. Reed had five points, three assists, one steal and one turnover, while Teahan had five points in three minutes on perfect 2 of 2 shooting.
• Only five first-half turnovers for KU. It's the second straight game the Jayhawks limited their unforced errors in the first half.
• In case you were wondering, Aldrich had all eight of his points in the final five minutes of the half after getting benched early. He also has seven rebounds in just 12 minutes.
KU 53/TTU 31 — Halftime
Nice high-low play from Marcus Morris, and he threw the ball away from the defender inside to get Aldrich an easy look. Aldrich put it in off the glass with a foul. The problem is, KU can't seem to stop TTU from scoring on the other end.
Collins is left alone up top, and he swishes a three from straight on. Following a TTU miss, KU pushes ahead for a two-on-one break, and Xavier Henry gives back to Taylor for a layup and foul. The sophomore's free throw extends KU's lead to 17.
TTU picks up two more offensive rebounds, and the Golden Eagles are out-rebounding the Jayhawks, 19-18.
Taylor puts in another three from the corner, and he lets out a big smile. The sophomore is 4-for-5 from the floor with a team-leading 13 points.
Collins drives in to open up Taylor for another three, but he airballs this one. Aldrich is Johnny on the spot, though, scooping up the miss and putting in an eight-footer from the baseline to beat the buzzer.
KU takes a 22-point lead into the break.
KU 38/TTU 28 — 3:44 left in 1st half
Markieff Morris gets the ball on the low post, and he puts in a turn-around over a defender. That improves him to 11-for-12 from the floor this season.
Markieff Morris draws traffic inside, and he dishes out to the corner to Teahan, who cans a three from the deep corner.
TTU moves to a zone, and Reed's pass out top is stolen. Kevin Murphy puts the layup in on the other end to cut KU's lead to eight.
Aldrich checks in, and after missing a short shot, he follows a Xavier Henry miss with a dunk. We'll see how the big guy responds to his brief benching.
KU executes the lob play well, as Xavier Henry finishes with a one-handed slam.
Aldrich gobbles another offensive rebound off a Collins miss, and he's fouled on his way back up.
KU 29/TTU 20 — 7:38 left in 1st half
Robinson hoists up an 18-footer with 31 seconds left on the shot clock that misses. Self screams out his displeasure.
This is quickly turning into a track meet for KU, though. Steal for Robinson, and his finger-roll misses, but Reed is there for the tough rebound and stickback.
Taylor picks up a steal out top, and he puts in a double-pump jam.
After a miss, KU throws ahead to Marcus Morris, and he beats the Golden Eagles down the court for a layup.
Self checks in Aldrich and Collins, but they don't bring the spark they normally do. TTU follows with six straight points. Aldrich can't seem to corral any rebounds inside. Self calls timeout, and he checks Collins and Aldrich back out of the game.
Nice pass inside by Elijah Johnson, as Conner Teahan broke open on a backdoor cut and put in a reverse lay-in.
KU 20/TTU 9 — 11:47 left in 1st half
After picking up a steal, Xavier Henry is hammered hard on a layup attempt by TTU's Kevin Murphy. Henry laughs off the hit as he is helped up by teammates, then follows with two free throws.
Shortly after checking in, Tyrel Reed break free for a three-point attempt, and he rattles it in from the left wing. TTU coach Mike Sutton dials up a quick timeout with KU on an 8-0 run.
The Jayhawks are showing a lot of double-teams and traps defensively, trying to put pressure on the turnover-prone Golden Eagles. Jud Dillard breaks open underneath, though, putting in a layup high off the glass before Markieff Morris can get up to block it.
TTU continues to defend the perimeter poorly, though, and Sherron Collins springs free for an open three that he swishes. KU is 3-for-3 from three and 5-for-5 from the free-throw line.
Yep, I jinxed it. Collins drive to the lane, then overheads a pass to a wide-open Reed for a three that clanks off the rim.
Reed anticipates a TTU pass nicely, poking in his hand to come away with a steal. He swats the ball forward to Taylor, who throws in an uncontested, one-handed slam.
Thomas Robinson gets first points, putting in a layup over a defender in the lane.
Another steal for KU, and Marcus Morris is fouled on his way to the rim. That's five steals already for KU.
KU 8/TTU 6 — 15:30 left in 1st half
KU tries to get Cole Aldrich back on track right away, attempting a lob to him after the tip. The junior's shot rolls off the rim, though, and he'll have to wait for his first basket.
Sloppy start for KU offensively. Marcus Morris misses a layup, and after a steal, Tyshawn Taylor throws a wild pass that gets stolen on a two-on-one break.
Xavier Henry, as he's been so many times already this season, is the streak-buster, as he takes it hard to the rim for a shot off the glass with a foul. He completes the three-point play with a free-throw.
Marcus Morris airballs a fadeaway, but he's slapped on the arm and makes both free throws.
Tech isn't going away early, as Frank Davis drains a three from the corner to tie it at 5.
Henry gets all the way to the basket, but he leaves a layup attempt short. He slaps his hands together in frustration.
Terrell Barnes gets rejected by Aldrich, but a late foul is called on the big man. Barnes makes a free throw, and Tech grabs a one-point lead.
Tyshawn Taylor takes advantage of an open opportunity, draining a three-pointer from the left side. As poorly as he's shot so far this season, that has to be a good sign for KU coach Bill Self and the coaching staff.
7:05 p.m.
KU's starters: Xavier Henry, Aldrich, Collins, Marcus Morris, Taylor.
7:01 p.m.
It's amazing how this plays still fills to the rafters, even when the students are gone. Another sellout at Allen Fieldhouse, even on the day after Thanksgiving.
6:40 p.m.
Make sure to vote in the poll on the left asking for your favorite KU basketball lefty from the last 20 years.
And out of curiosity, I saw there were three votes for "other" on the poll. Can someone name the "other" KU lefty from the last 20 years that is receiving votes?
6:27 p.m.
Anybody else see the UCLA score from yesterday? Yikes.
If you didn't see, Portland routed the Bruins, 74-47 at the 76 Classic in Anaheim, Calif.
Remember, KU plays UCLA at Pauley Pavilion a week from tomorrow.
5:55 p.m.
Welcome back to the Newell Post live, coming to you from Allen Fieldhouse in Lawrence where the Kansas Jayhawks are getting set to take on the Tennessee Tech Golden Eagles.
Sit back, relax and continue to enjoy this Friday of Thanksgiving weekend. The Jayhawks are 35.5-point favorites in this game, so there shouldn't be any sweating tonight if you're a KU fan.
Let's get to some quick notes about Tennessee Tech, which enters with a 3-2 record.
• Tennessee Tech beat Central Arkansas earlier this season, 71-67. I know I shouldn't use comparative scoring, but KU beat UCA, 94-44, earlier this season.
• Tennessee Tech lost to Memphis, 92-59, and Minnesota, 87-50, earlier this year.
• Sophomore Kevin Murphy (6-foot-6, 185 pounds) leads the Golden Eagles, averaging 15.3 points per game. Senior guard Frank Davis (6-2, 185) is the only other TTU player averaging double figures (10.3 ppg).
• TTU was dominated in steals in its two games against Memphis (14-2) and Minnesota (15-7).
• Opposing teams shoot 55.6 percent from inside the arc against TTU. Minnesota was 25-for-38 from two (65.8 percent), while Memphis was 25-for-37 from two (67.6 percent).