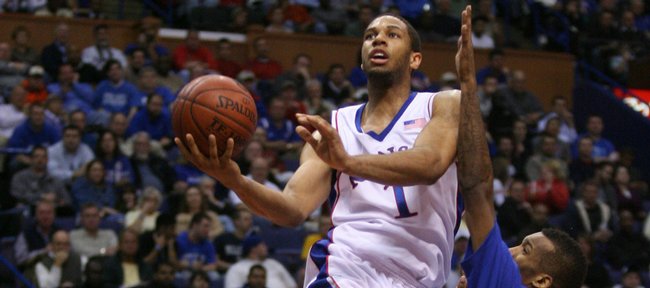 Xavier Henry, who averaged 28.3 points a game as a senior and 26.7 as a junior at Putnam City (Okla.) High School, leads Kansas University in scoring through the first four games of his college basketball career.
"That's what I've been known to do since I was in middle school. That's how I like to play. That's what I like to do. I like to score," said the 6-foot-6, 220-pound Henry, who takes a 17.3 mark into today's 7 p.m. home contest against Tennessee Tech.
"I like to score in a lot of ways. Scoring is not too hard for me," Henry added.
He scored on the inside — in slam-dunking three lob passes from Sherron Collins — and also produced from the outside — in hitting two of three three-pointers — en route to 19 points in Wednesday's 89-59 rout of Oakland University.
Overall, Henry has hit 23 of 42 shots (54.8 percent), including 10 of 18 threes (55.6). He's also cashed 13 of 14 free throws, while exhibiting a soft lefthanded touch.
"In high school they just counted on me to score, so they would just get me the ball and I'd just go score," Henry said. "Now that I've got Sherron (Collins) and Cole (Aldrich) and the (Morris) twins, I've got a whole bunch of players on my team. Now I can be off the ball and just work through everybody else.
"It's fun. It's different than how I used to play. We practice that every day so it comes more natural every day."
Henry has been thriving on a team that has four double-digit scorers. Sherron Collins has averaged 14.0 ppg, Marcus Morris 12.5 and Cole Aldrich 10.0. Past history indicates Aldrich and Tyshawn Taylor (5.0) will boost their averages after busting out of early-season slumps.
"It makes us a better team that everybody is a superstar and everybody can play their roles just as good as I can play my role," Henry said. "It's easier to win."
The ever-polite Henry — who responds to reporters' questions with "yes sir and no sir" and "yes ma'am and no ma'am" — is trying his best to pass the credit around. The McDonald's All-American has shown no signs of ego in the first of what many assume is a one-and-done college career.
"I let coach teach me. I listen to coach. He knows how I like to play and works with me to fit in with the team," Henry said of seventh-year KU coach Bill Self.
"I feel I'm getting more comfortable every day and learn stuff quicker and quicker. Coach is really helping me a lot."
Self, for instance, is responsible for the three crowd-pleasing dunks Henry flushed off perfect lobs from Collins.
"Coach just knew how they guarded and how they didn't pay attention to back screens and didn't help a lot because they were scared of Sherron and Cole doing something," Henry said. "They were focused on them, so we knew the back-door cuts would be good. Sherron makes great passes and Cole sets great screens so if you add those together, that's what happens."
Henry's offensive accomplishments haven't surprised Self.
"His numbers are a little bit ... not inflated, but he had the one big game where he had 27," Self said of Henry's 8-of-12 shooting night against Hofstra. "He has a chance to lead us in scoring any night. He won't, because we have Sherron and Cole and whoever else. He'll have a chance to do that and I'm sure there will be multiple nights he does do that."
Even better news is Henry, who has led KU in scoring in two of four games (tying with Marcus Morris Wednesday) is not forgetting about defense.
"Coach has been helping me with that and it's been coming along," Henry said, indicating he actually enjoys playing defense after a prep career in which he put little effort into 'D.'
"Scoring is like second-nature to me, so defense is a recurring process and I'm going to have to get used to it."
Thinking defense, Henry raced back on the other end after Wednesday's slams.
"Right after, I know I have to get back on defense because they're known to run a lot," he said of Oakland's players. "I already knew they were sprinting down court so I had to get back."
Henry — he has seven assists against six turnovers with four steals in four games —realizes he's far from a finished product.
"Remembering all the plays," Henry said, asked what's been most challenging. "I'm pretty good at picking them up, I just have to remember them. Also adjusting defensively. I have to find different ways to block out guys," added Henry, who has averaged 4.8 boards.
Henry indicated his plan is to "take it as it goes" and cherish each and every game, especially ones in Allen Fieldhouse.
"Just being out there, watching the video before the game," he said of his favorite parts of being a Jayhawk. "The fans get real loud. I love it here. I'm having a great time."
More like this story on KUsports.com