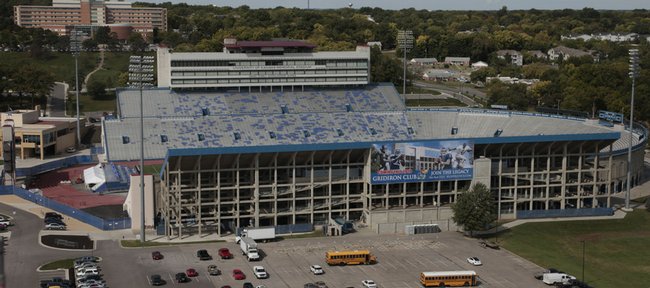 Timeline to come
Kansas Athletics Inc. is sticking with its original schedule for opening its new Gridiron Club at Memorial Stadium. That would be to have the 3,000 seats and lounge added in time for the 2010 football season.
The department also plans to use money generated from Gridiron Club memberships — "ideally you're talking over $200 million," said Jim Marchiony, an associate athletics director — to finance construction of an "Olympic Village" for nonrevenue sports, south of Allen Fieldhouse.
The department also would send $40 million to the chancellor's office, to address academic needs at her discretion.
The precise timeline for those last two components remains undetermined.
"We can't answer that now, because we're still in the process of selling the project," Marchiony said. "As soon as possible. If we could do the whole thing in the next couple of years, it would be terrific."
Kansas football stock is taking a beating this season, just as its top officials ask fans to invest in what could amount to more than a $200 million Initial Public Offering.
The prospectus offers individual memberships in the Gridiron Club, whose seats and amenities will be limited to no more than 3,000 people considered loyal, committed and long-term supporters of all things crimson and blue.
The complication: Since Kansas Athletics Inc. unveiled the donor program at the beginning of the 2009 football season, the team followed a 5-0 start by losing five consecutive games, falling into last place in the Big 12 North and watching its coach come under investigation by the parent company's CEO regarding treatment of players.
Such adversity hasn't persuaded officials to pull back on the Gridiron Club plan — at least not yet.
"From what we're hearing, people are thinking much more long-term than a five-week term," said Jim Marchiony, an associate athletics director. "They understand our commitment to football, and so they're looking at it from that perspective — a long-term perspective."
But in the short term, decision time is fast approaching on the project that has been hailed as a way to address a variety of KU needs — both in athletics and academics — without relying on the use of increasingly scarce tax dollars during the worst economic downturn since the Great Depression.
Marchiony remains confident that Kansas Athletics will secure the $34 million it needs, up front, to build the Gridiron Club, the cornerstone of a larger program intended to also finance construction of a $25 million "Olympic Village" for track, soccer and other so-called nonrevenue sports, and to contribute $40 million toward KU's overall academic programs.
The Gridiron Club remains slated to open in time for next football season, and officials with the Williams Educational Fund continue working to attract donors to buy into the plan for anywhere from $25,000 per seat for a five-year membership to $105,000 per seat for a 30-year membership.
Buy, sell, trade
Officials emphasize that donors, in the future, will be able to sell their memberships to anyone at any time for any price, much like stocks. Each Gridiron Club membership includes a ticket, food, drink and other amenities as part of the initial membership price.
Those costs cannot increase, although ticket prices, concessions costs, parking fees and other expenses could continue to rise for everyone else.
"It gives the fan a real asset that they can sell, that they can trade," said Lou Weisbach, CEO of Stadium Capital Financing Group, a Chicago-based division of Morgan Stanley Principal Investments that put together KU's financing plan. "You have a hard asset on your books that escalates in value as ticket prices escalate in value."
Kansas Athletics' initial plans called for donors to pay for all of each membership up front, but in recent weeks prospective donors have been offered the ability to pay memberships in interest-free installments. Buyers of memberships also accumulate points to apply toward basketball seat assignments at Allen Fieldhouse.
Marchiony declined to disclose how many people have signed up thus far, but he acknowledged that time was getting short.
"If we want it ready this fall, we have to make a decision before the end of the year that we're going to start construction," he said, confirming that Kansas Athletics needs at least $34 million to move the project forward. "I can tell you that the new payment structure has resulted in a dramatic increase in interest."
Joe B. Jones, a longtime KU booster, is among prospects Kansas Athletics would consider interested. He has 10 season tickets for football. He buys season tickets for basketball. He's previously held one of the Hall Family Scholarship Suites on the west side of the stadium.
Jones also is president of the Executive Benefits Network in Lawrence, managing financial products for financial institutions and corporations, including many that support Kansas athletics.
But he's yet to come across anyone who has agreed to buy into the Gridiron Club, which he regards as an untested investment product in a volatile market.
Sure, he said, KU recorded its best season in history just two years ago, posting a 12-1 record and an Orange Bowl victory. But as investment professionals often remind clients, past results offer no guarantee of future performance.
"The product on the field is a relatively new product," said Jones, who has heard the formal Gridiron Club pitch twice and expects a third soon. "My business is looking at performance. This would be like me selling a stock on its last six months' return, when it ran up 40 percent. But what about when it's down? What they're trying to do is sell it on the high, and it hasn't panned out like they thought it would."
Long-term support
Jones already has translated his prospects into dollars and cents. Even buying in at the lowest membership level for him and his wife, and accounting for not having to "buy" season tickets anymore or to pay for parking, Jones figures he'd need to be mighty hungry and thirsty for the arrangement to pencil out.
"I'd have to eat $7,900 worth of food and drink" each season, he said, noting that he'd rather use the money to help hire a new employee or invest in new equipment. "That's basically $1,000 a game. There's just no way. It just doesn't make sense for me right now, no matter how much I love KU."
Craig Richardson, executive vice president for Stadium Capital Financing Group, said the financing plan wasn't designed with everybody in mind. Kansas will continue to sell season tickets. Others can opt for lounge seats in the south end zone, or to occupy suites on the west side.
"The reality is, we're not trying to appeal to 10,000 Kansas fans," Richardson said. "We're trying to appeal to the fan who says, 'Whether it's this year or next year or any year, we're going to support Kansas, through the good times and the bad times.' …
"This is for committed fans. It's not always the wealthiest fans we're looking for. It's whoever is the most loyal."
Visit transportation reporter Mark Fagan's Wheel Genius blog and follow WheelGenius at Twitter.com.