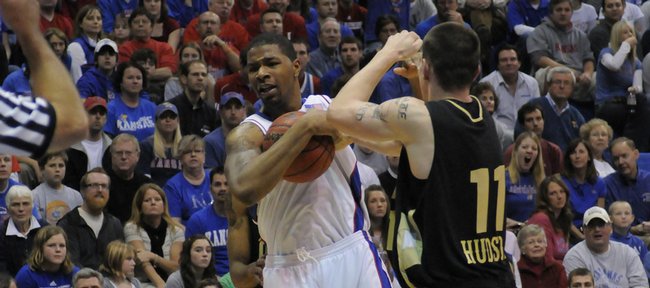 10 p.m.
Just a couple of quick notes.
KU coach Bill Self said Sherron Collins was ill in the second half and that's was part of what limited his minutes.
Tyrel Reed, who is Cole Aldrich's roommate, said he didn't think Aldrich was 100 percent still after his illness.
KU scoring — Marcus Morris 19 (career high), Xavier Henry 19, Reed 11, Collins 9, Markieff Morris 8, Johnson 8, Taylor 6, Aldrich 4, Robinson 2, Conner Teahan 2, C.J. Henry 1.
KU was 33-for-66 from the floor (50 percent), 10-for-21 from three (47.6 percent) and 13-for-21 from the free-throw line (61.9 percent).
OU was 18-for-54 from the floor (33.3 percent), 7-for-18 from three (38.9 percent) and 16-for-22 from the free-throw line (72.7 percent).
KU out-rebounded OU, 43-35. OU had 13 turnovers, while KU had six.
FINAL: KU defeats OU, 89-59
Johnson shoots a three from the side, and it takes a few bounces off the rim before finding its way through.
C.J. Henry checks in to get some minutes for KU.
Robinson puts up a wild shot that misses by a few feet, but he hustles back on defense to grab the defensive rebound after an OU miss.
C.J. Henry is fouled, and he makes one of his two tries.
Ugly shot by C.J. Henry, who pulled up for a stepback three that only drew backboard.
Following one more OU miss, KU closes out an impressive 89-59 victory.
KU 79/OU 56 — 3:38 left in 2nd half
Xavier Henry throws in another one-handed slam off a lob. OU hasn't had any answer for his athleticism tonight.
Play gets sloppy for KU, and Self is not happy. Collins airballs a three, and KU plays poor transition defense, which ultimately allows Johnathon Jones to swish a three. Self screams out for a timeout, and he isn't happy with the team's effort.
Nelson hits a three over Xavier Henry, and the freshman claps his hands together in disgust. OU's 10-0 run has trimmed KU's lead to 16.
Johnson ends KU's drought, taking it all the way to the rim for a layup.
Marcus Morris is left alone again, and he adds to his career high with another three from straight on.
Aldrich has a jump-hook clang in and out. It's been that kind of night for him. Marcus Morris corrals the rebond, though, dishing out to Reed for a three from the left side.
An alert Reed hustles to steal OU's inbounds pass, and he's fouled on his way to the rim. KU's fans applaud the effort.
KU 69/OU 45 — 7:45 left in 2nd half
Nice backdoor cut by Xavier Henry, but he can't get the layup to fall. KU scraps for the rebound, and Marcus Morris is fouled, making both ends of his one-and-one. His 14 points are a career high.
Johnson pushes the ball after an OU miss, and Reed hits a rhtyhm three from the left side.
Benson throws in an alley-oop off a timeout, and it seems like KU has given up as many alley-oops this season as it did all last year in the Fieldhouse.
Reed is beaten on a drive, and Derick Nelson puts a short shot in for two.
On the other end, KU gets fortunate, as Johnson puts in a shot with a foul even though he put his shoulder down into the OU defender. Johnson probably should have gotten a charge on that play.
In transition, Taylor misses a scoop, but Markieff follows with a tip that rolls around the rim and in.
KU 57/OU 37 — 11:58 left in 2nd half
Xavier Henry comes around a screen and gets a leaning three-pointer to go in. That shot might have been a little early in the possession, but it's harder to complain when it goes in.
Xavier misses a three badly on the next possession, and Self screams to officials for a foul. "He's our best shooter," is what I believe he said to the closest referee. Marcus Morris grabs the weakside rebound, though, and he's fouled on the way up.
After an up-fake, Marcus Morris drives to the basket and draws a blocking foul. A big guy gets to be extremely dangerous after he's proven he can hit an outside shot like Marcus did earlier.
The negative for KU this game will be free throws. Marcus Morris clanks both of his tries, and KU is just 2-for-8 from the stripe. Marcus does hustle to get his own board, though, and gets fouled, swishing his next two free-throw attempts.
Benson isn't the only one getting cheapie fouls inside. Robinson gets his third foul with his hands straight up, and that's three whistles for him in six minutes.
Robinson displays a nice post move on the other end, taking two steps across the lane before scooping a layup off the glass on the other side of the basket.
Xavier Henry puts in another jumper, and he seems to have found a rhythm.
Robinson must have stolen the official's lunch money before the game. While Robinson is crouched down trying to get out of the way, he is called for his fourth foul.
KU 46/OU 30 — 14:46 left in 2nd half
Nice bounce pass inside by Tyrel Reed, and Aldrich finishes with a short shot and foul. Benson gets his third whistle on a reach-in, and that's the second cheapie he's gotten tonight.
Aldrich misses the free throw (only KU's second of the night), but he draws an OU lane violation. He misses the next free throw, too, but Marcus Morris fights to grab the offensive board.
Away from the ball, Aldrich picks up an offensive foul, and that's his third whistle. He'll go the bench, and the Morris twins will be in together.
Marcus Morris shows nice hands on defense, blocking a Benson pass attempt twice before picking up the steal. Reed turns it into two on the other end, putting up a quick layup off the glass.
Markieff Morris decides he isn't going to get one-upped by his brother, as he drains a three-point attempt from the right side. The dramatic improvement of the Morris twins from last year to this year has to be the best story of the young season for these Jayhawks.
KU 39/OU 28 — 17:17 left in 2nd half
With the shot clock running down, Derick Nelson hits a three over Xavier Henry. The freshman has to play up closer defensively, especially with so few seconds left on the shot clock. Self yells something at Xavier on the way back down the court, perhaps that.
A block from Aldrich leads to points on the other end, as Taylor takes it to the rim and finishes with a tough scoop shot.
Wright hits a guarded three, though, and perhaps I spoke too soon about OU being a poor outside shooting team. The Grizzlies are 2-for-2 from deep this half, raising their percentage to 36 percent, and Self calls timeout.
KU scoring — Marcus Morris 11 (5-for-7 shooting), Sherron Collins 9 (4-for-6 shooting), Xavier Henry 9 (4-for-5 shoting), Tyshawn Taylor 4, Cole Aldrich 2, Markieff Morris 2.
KU was 17-for-36 from the floor (47.2 percent), 3-for-9 from three (33.3 percent) and 0-for-1 from the free-throw line (0 percent).
OU was 7-for-24 from the floor (29.2 percent), 2-for-9 from three (22.2 percent) and 6-for-10 from the free-throw line (60 percent).
Both teams had 20 rebounds.
Some thoughts
• The most encouraging number for KU fans has to be the turnovers. The Jayhawks turned it over just two times in the first half. OU, meanwhile, had seven first-half giveaways.
• This game has pretty much gone as expected. Benson is good (10 points, five rebounds, four blocks); OU is a poor shooting team (29.2 percent from the field, 22.2 percent from three); and the Grizzlies can hold their own on the glass (Both teams have an identical eight offensive rebounds and 12 defensive rebounds).
• Six first-half assists for Collins. Let's not overlook that with the good shooting game he's having tonight (4-for-6 from the floor).
KU 37/OU 22 — Halftime
Aldrich goes over the back to pick up his second foul, and he'll sit the rest of the half.
Marcus Morris continues his NBA highlight video, faking a dribble a few times to clear space before hitting a 14-footer. That kind of move reminds me of something Karl Malone would do for the Utah Jazz.
Robinson picks up his second foul with under a minute left, but he'll stay in to protect Aldrich.
Benson also will sit the final 49.6 seconds to avoid picking up his third foul.
Collins races up the court, taking a tough shot to attempt to get the Jayhawks a "two-for-one." KU actually got exactly what it wanted, as the shot missed but Robinson grabbed the offensive rebound. Had he backed it out, KU could have held for the last shot, but the freshman put up an airball instead, and Self looks frustrated on the KU bench.
OU's final shot bounces away, and KU takes a 15-point lead into the half.
KU 35/OU 19 — 2:59 left in 1st half
Collins with another jumper from the side. He's up to six points on 3-for-4 shooting.
Derick Nelson puts in a wide-open three for OU. Even bad three-point shooting teams are going to make shots that wide open.
Marcus Morris helps Collins trap on a screen, and the double-team forces an errant throw out of bounds by OU's Larry Wright.
The Morris twins must know there are scouts in the house, as Marcus takes two steps toward the rim before throwing in a tough shot.
A steal for KU, and Collins throws a lob in transition to Xavier Henry for a left-handed slam. Collins urges the fans to get loud, and they amp up the volume the loudest it's been all night.
Following a defensive rebound, Collins tries a lob to Elijah Johnson, but the freshman loses the handle in mid-air. He hustles to save it from going out of bounds, though, passing to Collins for a three from the wing that rattles in. Collins tips his head back to let out a scream, and KU has upped its lead to 16.
KU 26/OU 16 — 6:07 left in 1st half
KU forces a shot-clock violation from OU, and Greg Kampe isn't happy with Drew Maynard, who was slow on his last-second shot attempt.
Markieff Morris with an aggressive move in the lane, clearing out space on the inside before hitting an eight-foot fadeaway.
Maynard doesn't earn any brownie points on the next possession, as he fires up an airball from three. Kampe quickly checks him out.
With a quick move, Taylor gets all the way to the rim for two.
Marcus Morris shows some of his repertoire, turning to his back shoulder for a nine-foot fadeaway that swishes through. Both Morris twins are showing expanded offensive games tonight.
After starting 0-for-5, Aldrich gets his first shot to go down, as he hits a baby-hook from six feet. So far, OU has been content to play Benson on Aldrich without any defensive help.
Larry Wright breaks OU's long-range shooting slump, draining a three. The Grizzlies are now 1-for-7 from beyond the arc.
Taylor drives all the way to the rim, but his finger-roll is swatted by Benson.
Aldrich tries a post move, but officials call a ticky-tack foul on Benson before the shot. That's two fouls on Benson, and you hate to see a good player like him get in foul trouble on a tight whistle like that.
Out of a timeout, Collins lobs to Xavier Henry for an alley-oop that livens up the crowd.
Benson hits a tough, 18-foot baseline jumper, showing nice touch for a big man.
On the other end, Benson dares Marcus Morris to shoot it from the outside, and, after thinking about it, Marcus accepts the challenge, swishing a three from straight away.
KU 13/OU 8 — 11:57 left in 1st half
Bad pass across the court by Tyshawn Taylor, but Collins speeds back to steal the ball back from OU.
Aldrich tries to put up a shot inside, and he's stuffed by Benson. That's two blocks by the OU big man, and he adds a 12-foot baseline shot on the other end.
Taylor races down the court to put in a layup with a foul. That's a flash of the speed and ability level we saw from the sophomore last year.
Collins curls around a screen and hits a tough 17-footer with a hand in his face.
Taylor turns down a three in the corner to get a wide-open look for Collins. Unfortunately for KU, the unselfish play isn't rewarded, as Collins' shot hits front rim.
Xavier Henry hits a three from the right wing to give KU its largest lead at 13-8. Meanwhile, OU can't get anything to go from the outside, starting 0-for-3 from beyond the arc. Perhaps our pregame stats weren't a fluke for this Grizzlies team.
KU 6/OU 4 — 15:30 left in 1st half
The Jayhawks are already off to a good start rebounding-wise, as Cole Aldrich gathers his own miss and Marcus Morris tracks down another offensive board. Xavier Henry follows with a leaner from eight feet, and KU is on the board first.
Oakland's uniforms are similar to the black and gold of the Colorado Buffaloes, but they have a unique twist: The players' first names are under their numbers instead of on top of them.
Two more offensive rebounds for Aldrich, who is muscling inside with Benson. That should be a great matchup all night.
Collins makes a wise decision, driving into the lane and then pulling up for a short shot. If he had taken it all the way to the rim, Benson would have blocked it easily.
After a turnover, Self yells at his players, urging them to "Get up! Now!" The coach hasn't seen the defensive intensity that he wants out of his players yet in this contest.
Marcus Morris puts in a six-foot baseline jumper over a defender, and KU regains a lead at 6-4.
OU point guard Johnathon Jones is making the Grizzlies' gameplan pretty clear. Following an defensive rebound, the guard puts his hand up and slowly dribbles the ball up the court. Obviously, OU coach Greg Kampe doesn't want to get into a track meet with KU.
7:05 p.m.
Starters for KU: Taylor, Collins, Aldrich, X. Henry, Marcus Morris.
7:01 p.m.
I take back my thoughts on the Fieldhouse not being full.
In fact, the arena is packed. We'll see how the atmosphere turns out to be.
6:34 p.m.
Here are some notes about Oakland, which enters the game with a 2-2 record.
• Oakland lost at Wisconsin, 58-42, earlier this season, but defeated Tennessee Tech, 77-56, in Cookeville, Tenn.
• Oakland has averaged out-rebounding its opponents 41.8-35.2 this season.
• Junior center Keith Benson (6-foot-11, 221 pounds) is averaging 16.3 points, 10.3 rebounds and 3.8 blocks per game this season. NBADraft.net has him projected as the 29th overall pick in the 2010 NBA Draft, meaning the Web site believes he will forgo his senior year.
• The Grizzlies have only made 24.2 percent of their three-pointers (national average is 33.7 percent) and 43.8 percent of their two-pointers (national average is 47.6 percent).
• Oakland's opponents, though, have only made 26.8 percent of their three-pointers this year.
6:18 p.m.
This might be a scenario where KU coach Bill Self will wish he could have flipped his schedule.
From walking into the Fieldhouse earlier, I can tell you already that it will be very, very difficult for the fans to fill up the barn tonight. There is virtually no student crowd here, which is to be expected on the day before Thanksgiving when everyone is forced to leave student housing.
I would still guess there will be more students on Friday against Tennessee Tech than there are tonight, simply because it will be the day after Thanksgiving instead of the day before.
KU needs the extra students tonight. Oakland returns five starters from a 23-13 team a year ago and is the preseason pick to win the Summit League.
Tennessee Tech, meanwhile, struggled to beat Central Arkansas by four (and KU beat UCA by 50).
I don't want to go as far as to call this a trap game, but I would say that it's pretty safe to assume we won't see the same energy in the Fieldhouse as we're used to seeing on a typical night.
5:58 p.m.
Welcome back to the Newell Post Live, coming to you from Allen Fieldhouse where the Kansas Jayhawks are getting set to take on the Oakland Grizzlies.
I know, I know, it's only three games in, and we shouldn't start making comparisons between incoming freshmen and former players.
I'm doing it anyway.
One of the comparisons we hear most is Xavier Henry and former KU player Brandon Rush.
So how are they stacking up statistically so far? Let's take a look.
The full statistical breakdown comparing Xavier this season to Brandon during his junior season can be found here, courtesy Statsheet.com.
Here are a few highlights from that comparison:
• Minutes per game (Xavier 26.3; Brandon 29.7)
• Points per game (Xavier 16.7; Brandon 13.3)
• Points per 40 minutes (Xavier 25.3; Brandon 18.0)
• FG Pct. (Xavier 48.4; Brandon 43.5)
• Three-Point Pct. (Xavier 53.8; Brandon 41.9)
• Rebounds per game (Xavier 4.6; Brandon 5.1)
• Off. rebounds per game (Xavier 1.0; Brandon 1.5)
• Assists per game (Xavier 1.6; Brandon 2.1)
• Steals per game (Xavier 1.3; Brandon 0.8)
• Blocks per game (Xavier 0.3; Brandon 0.8)
• Turnovers per game (Xavier 1.6; Brandon 1.8)
Again, I know it's too early to make a comparison. The competition for Xavier obviously will pick up later in the season.
Still, the numbers aren't too far off. Though I think KU coach Bill Self would still like to get better rebounding numbers from Xavier, which should come with time.