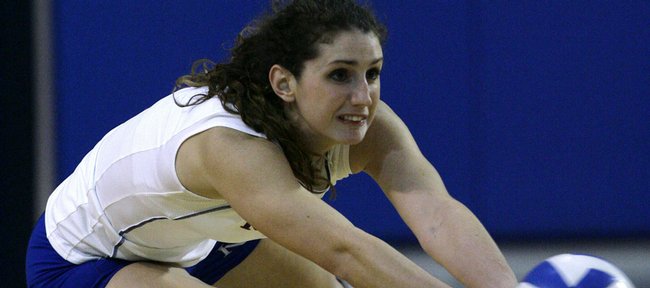 Total domination with a soft side.
That best described the scene Tuesday at Horejsi Family Athletics Center, where the Kansas University volleyball team swept Texas Tech on Senior Night — 25-8, 25-15 and 25-10 — and did so with plenty of smiles during the match and a few heartfelt thank you's during the senior speeches at the end.
Melissa Grieb, Katie Martincich, Paige Mazour and Brittany Williams all played the final home matches of their KU careers on Tuesday and each played a huge part in sending the Red Raiders home with a whimper.
Of course, things might not have gone quite so well if not for the outstanding play of the KU underclassmen, who were challenged by KU coach Ray Bechard before the match to send their seniors out in style.
"This was all about them," said sophomore Allison Mayfield, who led KU's insane offensive attack with 14 kills and a .440 attack percentage. "We wanted to come out and put on a show and let our seniors play their best."
That vibe was extremely contagious and spread throughout the team, as the Jayhawks outplayed the Red Raiders in every aspect of the match. KU held a 42-21 advantage in kills — Williams, Lauren Hagan and Karina Garlington each finished with seven — and also finished with a 42-21 advantage in digs. The .468 team attack percentage was the program's highest since August of 2006 and the eight points allowed in the opening set were the fewest surrendered in a single set all season.
"The team was great tonight," Martincich said. "We all played for each other and that just made it a lot of fun."
The victory improved Kansas to 16-13 overall and 8-11 in Big 12 play, marking the most victories KU has recorded in conference since 2004. Tuesday's sweep not only assured the Jayhawks of a winning season but also kept alive KU's slim hopes for a postseason berth.
Kansas, which will be considered because of its winning record, closes the regular season Saturday at No. 2 Texas and the pairings for this year's NCAA Tournament will be announced Sunday afternoon.
"We might be a little bit of a longshot," Bechard said. "But why not go to Austin (Texas) now and give (the NCAA selection committee) something to think about on Saturday night."
More like this story on KUsports.com