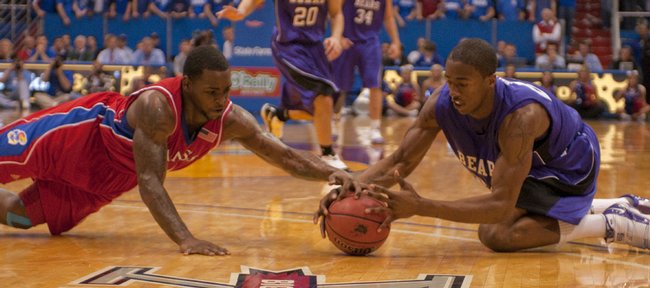 Past Event
Wednesday, November 25, 2009, 7 p.m.
Allen Fieldhouse, 1651 Naismith Drive, Lawrence
Not available
There are those who view tonight's Kansas University-Oakland men's basketball game as a huge mismatch.
"People who have never heard of Oakland probably think the score will be 99-40. I read somewhere one of the Kansas fans thought it'd be 2,001-30 or something. Hopefully we'll be a little better than that," said 26th-year Oakland University coach Greg Kampe.
The unnamed fan — it goes without saying — has no ties to KU coach Bill Self, who realizes the 7 p.m. contest versus the Rochester, Mich., school is far from a turkey.
"They return five starters from a team that lost to North Dakota State in a one-possession game in the championship game of their (Summit League) tournament.
"We know the problems North Dakota State gave us with (Ben) Woodside. That cat went for 37 against us. Sherron (Collins) is still having nightmares about that," Self said.
Woodside — who scored 37 points in N.D. State's 84-74 first-round NCAA Tournament loss to KU last March in Minneapolis — may not even have been the best guard in the Summit League in 2008-09.
The Dakota standout had a worthy adversary in 5-foot-11 Oakland senior point guard Johnathon Jones, who needs eight assists to become the Summit League's all-time assists leader.
The league's preseason player of the year has dished seven or more assists in 17 of the Golden Grizzlies' last 22 games. He's averaged 13.8 points and 6.0 assists per game this season — in victories over Rochester College (97-63) and Tennessee Tech (77-56) and losses to Wisconsin (58-42) and Eastern Michigan (81-77).
"Our point guard led the nation in assists (last year). We thought he was as good as Woodside if not better. He's from Oakland so naturally we think he's better," Kampe said. "He runs the show and is a distributor."
And he's not the only talented Oakland upperclassman.
Keith Benson, a 6-11 junior, and Derick Nelson, a 6-5 senior, average 16.3 and 14.8 ppg, respectively, as well as 10.3 and 7.3 boards. Benson is projected as a first-round pick in the next June's NBA Draft by nbadraft.net.
Both players joined Jones as first-team preseason all-Summit League selections.
"I've done this a long time. I've had some good teams over the years. This is the most talented team I've had," Kampe said.
It's a team that has the Jayhawks' attention, particularly after KU's ultra-competitive game against N.D. State in the NCAAs.
"This is one of the games you look forward to. They have a lot of guys coming back from a team that won 23 games (against 13 losses)," KU junior Cole Aldrich said. "A good challenge is a lot of fun."
Kampe said he doesn't think he'll mention the N.D. State game to his squad tonight.
"There's pressure (in NCAAs). There's no pressure on Kansas (tonight)," Kampe said. "It's not a neutral site. There are three or four things we think we have to do to be competitive in the game. If we accomplish those we will be competitive. If not it could be a long night," he added, not listing those three or four things.
Tonight's game is the third for KU in the Hall of Fame Showcase. The Jayhawks previously beat Memphis, 57-55, on Nov. 17 in St. Louis and Central Arkansas, 94-44, last Friday in Allen Fieldhouse.
"It's really not a tournament. It's a way to get Memphis and Kansas home games and get Oakland a lot of money and a home game," Kampe cracked. Oakland will receive $75,000 guaranteed money for visiting tonight.
The Grizzlies, who are 1-0 in the event, will play host to Central Arkansas on Saturday and travel to Memphis next Wednesday.
"We played last night (Tennessee Tech) at a place we would never have gone to and get Central Arkansas to come to our place," Kampe said, as well as "make some money playing Kansas and Memphis."
The Grizzlies, who travel to No. 2 Michigan State on Dec. 10 and also play at Oregon (Dec. 19) and Syracuse (Dec. 22), should be well tested before the start of league play. The Grizzlies will have to win the Summit League tournament to qualify for the NCAAs.
"We're a one-bid league," said Kampe, whose team received 34 of 35 first-place votes in the league's preseason poll.
"We have a schedule that could get us an at-large bid, but to do so we've got to win three of those games (vs. KU, Memphis, Oregon, Syracuse, Michigan State)."
Needless to say, that'll be difficult but not impossible for the team projected to be a No. 14 seed in the NCAAs by ESPN.com.
"This senior class has a sense of urgency," Kampe said of a class that also lost on the final possession in the league tournament to Oral Roberts two seasons ago.
"These guys all thought they should be in the tournament. It's a talented team. We've started off the season struggling shooting for some reason. The Wisconsin game ... If we make any shots at all, we have a chance to win the game," he noted of a 27.3 percent shooting night, including three of 19 from three-point range.
"We couldn't make a shot. We held Wisconsin to 58 points. Wisconsin is not the most athletic team in the world. We had open looks and couldn't make them."
This game at Allen has been one the Grizzlies have been looking forward to for a long time.
"We've always wanted to come here to play and are excited about the opportunity," Kampe said. "I told the team it is one of the most historic places to play with some of the biggest names from (James) Naismith to Phog Allen, all the great coaches and players. We've talked about that."
KU will meet Tennessee Tech at 7 p.m. Friday, in another Showcase game.
More like this story on KUsports.com