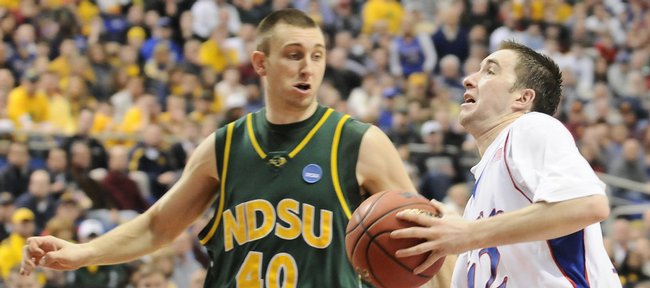 Kansas University guard Brady Morningstar — who has been running second- and third-team at practice since returning from his right ankle sprain a couple weeks ago — was elevated to the first team for Saturday's workout.
It was coach Bill Self's way of making a point.
"Just to see how much better the offense flowed and the defense when he's out there. And he does make a difference," Self said of the 6-foot-3 junior, who will miss the first nine games of the 2009-10 season as penalty for his arrest on suspicion of drunken driving.
"Not that he's playing so much better by any stretch, but the offense does flow because he knows how to get the guys the ball in certain areas. He only takes wide-open shots, and the ball doesn't stick. I did that for a reason ... to show our guys we do look better as a group when we rely on each other."
Self said he's hopeful that before long — even with Morningstar not on the court — the Jayhawks will begin to resemble superstars Larry Bird and Magic Johnson, who were inducted in the National Collegiate Basketball Hall of Fame on Sunday in Kansas City, Mo.
"You reflect on how much joy they got from playing when the ball didn't stick and how much joy they got from playing when the open man took the open shot and how they made passing the ball cool in an era where guys were hungry to score," Self said of his emotions watching the ceremony.
"Listen to Bird and Magic ... it's all about winning with them. I don't think players across America think selfishly. I just don't think they understand how much fun this game can be when nobody cares who gets the credit," added Self, who also has used his 2008 NCAA title team as an example of unselfish play in which leading scorer Brandon Rush averaged just 13.3 ppg.
"We played Nebraska. I remember it vividly. There's 10 minutes left in the game, and Mario (Chalmers) hadn't taken a shot. This is our most clutch guy," Self exclaimed. "I told Mario, 'Hey, look to score.' He said, 'Coach, it's just not me tonight.' That was the mind-set. I thought our team two years ago got it, and hopefully this team will get it. We're just not quite there yet, and Brady helps us get it."
Marcus Morris said Self's commentary has sunk in.
"We're trying to resemble the team that won the national championship where we're getting the ball moving to the open guys. Take the shot when you are open, and it'll open the floor up for everybody," forward Morris said.
Morningstar was a red-shirt on that title team. "Brady is one of my favorite players," Morris said. "I feel he does everything right."
Jimmy V on tap
KU will play Ohio and Arizona in the Las Vegas Invitational next Nov. 26-27. Self said on his Hawk Talk radio show that KU also would play in the 2010 Jimmy V. Classic in Madison Square Garden in New York. No opponent or date has been set.
Cole was sick
Cole Aldrich, who had five rebounds and seven points in Thursday's rout of Central Arkansas, was sick the day of the game.
"He won't complain (but) he'd been sick, sluggish," Self said. "I've never subbed for him twice that quickly. He had two turnovers and missed two balls (on boards). He didn't say a word. After the game, they tell me he's really sick. He doesn't make excuses," Self added. Aldrich practiced Monday is expected to be fine for Wednesday's 7 p.m. home game versus Oakland.
Withey update
Self said he hopes freshman center Jeff Withey (stress fracture, right knee) will be able to return to practice Monday. He said he didn't see Withey "being able to impact us a ton until after the first of the year."
"I don't see him being able to impact us a ton until after the first of the year," Self said. "He's practiced two days. He's doing pool-work. Hopefully he'll be healthy, but it (his return to games) will be delayed."
Appleton update
Former KU reserve point guard Tyrone Appleton, who enrolled in classes at NCAA Div. II Southwest Baptist University last summer, is apparently battling a nagging injury and not playing — or attending classes anywhere — this school year.
Appleton, who elected to transfer after his junior season at KU in hopes of extended playing time, is hindered by a hip flexor injury he sustained last season, Appleton's dad, Dr. James Dye, said Sunday night.
"I cannot tell you. I don't particularly know (where Appleton is). Wherever he is, he is involved in a medical situation and will not turn up in terms of scoring points this year," Dye said.
"I had basically worked out a situation for him to go to the University of Washington. He didn't like that school. I told him to go out and decide what he wanted to do," added Dye, who indicated Appleton indeed surfaced at SW Baptist in Bolivar, Mo.
"They were talking about his flexor pull and trying to make a decision of what he (Appleton) wanted to do. I've stepped back right now (to let Appleton be on his own). He is off the radar right now."
Appleton has told his former KU teammates he is not attending school right now. Because of the fact he attended classes at SW Baptist, Appleton will only be eligible to play his final season at an NAIA school instead of an NCAA institution.
He left KU in good academic standing.
More like this story on KUsports.com