Kansas University football coach Mark Mangino long has prided himself on his ability to maintain focus in the face of a storm, so it's not altogether surprising that he has spent the past few days going about his business as usual — even as speculation about his job security has swirled.
Despite an ongoing KU investigation into the coach's treatment of players, Mangino said he has carried on as usual this week — showing up for his live radio show Thursday night, leading a Sunday afternoon practice, speaking with beat reporters via conference call Sunday — because he sees no reason why he would alter his routine.
"These are things that I do every week, and there's no reason not to do them," Mangino said. "This is what I do, and I'm comfortable doing it, and these are things that I do each and every week."
The coach said following Saturday's 51-20 loss to Texas that he expected to coach this weekend's game against Missouri at Arrowhead Stadium. Asked Sunday whether he felt he has been treated unfairly in regards to the internal investigation being carried out into his treatment of players, Mangino said the situation was far from resolved.

"Answering you in an honest fashion, it hasn't played out," he said. "That's how I feel about it. I really don't have anything to comment. I want you to know that it has not played out. So I'm doing my job and getting ready to play Missouri. That's a big game over in Arrowhead. It's really important to our players, it's important to our fans and important to our students. That's what my focus is on."
Mired in a six-game losing streak, Saturday's regular-season finale against the rival Tigers will represent the Jayhawks' last chance to gain bowl eligibility, something they've done in each of the past five seasons.
As they learned the hard way in 2006, however, six wins doesn't always guarantee a bowl game — which means players will be using Saturday's game to make a statement.

"It's tough going into this last game knowing that even if you do win, you might not get that bowl game," said senior defensive back Justin Thornton. "So we're going to go out fighting and we're going to do everything in our power to try to win this game in a convincing fashion."
As always, players will have the added boost of Don Fambrough, the former KU coach who annually relays some of his anti-Missouri sentiments to team members in the days leading up to the game.
He's expected to give a speech on the practice field at some point this week, and Mangino, for one, seemed excited at the prospect of what appears to be a particularly worked-up Fambrough.
"That's our ace in the hole, Coach Fambrough," Mangino said following Saturday's game. "I want to tell you something: He was pacing all around the field this week, and I said, 'He knows we're playing Texas this week, doesn't he? Because he's got his Missouri game face on a week early.' I'm telling you, when you get ready to play Missouri, he's got his hands behind his back, he walks around the field about 90 miles per hour, and when he talks, he talks so fast you won't know what the heck he's saying."
While Thornton admitted the events of the past week have no doubt represented a distraction, meanwhile — "At school, that's all anyone wants to talk about," he said — he also indicated that, evident or not from the outside, players are all pulling in the same direction.

"We're together just as much as we were at the beginning of the season — if not closer together," Thornton said. "I think we've handled it pretty well, and we're united. We're going to stick by each other no matter what. This is our team. We're trying to end this little losing streak, and we got one more chance to do it."
Opurum out against Missouri
Kansas University running back Toben Opurum will miss Saturday's regular-season finale against Missouri due to injury, Mangino said Sunday night.
Opurum, a true freshman from Plano, Texas, was injured early in the first quarter of Saturday's 51-20 loss to Texas and had to be helped from the field due to what appeared to be a leg or ankle injury.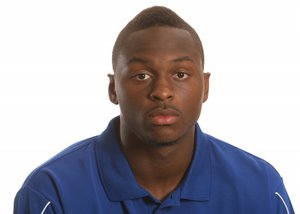 Asked whether the injury potentially could require offseason surgery, Mangino said, "We don't know that yet, and more than likely I would not reveal that because I don't want to talk about injuries in depth to that extent. But it's hard to tell. We know that he certainly can't play this week. I will meet with the doctors probably Tuesday afternoon after practice, and they will inform me of what protocol there is."
Through 11 games, Opurum is the team's leader in carries (133), rushing yards (554) and rushing touchdowns (nine).
In his absence, sophomore running back Rell Lewis — who rushed five times for 43 yards Saturday — likely will see an increased workload behind starter Jake Sharp.
Mangino indicated that defensive end Jake Laptad, also injured against the Longhorns, likely will be ready for this weekend's game.
Thanksgiving routine
As is the case every year, Kansas will alter its practice schedule a bit this week to account for the Thanksgiving holiday.
The team will practice Thursday morning, and players who live within a two-hour drive of home are free to leave campus that afternoon before returning for Friday-morning meetings.
In-state players, Mangino said, are encouraged to take out-of-town players home with them for holiday dinner.
"No player spends the holiday alone," Mangino said. "If other families do not bring them in, our coaching staff and myself, we bring them to our homes to have holiday dinner so that no player spends the holiday alone.
"That's the worst thing that could happen to a young guy."