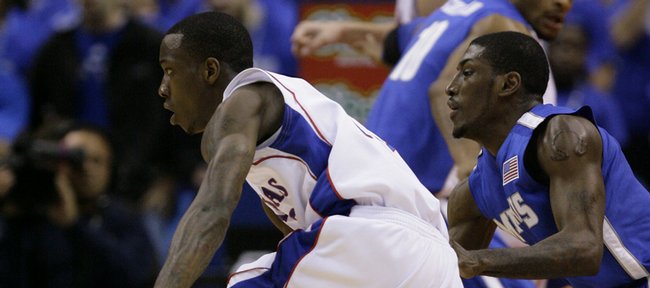 Kansas University sophomore guard Tyshawn Taylor, who committed a career-high seven turnovers in Tuesday's narrow victory over Memphis, bounced back to play an error-free game Thursday against Central Arkansas.
"That was a freak night," Taylor said of the mistake-filled effort versus the Tigers. "I had one like that last year against Missouri, too, when they pressured a lot like Memphis did. I've got to learn to handle that pressure a little bit better.
"I think I'm getting better at it," added Taylor, who had five assists against Memphis and two versus Central Arkansas. "In the second game of the season, I was a little bit shaky. I'll be all right."
Taylor had six turnovers against two assists in last year's two-point loss to Missouri in Columbia. The 6-foot-2, 185-pounder from Hoboken, N.J., also had six turnovers two other times — in wins at Nebraska and against Dayton in the NCAA Tournament.
After finishing his freshman season with 104 assists against 83 turnovers, Taylor is off to a 13-assist, nine-turnover start through three games.
"He had no turnovers, so from my standpoint he probably had a pretty good night," KU coach Bill Self said, in response to a reporter's question, "What kind of things are going on with Tyshawn?" after KU's 94-44 rout of Central Arkansas.
"If you look at the box score and just look at field goals made out of field goals attempted, then I think if you are looking at a guard, you are really not doing justice to what a guy is or the important piece he is to the puzzle."
Taylor, who has made three of 14 shots (21.4 percent) this season after hitting at a 50.6 clip a year ago, missed five of six shots against Central Arkansas and all four tries versus Memphis.
"He is laboring a bit right now. He doesn't trust his shot as much as he will," Self said. "I thought he made a conscious effort to do what we wanted him to do."
Taylor is not fretting over his slow start on offense. He has averaged 4.7 points per game after averaging 9.7 his rookie season.
"I think I played pretty well. I just wasn't making shots," Taylor said of Thursday's performance. "I had a couple open looks, a couple go in and out. I'm just going to keep trying to get better every day. It's one of the main goals of our team, to get better every day. I'm going to come out and bust my butt and get better."
KU senior Sherron Collins said Taylor, "was more focused, his head more into it," against Central Arkansas than against Memphis.
"Tyshawn's thing is he will lock down the star player, the best scorer on every team. I think he's getting (into) that and isn't worrying about scoring. When he's not worrying about scoring, his points will come" Collins said.
Self does think Taylor could be the player asked to shut down the opposition's hot hand in the backcourt.
"I hope it's him," Self said. "I don't think Xavier (Henry) is quite ready for that. Sherron needs to save some energy. I think it needs to be Tyshawn and Elijah (as the) secondary defender off the bench."
Collins believes Taylor will have a breakout sophomore campaign.
"I think he's the same ol' Tyshawn. He just got a little better over the summer," Collins said of Taylor, who averaged a team-leading 10.8 points per game with a team-best 35 assists in pacing the United States to a first-place finish at the FIBA Under 19 World Championships in New Zealand.
"He's learning. He's making better decisions. He's back 100 percent."
More like this story on KUsports.com