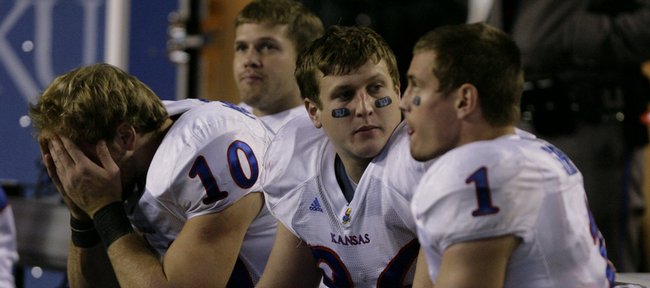 FINAL: UT defeats KU, 51-20
Following a UT turnover on downs, Rell Lewis has nice runs of 8 and 15 to pick up a first down.
Lewis drives up the middle for nine more yards. In three plays, he's already become the Jayhawks' leading rusher.
A Lewis rush runs out the clock, and KU falls to 5-6 overall and 1-6 in the conference.
UT 51/KU 20 — 4:31 left in 4th quarter
Insult is added to injury for KU, as on third-and-6, Reesing is whistled for intentional grounding after throwing the ball deep downfield to no one. The referee leaves his microphone on accidentally, and Mangino is heard over the loudspeakers saying, "You're a good man," to the official while arguing the grounding call.
Rojas saves a touchdown with a tackle. UT's Earl Thomas only had Rojas to beat on the punt return up the middle, but Rojas stood his ground and dragged Thomas down after a 50-yard gain.
Texas calls timeout to give McCoy one more last ovation as he walks off the field at home for the last time. The UT fans give the loudest cheer of the night, and the cannon sounds as McCoy takes off his helmet and gives one last wave to the crowd. UT fans continue the "Colt for Heisman" chant even after he leaves the game.
UT 51/KU 20 — 7:01 left in 4th quarter
Texas doesn't feel like it's done scoring.
The Longhorns continue to run the hurry-up, and it continues to work.
Newton ends the 11-play, 68-yard drive with a 19-yard tightrope walk down the right sideline for a TD.
Just when KU fans might have thought the defense had turned a corner late in the season, this performance looks like it might be another setback.
UT 44/KU 20 — 11:14 left in 4th quarter
After being bottled up for most of the season, KU's kickoff return team comes up with its biggest highlight of the year.
Dezmon Briscoe zips through a seam on the left side and runs past the rest of UT's defenders, shooting 98 yards down the left sideline for a touchdown.
Remember, no team had scored more than 14 against KU in the last seven weeks. Now, KU's 20 points ties for the second-most scored against the Longhorns this season.
UT 44/KU 13 — 11:43 left in 4th quarter
Maybe this is the reason that Mangino mentioned a few weeks ago that the spread offense isn't dead.
The Longhorns seem to be running it just fine, as McCoy fires an accurate sideline pass 12 yards to Kirkendoll for a touchdown. KU's defense has had no answers for UT's offense, as McCoy is now 28-for-37 for 368 yards and four touchdowns.
UT 37/KU 13 — 13:45 left in 4th quarter
It could get uglier for KU.
Reesing motions for Meier to go deep, but the senior wideout falls down. UT safety Earl Thomas comes down the easy interception, returning it to the KU 42.
UT 37/KU 13 — 14:08 left in 4th quarter
Finally, KU gets a stop that sticks on third down, as Thornton pokes away a pass in the end zone at the last second.
Lawrence blasts through a 35-yard field goal, and UT extends its lead, but perhaps more importantly, takes 5 minutes, 43 seconds off the clock.
UT 34/KU 13 — End of 3rd quarter
I will say this much about KU today: The receivers have had a productive game.
Reesing has been helped out quite a bit by good receptions by his wideouts, and Wilson continues the trend, making a nice hands catch before turning upfield for a 47-yard gain.
KU goes deep into the playbook for the Meier throwback pass, but UT has it defended well, covering the receivers and tackling Meier for a seven-yard loss. Reesing is sacked on second down, and pressure on third down forces an incompletion.
On fourth-and-21, Mangino has little choice but to try a 50-yard field-goal attempt. Branstetter's kick has enough distance (barely), but sails wide.
KU's defense appears to force a stop on third-and-10, but Arist Wright is whistled for roughing the passer. The linebacker hit McCoy hard shoulder-to-shoulder, but on replay, the blow didn't look dirty or late.
McCoy scrambles out of the pocket on third-and-8, eluding a diving Jamal Greene before picking up nine to keep the drive going.
McCoy again executes on third down and 6, sensing the KU blitz before finding Kirkendoll for a six-yard pass over the middle.
UT 34/KU 13 — 7:53 left in 3rd quarter
Whatever momentum KU grabbed was lost within 23 seconds.
On UT's first play from scrimmage, Williams burns KU's Darrell Stuckey down the middle of the field. McCoy's throw is short, but it's good enough, as Williams adjusts to it and does the rest, taking it 68 yards down the middle of the field for the touchdown.
Lawrence's extra-point puts UT back up by 21.
UT 27/KU 13 — 8:10 left in 3rd quarter
Well, KU is now two-for-two when testing UT's defensive backs down the field.
Reesing throws a brilliant touch pass to Briscoe down the left sideline, and the junior beats the UT cornerback for a 39-yard gain.
Reesing hits McDougald over the middle for 17 yards to the UT 2, and Sharp takes it into the end zone on the next play for the TD. It's his first score since the UTEP game in Week 2.
Branstetter's PAT caps a nice KU drive and brings the Jayhawks within two scores.
UT 27/KU 6 — 11:18 left in 3rd quarter
UT picks up three first downs, but stalls on a third-and-four at the KU 36 after McCoy throws incomplete to Newton.
The Longhorns give the appearance of trying to go for it on fourth down, but McCoy executes a quick kick, booting the ball down to the KU 12 where the Jayhawks will take over.
Halftime stats
Kansas
• Reesing 15-for-26, 115 yards
• Sharp 8 carries, 20 yards
• Opurum 2 carries, 13 yards
• Meier 7 catches, 32 yards
• Briscoe 3 catches, 55 yards
Texas
• McCoy 18-for-22, 238 yards, 2 TDs
• Shipley 5 catches, 72 yards, TD
• Kirkendoll 4 catches, 60 yards, TD
Other notes
• KU had just 17 carries for 21 yards rushing, but remember, Reesing has lost 24 yards on four sacks. Take that out, and KU has rushed 13 times for 45 yards.
• Another update from the interesting story of TTU's Taylor Potts wearing "Nick" on the back of his jersey in honor of KU former linebacker Nick Reid.
Here are some snippets from (my former roommate) Shawn Shroyer's story and notebook that will be in Sunday's Midland Reporter-Telegram. Thanks to him for sending the info along.
• "I thought Nick played really well," Leach said in reference to Potts. "I never had the opportunity to meet a guy named Nick Reid, who was a linebacker for Kansas. And I always felt he personified what a football player is and what a football player should be. I'd actually like to have a picture of Nick Reid.
"But anyway, we decided as Potts was going through his tough times, we decided all of our players, we'd like them to be more like Nick and led by Nick would be even better. We figured it wouldn't hurt us to have a Nick, so now we do."
Leach said it was Potts' idea to wear the new name on his uniform. Potts said it was Leach's. Regardless, Potts played like a different quarterback even if he didn't feel different.
"It didn't change anything," Potts said. "It's just a name on the back of a jersey."
• As if Leach's first explanation of why he chose "Nick" as quarterback Taylor Potts' nickname, he elaborated further on former Kansas linebacker Nick Reid, who played at Kansas from 2002-05.
"He had good games against everybody. There wasn't anybody he didn't have a good game against. (Kansas) went through some hard times and he was always just gritty and tough, and would hit anything that moved. Always a handful. A factor on every play that you played against him."
UT 27/KU 6 — Halftime
Justin Springer returns the kickoff for KU on a squib kick, and the hometown scorekeeper lets the final 2 seconds run off the clock after he is tackled.
The Jayhawks enter the break down three touchdowns.
UT 27/KU 6 — 7 seconds left in 2nd quarter
Well, three, shall we say interesting, offensive play calls for KU. The Jayhawks run twice up the middle to burn UT's first two timeouts, then run an option left on third down, where Sharp goes out of bounds after three yards to stop the clock for the Longhorns. Not only did KU not try to score, it didn't run the right play (or make the right decision) to have UT use all three of its timeouts.
After a Rojas punt, McCoy completes to Buckner for 13 yards. Drew Dudley misses McCoy on a blitz, and the QB turns it into a positive play, running 11 yards up the middle. UT spikes it, and KU is flagged for a five-yard illegal substition penalty with 12 seconds left.
The Longhorns waste their final timeout, using it after spiking the ball. Lawrence comes out after the break for a 47-yard field-goal attempt, and he puts it through. KU's offense didn't play keep-away long enough to keep the Longhorns off the scoreboard.
UT 24/KU 6 — 1:21 left in 2nd quarter
KU's offense sputters, as Reesing throws consecutive passes too high to Meier and Briscoe. Both receivers get laid out because of the errant passes. Rojas punts it away, and UT will have another chance to extend its lead, starting from its own 41.
Tre' Newton — the son of former Dallas Cowboy Nate Newton — catches the ball on a screen and runs 13 yards.
Once again a huge cushion hurts KU, as Kirkendoll catches a pass two full steps in front of Anthony Davis for an 11-yard gain on the sideline.
Huldon Tharp over-pursues a screen pass, and John Chiles runs right by him for a 14-yard gain. Tharp missed the tackle and also didn't force the receiver to his help on the outside.
Cody Johnson finishes the drive with a one-yard TD plunge, and the Longhorns have taken control before halftime.
UT 17/KU 6 — 5:45 left in 2nd quarter
I guess Branstetter can try an onside-kick attempt.
KU gambles on the kickoff, as Branstetter tried to kick the ball straight in front of him and recover it himself. Unfortunately for KU, it once again gets a bad bounce, as after bouncing a few times, it spirals and comes to a stop just six yards in front of where he kicks it.
Harris has great pass coverage on third down, locking down on Williams to force an incompletion.
Mangino's gamble allows a UT field-goal try, though, and Lawrence splits the uprights from 49 yards out to extend the Longhorns' lead.
UT 14/KU 6 — 6:59 left in 2nd quarter
After a timeout, KU tries the same fade route to Briscoe it tried on first down. The play is just as successful, as Reesing's pass is overthrown after Briscoe is bumped at the line of scrimmage.
Branstetter makes the 25-yard field goal, but the difference in this game is KU's inability to get the ball in the end zone once moving inside the UT 10
UT 14/KU 3 — 7:07 left in 2nd quarter
The attendance tonight is 101,357, which is a new UT record.
Stuckey looks like a senior that is determined to make a bowl game on the kickoff return, and he bounces and spins off multiple UT would-be tacklers before getting knocked out of bounds at the KU 42. That brings a boost to the KU sideline, as multiple players jump up to pat Stuckey on the back for his 36-yard return.
Reesing has found a go-to target, as Meier brings in consecutive six- and five-yard receptions. Bradley McDougald breaks a tackle for a six-yard gain on the sideline, and on third-and-1, Sharp falls forward for one yard and a first down.
Reesing hits Johnathan Wilson over the middle for 11, then Briscoe turns a reception up the sideline for 19 more to the UT 6.
Reesing overthrows Briscoe in the end zone on first down, and the QB takes a two-yard sack on second down. Reesing uses the team's final timeout of the second half before the crucial third-and-goal play from the UT 8.
UT 14/KU 3 — 11:34 left in 2nd quarter
Shipley fumbles the kickoff return, but UT is able to fall on it. The Longhorns aren't securing the football as well as they need to early.
UT's passing game goes back to work. Again, Harris gives a huge cushion, and this time the Longhorns' Malcolm Williams catches it in front of the defensive back for 16 yards.
It doesn't take long from there. Running the hurry-up, McCoy runs for five yards up the middle, then rolls out to find Shipley down the left sideline for 38 yards for the touchdown.
Hunter Lawrence adds the PAT, and UT needs just six plays and 2 minutes, 8 seconds to go 70 yards for their second TD.
UT 7/KU 3 — 13:49 left in 2nd quarter
Maybe third-and-18 isn't impossible for KU's offense.
Reesing finds Briscoe between the cornerback and safety in a Cover-2 zone, and Briscoe catches it for a 33-yard gain down the right sideline. The bubble screens earlier set up KU for that big play down the field.
KU can't take advantage with a touchdown, though. An option play to the short side is stopped for a one-yard gain, and a second down pass to Meier in the end zone is underthrown.
Reesing's third-and-goal pass to the back of the end zone is brought down by Meier, but the receiver's two was two inches too far, landing on the back white boundary of the end zone.
Jacob Branstetter's 27-yard field-goal attempt is true, and KU turns the UT turnover into three points.
UT 7/KU 0 — End of 1st quarter
Reesing scrambles out of trouble, running forward six yards for a first down before scooting out of bounds.
KU's reluctance to even consider running plays allows UT to focus simply on rushing the passer. With a five-wide receiver set, Reesing is blasted by Lamarr Houston for an eight-yard sack. That takes KU out of field-goal range, and after the quarter break, the Jayhawks face a near-impossible third-and-18 from the UT 43.
UT 7/KU 0 — 1:32 left in 1st quarter
KU's offense is stopped after one first down, as Meier is stopped short of sticks on a third-and-6. Rojas booms a sky punt, and Shipley is forced to fair catch it at the UT 21. Lubbock Smith goes down for KU, and his right leg injury looks similar to Opurum's, as he's also helped off the field by a pair of trainers.
UT isn't having many problems moving the football through the air, as on third-and-9, Shipley takes advantage of a huge cushion given to him by Chris Harris and catches an 11-yard out route to move the sticks.
KU's Jeff Wheeler halts the drive, though, chasing down McCoy out of the pocket before stripping the ball. Justin Thornton falls on it, and KU takes over at the UT 46.
Following a nice catch on the sideline by Tim Biere, Reesing overthrows an open Meier on the sideline. Reesing calls timeout to talk over a third-and-5 play.
UT 7/KU 0 — 5:54 left in 1st quarter
Missed tackles haunt KU, as Huldon Tharp, Maxwell Onyegbule and Chris Harris all whiff on a UT bubble screen to Marquise Goodwin, who moves 34 yards up the sideline before getting taken down by Justin Thornton.
One more big play is all the Longhorns need, as McCoy hits James Kirkendoll deep down the field on third-and-9 for a 41-yard touchdown pass. Great throw by McCoy, and KU's Anthony Davis was beaten by three steps on the play.
KU 0/UT 0 — 7:36 left in 1st quarter
KU goes five-wide on third-and-4 from the UT 40, and still no Briscoe. Reesing's pass is wide of Meier and nearly intercepted by a UT cornerback.
KU decides to go for it on fourth-and-4, and Reesing starts to scramble before getting surrounded by UT defenders. He's sacked for a two-yard loss, and the Longhorns will take over with great field position at their own 42.
A false-start penalty starts UT's drive off poorly, and after short completions by McCoy, the UT QB misfires deep on third-and-7. That's a big stop for KU's defenders.
The Jayhawks get a huge boost from their special teams, as Daymond Patterson returns the punt 32 yards up the left sideline to the 50. Afterwards, he receives a bear hug on the sideline from Mangino.
Briscoe returns to the KU lineup, but it doesn't help. Reesing is crunched for an 11-yard loss on third-and-9, and Alonso Rojas comes in for his first punt. The kick is partially blocked but still rolls down to the UT 24. KU is lucky that Rojas was able to get that one away before it was fully blocked.
KU 0/UT 0 — 10:58 left in 1st quarter
Dezmon Briscoe is a surprise non-starter. Tertavian Ingram takes his place.
Good protection allows Todd Reesing some time on third-and-8, and the QB finds Kerry Meier for eight yards and a first down.
Reesing runs the option left on first down, and the pitch goes to Jake Sharp for nine yards down the sideline. Sharp actually delivers a blow to a UT defender after getting lit up twice in previous weeks.
On third-and-1, KU gives the ball to its third-and-short specialist Toben Opurum, and he rumbles 14 yards around a hole on the left side.
Reesing squirts through a hole on an option to the right side for five yards, and Opurum is taken down awkwardly on second down. He's slow to get up, and it appears to be a right leg injury, as he's helped to the sideline by two trainers.
7:11 p.m.
The temperature is 56 degrees with winds at 5 miles per hour out of the north. The humidity is 90 percent.
KU wins the toss and will receive.
7:06 p.m.
It's no surprise, but the loudest two Senior Day ovations go to Colt McCoy and Jordan Shipley.
Also, I haven't seen this many flashbulbs at a sporting event since attending Game 3 of the 2005 World Series between the White Sox and Astros in Houston.
7:03 p.m.
Classy gesture by UT's band, as before playing the Longhorns' alma mater, the UT band played the KU alma mater. The KU fans present sang the alma mater and swayed to the beat. I haven't ever seen a home team do this, but it was a neat event to watch.
6:53 p.m.
A few extra notes about today's game.
• KU cornerback D.J. Beshears did not make the trip with the team.
• KU has not had a sideline reporter for an ABC-televised game this season, but the team will have one today, as Shelley Smith was a late addition to the TV crew. Expect her to stay on the KU sideline.
• Two Longhorn fans were married near the field before the game. Both were wearing burnt-orange UT jerseys. And, yes, a Texas-based song was playing in the background.
• I saw former Longhorn/Jayhawk basketball player Luke Axtell in the lobby downstairs before the game. He was wearing a large belt buckle and also a burnt-orange polo shirt.
6:44 p.m.
Here are a few notes about UT:
• Texas quarterback Colt McCoy is Division I's active leader in passing yards, passing touchdowns and completion percentage. With a win today, McCoy would become the all-time FBS leader in victories as a quarterback with 43.
• McCoy has just one interception in his last three games. He has nine total interceptions in 10 games this season.
• McCoy and Jordan Shipley have 14 connections this season for a pass of 20 yards or more.
• Shipley has five 100-plus-yard receiving games this season.
• Over the last seven games, UT's defense has given up an average of 191 yards per game.
• In that seven-game stretch, the most points the Longhorns have given up in a game is 14. The average point total for UT opponents in that time span is 10.3 points.
• Texas has scored 10 non-offensive TDs this season.
6:15 p.m.
It appears KU has already helped one Big 12 team to a victory today.
Evidently, TTU quarterback Taylor Potts wore the name "Nick" instead of "Potts" on the back of his uniform in the Red Raiders' 41-13 victory over Oklahoma. Potts threw for 388 yards and two TDs.
The reason? TTU coach Mike Leach said it was in tribute of former KU linebacker Nick Reid, who was a favorite player of Leach's.
Weird story, but Leach is more than a bit unorthodox.
5:55 p.m.
Welcome back to the Newell Post Live, coming to you from Darrell K Royal-Texas Memorial Stadium in Austin, Texas, where the Kansas Jayhawks are getting set to take on the No. 3 Texas Longhorns.
This game is intriguing for KU, but perhaps not in the way one would have thought a few months ago.
Then, the story line was supposed to be KU quarterback Todd Reesing making his only trip to his hometown to take on the mighty Longhorns. The game also was supposed to have major implications in the Big 12 conference race for both teams.
Well, national media members are still here (I've seen CBSsportsline's Dennis Dodd and the Houston Chronicle's Richard Justice and heard that Mark Schlabach is expected here as well). And they're actually here more because of KU than because of UT.
But the reasons have all changed.
By now, you all know the national news of the KU athletic department's investigation this week into the actions of KU coach Mark Mangino.
And suddenly this game is full of intrigue once again. How will Mangino react on the sideline? Will linebacker Arist Wright play after coming forward with information about Mangino poking him? Will KU's players lay down or play inspired for their embattled coach?
No one's quite sure what to think of tonight's game. This much is for sure, though: It sure hasn't lost its appeal.
By the way, Darrell K Royal Stadium is enormous. Love the hugeness of it, as the concrete walls seem to tower over you. The huge videoboard in the end zone is a nice touch as well.
What I don't love? I think every song title played so far in the pregame (about six I've heard) have either had the word "Austin" or "Texas" in the title.
I think it would get old to walk into a KU game and only hear songs about Kansas, don't you?
As always, be sure to vote in our poll on the left, and tweet with the hashtag #kufball to have your tweets show up in our grid on the left.
More like this story on KUsports.com