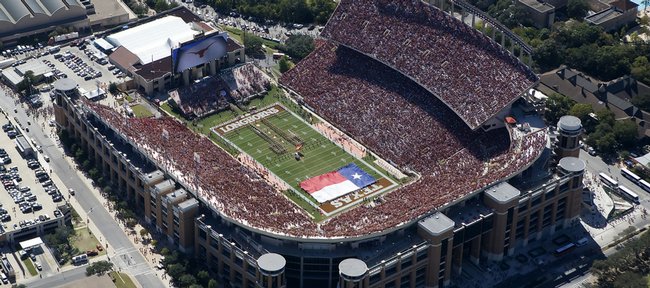 For each of the past five weeks, the Kansas University football team either has been favored or a single-digit underdog according to Las Vegas oddsmakers.
Not this week.
When the Jayhawks (5-5 overall, 1-5 in Big 12 play) take on No. 3 Texas (10-0, 6-0) at 7 tonight in Austin, Texas, they'll enter the game as nearly a 30-point underdog.
That number is as much an indication of UT's power as KU's pain. And it might be just what the Jayhawks need to snap the five-game losing skid that has led to total turmoil within the program.
The KU players know that leaving Austin with a victory won't be easy. Kansas is 0-3 all-time in Austin and has just one win against a top-five team since the inception of the Big 12. But many Jayhawks said the heavy underdog role provided an opportunity to take a carefree attitude into kickoff.
"There's always pressure in college football. You always want to go out there and play the best you can," junior cornerback Chris Harris said. "But I guess this relieves it a little bit. They're the No. 3 team in the country, and they're going to play like it. We just have to go down there and be ready."
That's exactly what the Jayhawks expect from the Longhorns. Although some might theorize that Texas could be overlooking Kansas, the Jayhawks know that's unlikely, especially with UT sitting three victories from a probable berth in the BCS national championship game.
"Just knowing Texas, and them having a great coach like Mack Brown, I'm pretty sure they'll be ready for us," Harris said. "They're not going to allow anyone to sneak up on them. So when we go down there, we have to bring our A game."
The recent storm surrounding the conduct — and perhaps the future — of Kansas coach Mark Mangino won't be the only factor that could be a distraction. Tonight's game also marks the last chance for KU quarterback Todd Reesing to play against a team from his native Texas. Reesing is 4-3 against Texas schools during his KU career, but the three losses came against Texas Tech (twice) and Texas, while the victories were over Baylor, Texas A&M;, Sam Houston State and UTEP.
Toss into the equation the fact that KU's two-year bowl streak could be in jeopardy, and it's clear that there are a lot of things on the minds of the Jayhawks these days. Reesing, who hails from Lake Travis High in Austin, said none of those would matter at kickoff.
"I am focused on playing Texas and doing whatever I can to get ready for that game," Reesing said. "That is what I am going to tell the rest of the guys. You have to find it within yourself to stay focused on the task at hand, and I think for the vast majority of guys it will be easy. They share the same belief I have in where we stand and what we want to do in these next two weeks."
In their only game against Texas in the Reesing era, the Jayhawks fell, 35-7, last season at Memorial Stadium. The only thing similar between the two games is where the Longhorns stand. At this point last season, the Texas players knew they had to win out to have a shot at a national championship. The same is true for this year's Longhorns, and the Jayhawks are aware of that.
"They still have those nice national title hopes," red-shirt freshman Tanner Hawkinson said. "So if we can go down there and put a great game together, we have an opportunity to change that."
Added senior wideout Kerry Meier: "We're excited to go and try to give these perfect Longhorns a challenge. We're going to go down there to try and disrupt some things and try to play a good ballgame because we've got nothing to lose."
Still, Mangino doesn't expect his team to turn this week's game into anything more than it is — the 11th game on the schedule.
"I'm not really one that's, 'It's us against the world' type of thing," Mangino said. "We'd like to have a win. I think that's the thing that's on all of our minds — what can we do to win a game. Let's do everything that's in our power as players and coaches to get a win. That's what we're looking for."
More like this story on KUsports.com