Originally published November 21, 2009 at 6:31 p.m., updated November 22, 2009 at midnight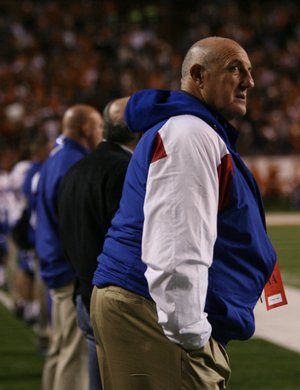 A source familiar with how the investigation into Kansas University football coach Mark Mangino started said that a clarification is in order in regard to Arist Wright's role in it.
Athletic director Lew Perkins, the source said, launched the investigation after concerns about Mangino's behavior, including his treatment of Wright, were brought to the athletic department's attention by a non-player. Assistant athletic director Chris Howard then sought out Wright and asked him about the incident in question, and Wright cooperated, the source said.
Thornton mum on rumor of transfers
Asked following Saturday's 51-20 loss to No. 3 Texas whether there was any validity to rumors that multiple Jayhawks were seeking transfers, senior defensive back Justin Thornton reserved comment.
"I'm just going to focus on what happened tonight," Thornton said. "Right now, we're looking forward to Missouri. After the season, if you want to ask me questions, I'll be happy to answer things after all this unfolds. But right now, we'd rather just focus on the things that we've got to and picking up this last win."
Tech describes 'Nick' tribute
On Saturday, as Texas Tech quarterback Taylor Potts threw for 388 yards and two touchdowns on the way to a 41-13 Red Raiders victory over Oklahoma, he did so with an interesting uniform alteration.
Instead of wearing "Potts" on the back of his jersey, the junior from Abilene, Texas, had "Nick" across his shoulders.
"I never had the opportunity to meet a guy named Nick Reid who was a linebacker for Kansas," Tech coach Mike Leach said. "And I always felt like he personified what a football player is and what a football player should be. I'd actually like to have a picture of Nick Reid.
"But anyway, we decided as Potts was going through his tough times, we decided all of our players, we'd like them to be more like Nick and led by Nick would be even better. We figured it wouldn't hurt us to have a Nick, so now we do."
Reid, who was a former Big 12 defensive player of the year at Kansas, recently defended Mangino and his approach in response to KU's investigation into the coach.
Opurum injured
Kansas running back Toben Opurum, the team's leading rusher this season with 554 yards, left Saturday's game early in the first quarter because of what appeared to be a leg or ankle injury.
Before leaving, Opurum rushed twice for 13 yards, including a 12-yard carry on third-and-one that gave the Jayhawks a first down at the Texas 46-yard line.
Beshears doesn't make trip
D.J. Beshears, a true freshman who has started three games for the Jayhawks at cornerback, did not make the trip to Austin this weekend.