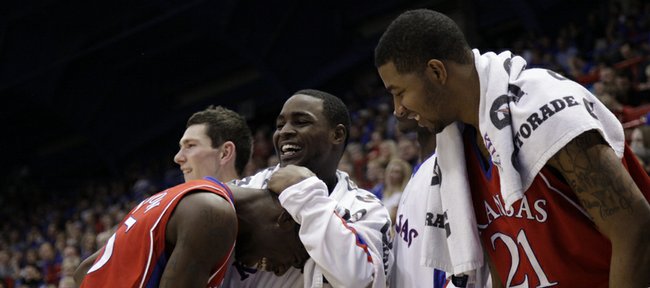 KU scoring
Xavier Henry 12, Collins 12, Marcus Morris 12, Reed 12, C.J. Henry 8, Robinson 8, Markieff Morris 8, Johnson 7, Aldrich 7, Taylor 4, Buford 4.
FINAL: KU wins 94-44
Chase Buford gets his high-arching, 16-footer to roll in, and he's also fouled on the play. The KU fans, as always, make lots of noise for the walk-on.
C.J. Henry puts in another three, and he's going to be among KU's top scorers.
Robinson adds a one-handed slam, and Buford adds another free throw to finish KU's rout.
The Jayhawks win, 94-44.
KU 85/UCA 37 — 2:43 left in game
The KU students have started their own free-throw tradition for Xavier Henry, lifting their arms in an X for all of his free throws. He swishes both attempts.
UCA comes through with a rare pair of offensive highlights, as Tadre Sheppard throws in alley-oops on consecutive possessions. The KU fans give out a groan, as they aren't used to having plays like that go against the Jayhawks at Allen Fieldhouse.
With the shot clock running down, Reed forces up a three, and it swishes through. This is easily Reed's best shooting game of the young season.
After a steal by Johnson, Robinson gets the ball with a running start, and he tries to throw down a crazy, one-handed, tomahawk jam. His doesn't have the lift he needs, though, so the attempt fails, but he's fouled on the play and makes both free throws.
C.J. Henry puts in his first points, as he drains a three-pointer from the left wing. Nice, high release on the shot from the freshman.
Johnson finds C.J. on the next possession, and C.J. puts in a layup after a backdoor cut.
KU 70/UCA 28 — 7:15 left in game
Reed passes up a three before driving inside to find Aldrich, who gets a tough shot in the lane to roll in.
The next possession, Markieff Morris zips a pass inside to Aldrich for an easy slam. Nice vision by Markieff, and also a good decision to throw it with some velocity, as the pass needed some force on it to not get stolen.
Aldrich draws a crowd inside, and he pushes a pass back on the perimeter to Johnson for a three-pointer. Somewhat surprisingly, that's Aldrich's first assist today.
Xavier Henry fakes a drive before putting in a guarded three over a defender. That's going to be tough for anyone to stop.
Taylor dribbles his way to the basket, putting in a layup for his first field goal. He was 0-for-5 before that bucket.
KU 58/UCA 21 — 11:59 left in game
Two more offensive rebounds for UCA before Chris Henson gets a two. The Bears, at this point, have out-rebounded the Jayhawks, 30-25. Too many KU players are going for blocks and not enough are staying on the ground to position themselves for the rebound.
On a drive, Collins scoops back out to Markieff Morris, who does a good job of composing himself to prevent a charge before putting in a short shot off the glass.
Collins hits a three for KU, and he's the second Jayhawks to double figures, following Marcus Morris.
KU 53/UCA 17 — 14:14 left in game
UCA switches to a zone for the first time today, and good ball movement by KU opens up Reed for a three. He drains it, and he's a perfect 3-for-3 from beyond the arc today.
Marcus Morris follows with a strong move across the lane, putting in a leaner to go with a foul.
More importantly for KU, Collins checks back in, meaning his leg injury isn't that serious.
Reed misses his first three, but Markieff Morris skies to grab the offensive board and slam it down all in one motion. That's an athletic play neither of the Morris twins could have completed a year ago. UCA calls timeout, as KU has opened the second half on a 16-2 run.
KU 44/UCA 15 — 15:59 left in game
Taylor misses a jumper, but Marcus Morris cleans up his miss, grabbing the board and putting it in for a two with a foul. Taylor looked disappointed by the miss, but Self clapped his hands together a few times, indicating he was happy with Taylor's decision.
Collins falls the floor with a right leg injury, and officials stop the play. Collins walks off under his own power, though he shows a bit of a limp as he walks to the bench and then to the locker room.
UCA continues to out-battle KU inside for rebounds. The Bears grab three more offensive rebounds on one possession, and they have a great chance of out-rebounding the Jayhawks this game.
Xavier Henry posts his defender up, and he uses his big body to clear space before putting in a shot off the glass. We haven't seen much of a post-up game from Xavier yet, so I'm wondering if we'll see more of that as the year goes on.
KU 37/UCA 15 — Halftime
Conner Teahan checks in at the 3:28 mark, and he'll get some first-half minutes.
Imad Qahwash gets away with a travel in the lane, and he's bailed out with a foul call on KU. The guard hits two free throws, helping UCA's chances of getting to double digits this half.
Marcus Morris takes it strong to the basket, splitting two defenders before putting in a layup with a foul.
At the 2:28 mark, C.J. Henry checks in and receives a nice ovation from the crowd before his first Jayhawk minutes.
Carlos Dos Santos puts UCA over 10, as his layup in transition with 1:40 left gives the Bears 11 first-half points.
C.J. Henry scraps for an offensive rebound, but KU can't cash in, as Johnson misses an open three-point attempt.
Mike Pouncy adds two more free throws for UCA, and at the buzzer, Pouncy tosses in a putback off the glass. The Bears more than double their first-half point total in the final three minutes.
KU 31/UCA 7 — 3:42 left in 1st half
On a dead ball, one of the officials kindly says to the cheerleaders, "Can you ask the Jayhawk to back up?" KU's mascot obliges, pulling back his long legs and yellow boots so they're not so close to the baseline.
Johnson loses control of the basketball on the way to the rim, so he quickly grabs it with his right hand and flips it toward the basket. The eight-footer falls in, and Self, with a wry smile, shakes his head slowly from side to side on the KU bench.
Xavier Henry follows his own three-point miss, grabbing the offensive rebound before draining a 12-footer on the baseline. The shot extends KU's run to 23-0. UCA's last points came at the 16:10 mark — some 11 full minutes ago.
Rehmel breaks the drought at the 4:07 mark, using a pass fake to freeze Aldrich in the land before putting in a short two. The guard has all of UCA's seven points. The Bears officially went 12:03 without scoring.
KU 27/UCA 5 — 7:33 left in 1st half
Elijah Johnson scoops back to Aldrich on the secondary break, and the big man swishes a straight-on, 18-footer.
Marcus Morris is surprised when a UCA player throws the ball straight to him. He'll get a steal on that play, but honestly, it would have been hard not to get a steal.
Good recognition by Taylor, who penetrated into the lane and lobbed a pass high to the rim that Markieff slammed down.
Reed hits a three from the right wing, and the run is up to 17-0.
Johnson picks off a steal and takes it the distance, putting in a short shot for two with a foul. We've already seen most of the KU players that struggled or didn't play much against Memphis come out with positive plays today against UCA.
KU 18/UCA 5 — 11:50 left in 1st half
KU presses off a made free throw by Marcus Morris, and Collins comes away with a steal underneath the basket. He airballs the layup attempt, though, and KU misses an opportunity.
UCA's Carlos Dos Santos grabs a rebound over Aldrich, and Markieff reaches over the back for a foul on the defensive end. KU is having tons of trouble tracking down rebounds against the undersized Bears. Thomas Robinson checks in for KU.
Markieff Morris gets the ball deep under the basket, but he composes himself before clearing space and putting in a left-handed layup.
Markeiff grabs a defensive rebound and starts the break, firing to Collins. The senior point guard zipped a cross-court pass to Tyrel Reed, who drained the open three.
Tempers flare a bit between Collins and UCA's Dewan Clayborn, as Collins knocks the ball away from Clayborn long after a whistle had been blown. The two players were separated, but no additional fouls were called.
Xavier Henry misses a shot on the break, but Robinson goes way above the rim to slam the follow home, screaming out his satisfaction on the way down.
The next possession, Collins rolls around a screen and swishes an 18-footer. That's a 10-0 run for KU.
KU 8/UCA 5 — 15:52 left in 1st half
Tyshawn Taylor tries a tough pass underneath the basket to Cole Aldrich, who fumbles it out of bounds. KU starts the game with a turnover.
Taylor works the ball in the post to Aldrich on KU's second possession, but the big man tosses it out of bounds. Poor start for the Jayhawks offensively, as Aldrich has two turnovers already.
UCA out-hustles KU to a rebound, and Rehmel puts in a jumper to give UCA a lead.
Marcus Morris responds on the other end with a turnaround on the baseline.
Self checks Markieff in quickly, as Aldrich is subbed out at the 17:42 mark. I can't remember KU's center being subbed out that quickly in the last two seasons.
Xavier Henry drains a three from the wing, and he looks comfortable shooting at Allen Fieldhouse.
Sherron Collins adds a three, but Rehmel answers with a trey from the deep corner on the other end.
7:05 p.m.
Most teams huddle up while KU's intro video is blasting on the scoreboard. Not UCA. All the players — and even coach Rand Chappell — looked up the whole time while the video played.
Marcus Morris will start instead of Markieff tonight.
6:42 p.m.
Anybody else follow Statsheet.com?
I just saw official John Higgins walk in, and immediately remembered him giving a technical foul last season to KU coach Bill Self in the UMass loss.
Looks like Higgins has already officiated five games this season, and already, his crew has dished out two technical fouls in those games.
Also, his crews this year has averaged calling 3.2 more fouls on the visiting team than the home team.
Interesting stats, and ones I didn't know existed until a few days ago.
6:32 p.m.
Barring a switch before the game, it looks like the Jayhawks will wear their red jerseys to go with their red shorts for tonight's contest.
6:29 p.m.
Here are some notes about tonight's game. Thanks to KU sports information for some of the KU notes.
• Central Arkansas has been extremely poor from the three-point line this season. The Bears are just 8-for-37 (21.6 percent) from beyond the arc this year. Take out Jared Rehmel's 6-for-16 performance so far this season (31.3 percent), and the remaining Bears are just 3-for-21 from deep (14.3 percent).
UCA has held its two opponents to poor three-point shooting percentages, though, as Hendrix and Tennessee Tech combined to go just 6-for-26 (23.1 percent) from three.
• UCA has forced 22 steals in two games. Tadre Sheppard and Dewan Clayborn both have five steals each, while Rehmel has four.
• UCA has turned it over just 29 times in its two games.
• Four Bears have averaged double figures in the first two games, led by Mike Pouncy's 12 points per game.
• UCA has no players taller than 6-foot-8 on the roster.
• KU's 57 points against Memphis were the fewest points scored by the Jayhawks since a 68-55 loss to UCLA in the 2007 NCAA Tournament. The last time KU won a game when scoring 57 points or fewer was a 53-50 victory over Oklahoma on Feb. 20, 2000.
• KU has won 42 straight at home.
• Through two games, KU center Cole Aldrich is averaging 4.5 blocks per game. He's also shooting 73.3 percent from the floor (11-for-15).
• Helped by his 27-point debut, Xavier Henry still leads the team with a 19-point-per-game scoring average. Sherron Collins is second with 17.5 points, followed by Aldrich at 14.5.
• Opponents are shooting just 23.9 percent from three against the Jayhawks so far this season.
5:45 p.m.
Welcome back to the Newell Post Live, coming to you from Allen Fieldhouse where the Kansas Jayhawks are getting set to take on the Central Arkansas Bears.
Let's start this blog off with a contest.
Post your score prediction of tonight's game in the comments section below. Entries posted after 7 p.m. are ineligible.
The person closest to the score of the game will receive a free "Kream Keegan" T-shirt, though technically, you will be out-dueling me. In the case of a tie, the closest to KU's score will receive the shirt.
I'm going to go with 105-62 KU.
Let's see how many folks are smarter than I am.