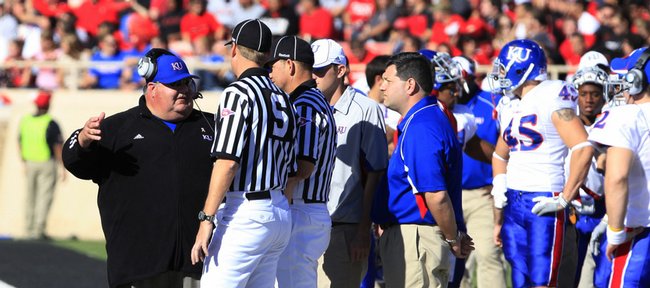 There never were any illusions when running back Brandon McAnderson chose to sign with Mark Mangino's Kansas University football program in 2003.
The then-Lawrence High standout had done his homework, knew what would be expected of him if he signed with the Jayhawks, knew he'd be walking into a situation in which discipline and tough love would be handed out on a daily basis.
"I knew immediately," said McAnderson, who played his final season at KU in 2007. "They told me, 'If you want to get coddled, don't go to Kansas. If you want to play for a guy that's a disciplinarian, then that's what you're getting yourself into.'"
McAnderson chose KU, and the result was an experience that was simultaneously intense and rewarding, one the player says led to an eventual appreciation for Mangino's rough-edged approach.
Following a tumultuous two days, however, in which in-house accusations against the coach have led to administrative action, the extent of Mangino's intensity has been called into question.
The university announced Tuesday it was launching an internal investigation into unspecified personnel issues, the aim of which, the Journal-World has learned, is determining whether the coach's extreme behavior has become an ongoing theme within the program.
The issue arose, according to a source with knowledge of the situation, when Mangino poked senior linebacker Arist Wright in the chest during a game or practice several weeks ago, prompting Wright later to approach athletic director Lew Perkins with concerns about the Jayhawks' eighth-year coach.
The development comes during a five-game Kansas losing streak, in which the Jayhawks — who opened the season ranked 25th nationally and climbed as high as No. 16 after a 4-0 start —face the distinct possibility of a losing season.
Tuesday afternoon, during his regular weekly meeting with the media, Mangino declined to discuss the specifics of the situation, but seemed to bristle at the fact Perkins chose to make the matter public by releasing a statement to the media.
"If you want to know what was said, I'm not disclosing it," said Mangino, who met with the Perkins for 10-15 minutes following the athletic director's meeting with players. "He's the one who's disclosing information about it; I'm not."
The coach went on to say that, despite the distraction, he remained focused on the team's 7 p.m. game against Texas on Saturday and that speculation he has alienated certain players is unfounded.
"I haven't lost the team one bit," he said. "I may have lost some people around here, but it's not the players."
Asked to elaborate, Mangino said, "Take that for what it's worth; you decipher it."
A small group of players made available Tuesday declined to comment on the specifics of Perkins' meeting with players — or the events that preceded it — and appeared uneasy when questions persisted.

Said quarterback Todd Reesing, asked whether he felt Mangino had the support of Perkins, "I think Lew is doing what he has to do in the position he has."
The accusations, if determined to be true, could represent a significant blow to a coach who appears to have struggled with anger issues in the past.
In September of 2002, his first year at Kansas, Mangino publicly apologized following an incident in which he was seen yelling and pointing a finger at high school officials following a Lawrence High football game in which his son, Tommy, had played quarterback.
Two years later, he made headlines for a postgame news conference in which he criticized officials for their performance in the Jayhawks' narrow loss to Texas.
And in 2007, video footage of the coach unleashing a profanity-laced tirade at KU receiver Raimond Pendleton after the player incurred an unsportsmanlike-conduct penalty made the rounds on the Internet.
Still, until now, the outbursts have been looked upon as a personality quirk of a coach with a blue-collar background and a penchant for tough love — a sentiment backed up by the team's on-field success under his watch.
Since taking over a program that had endured six straight losing seasons, Mangino has led Kansas to its most fruitful stretch in history. His teams won six or more games in five of his first seven seasons — highlighted by a 12-1 2007 season in which the Jayhawks won the Orange Bowl and Mangino was named the consensus national coach of the year — and won back-to-back bowl games for the first time ever.
Largely as a result of the success, the university approved plans recently for a $34 million luxury-seating project to be constructed on the east side of Memorial Stadium, expected to be completed by the start of the 2010 football season.
"He's obviously doing something right," senior safety Darrell Stuckey said Tuesday. "He's a guy that comes in here, and he does a lot of things that KU's never seen before. We see (a) BCS game, we see bowl games after bowl games and bowl bids after bowl bids. So as a fan, as a person looking in from the outside, you can't really complain too much about what he's done here."
This season, however, has gone far worse than expected.
With a core of talented playmakers returning on offense and a defense expected to be much improved, the Jayhawks were a trendy preseason pick to notch their first-ever outright Big 12 North title.
But a five-game losing streak in which the team's offense has stalled and quarterback Todd Reesing was temporarily benched has hindered what was expected to be a "historic" year for the program.

And it's no coincidence, Mangino said, that the investigation coincides with an extended losing streak.
"This is what comes when things aren't going well," said Mangino, who added he didn't believe an investigation would be under way if his team were 5-1 in the Big 12 instead of 1-5. "You're going to find disgruntled people. It's the fact of any organization, whether it's sports-related, whether it's corporate — any profession you're in."
For their part, players — past and present — indicated that the coach's approach to discipline, and the way he handles his players, hasn't changed over the years.
"He's always been very stern in his resolve," Reesing said. "... The way he's approached football is the way a lot of people approach it. He takes the same approach that coaches all across the nation do."
McAnderson, who spent five seasons under Mangino at Kansas and credits the coach with instilling in him a good amount of discipline, reiterated Reesing's feelings, indicating that Mangino's approach — while intense — is normal within the realm of the sport.
"If it wasn't football, if you took it out of that context, there were times, if it was just people standing around talking, you'd probably think, 'Wow, that was a little too much,'" he said. "But given the situation, I don't think so.
"People would disagree with me, but it's the situation," he added. "Some of the stuff people say and do in the situation. I mean, people bash helmets over their heads before they come out for football games, and if you saw something like that in the real world, you'd say, 'Wait a minute, something's wrong with this kid.' But that's part of football to me."
What remains unclear is how the university's administration feels about such matters.
KU officials gave no official timetable for the conclusion of the investigation, which will be carried out by KU associate athletics director for risk management Lori Williams, leaving the program with an uncertain future heading into Saturday's game in Austin.
"I'm really not going to be consumed by this," Mangino said. "That's not my nature. ... Texas is my focus, and I'm not going to be distracted by that. We put too much hard work in 12 months a year to prepare for all these games to be distracted and not be ready."
More like this story on KUsports.com