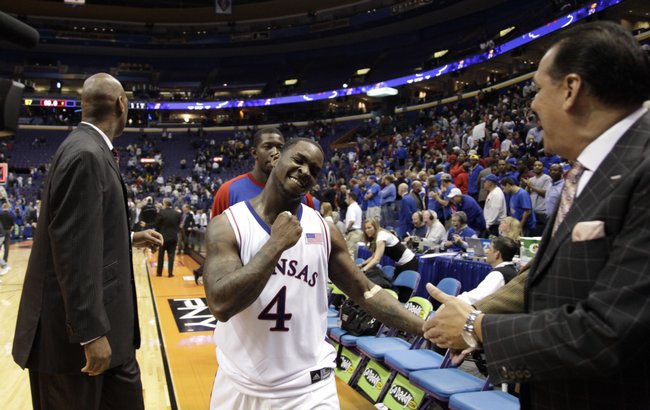 FINAL: KU defeats UM, 57-55
Reed inbounds to Collins, who is bumped in the backcourt. He'll shoot two with 15.3 seconds left.
Collins takes a deep breath, but leaves the first one short. Much like the 2008 national championship game.
He makes the second one to put KU up two.
Williams dances up top, and his three to win it looks like its on, but it clangs hard off the iron as time expires.
KU survives with a 57-55 victory.
KU 56/UM 55 — 16.7 seconds left in game
Memphis comes out in a zone, and after wiggling around the first defender, Collins puts up a floater in the lane. Coleman blocks the ball on its way down, and KU is awarded the two points.
Memphis is on fire late. Wiliams drains a near-impossible stepback three with a hand in his face, and KU's lead is only one with 16.7 seconds left. Pastner uses his last timeout.
KU 54/UM 52 — 48.1 seconds left in game
KU turns it over, but Collins checks back in with 3:47 left.
Markieff tries a lob inside to Aldrich, but the big man can't hold on. Turnover KU.
Markieff makes a crucial mistake on the other end, fouling Mack on a three-point attempt. He makes only one free throw, though, and KU is still up three.
Collins races up the court, and after a spin move underneath, he drew three defenders underneath before dishing to Aldrich for an emphatic jam.
Henry rips away a tough defensive rebound, and he's fouled on his way up the court. Though he looks fatigued, Henry makes both free throws to put KU up seven.
After a missed three by Memphis, Will Coleman tips in the follow, and Taylor is called on a travel after receiving the inbounds pass. Two officials blew the whistle, and one looked like he was ready to call a blocking foul on UM. The other one won out, though, whistling KU for the violation.
Willie Kemp drives under the basket, and he's bailed out by a foul call on Henry. Kemp makes both free throws to trim KU's lead to three.
Collins delivers a nice lob pass to Aldrich, who gathers it and is fouled on the way up. Witherspoon picks up his fifth foul underneath, and he is disqualified after scoring four points.
Aldrich swishes both tries, and KU extends its lead to 54-49 with 1:26 left.
Mack buries a deep three for Memphis, and KU leads by just two with 48.1 seconds left. Self calls timeout.
KU 48/UM 44 — 3:55 left in game
Witherspoon gets away with dragging his pivot foot inside, and he gets a jumper to fall in.
KU responds by finding Marcus Morris again inside, and he finishes with a two-handed jam.
Tough, tough shot by Williams, who put up a guarded three right over Taylor that rattled in.
KU once again goes to Marcus Morris, and he's fouled before he can even get the ball. On the one-and-one, Marcus makes two critical free throws.
Williams gets all the way to the rim for a layup, but KU takes the ball out of the net and races up the court. Taylor throws an alley-oop to Marcus, who is fouled, but he misses both free throws. Aldrich gets the offensive rebound, but KU later turns it over.
Collins is still in the locker room, so this is an early test for the younger Jayhawks. Two freshmen, a sophomore and two juniors on the floor for KU.
Marcus Morris picks up an away-from-the-ball foul, and that's four whistles on him. Markieff checks in for his brother.
Sallie loses the ball underneath, and Markieff did a good job of getting position and trying to take a charge. No call, but the ball sails out of bounds off Memphis.
KU 44/UM 37 — 6:23 left in game
KU does a good job of being patient and working it around the perimeter, finally getting it to Aldrich, who is fouled on the way up for a shot. He misses the first, though, and KU is called for a lane violation on the second.
Johnson turns it over on the perimeter, and Kemp turns it into an uncontested two on the other end. Self uses a timeout to get Henry back in. Memphis is hanging in there only down five.
Memphis presses out of the timeout, and Reed is finally able to get it in. UM is whistled for two quick fouls, and KU will shoot the bonus the rest of the way.
Taylor forces a pass inside, and UM steps in front for a turnover. KU is up to 15 turnovers, and Taylor has four.
Two blocks from Aldrich underneath, and Memphis steps on the end line to give it back to KU.
Collins crumbles once again on the court with cramps, and he slaps the floor in frustration. Trainers take him off the court at a crucial time.
Aldrich might have gotten away with a double-dribble there, as he needed a dribble to corral the basketball before taking a couple more dribbles on his post move. After getting a defender in the air, Aldrich gets two free throws and makes both.
Williams gets free underneath, and he dunks it home to cut KU's lead to five.
Henry forces up a shot that misses, and on the next possession, he jacks up a guarded three that hits rim and falls away.
Reed hustles for a steal, and instead of forcing something, he wisely backs it out to reset the offense. Marcus Morris finally gets the ball inside, and he puts it off the glass for two. I think he was frustrated he hasn't gotten the ball more inside.
KU 40/UM 33 — 11:36 left in game
Witherspoon puts in a two, and Collins loses the ball on the dribble, which turns into two quick transition points for Sallie. Suddenly, KU's lead is back down to six.
Collins hobbles off the court, and he's getting attention on his right leg in front of me. A trainer is pushing his right knee to the right to loosen his leg. Probably a cramp, as the KU training staff immediately brought him a Gatorade.
Following a Taylor miss, Markieff comes through the lane untouched for a dunk on the rebound.
KU 38/UM 28 — 13:52 left in game
UM's Williams gets fouled underneath by Taylor, and he makes both freebies to cut KU's lead to four.
Great leadership play by a composed Collins, who dribbled the ball to the wing then lobbed a nice pass to Aldrich. The big man came down with it and slammed it home, and that play is open for KU every time it works the ball around long enough to get to the big man.
Xavier Henry puts up a wild shot, but he's able to corral his miss and get fouled inside. His two free throws gives KU its largest lead at 36-28.
Following a miss by UM, Markieff grabs the rebound and quickly feeds up to his brother. With a two-on-one break, Marcus quickly throws ahead to Henry, who lays it off the glass for two. KU's entire bench applauds that unselfish play, and Pastner calls timeout with his team trailing by double digits for the first time.
KU 32/UM 26 — 15:40 left in game
The Jayhawks are late on a defensive rotation, and Doneal Mack makes them pay with a three from the right side.
On KU's first possession, it counters with the inside game, as Taylor lobs an alley-oop to Aldrich for a slam.
Memphis throws a zone at KU, and after getting it inside to Aldrich, two quick passes net Henry an open three. He misses, but that's a shot that Self has to be happy with.
After a Henry steal, Collins scoots into the lane and swishes an 8-foot floater.
But just when KU gets some separation, UM answers, as Roburt Sallie puts in a two with a foul, later making the free throw to complete the three-point play.
Taylor forces a nice, low, bounce pass inside, and Marcus Morris puts in a short baseline shot for two. A Memphis player tried to sell a charge, but there just wasn't that much contact there.
Kansas scoring
Aldrich 8 (4-for-5 shooting), Collins 7, Xavier Henry 5, Markieff Morris 2, Taylor 2, Marcus Morris 2.
KU was 10-for-24 from the floor (41.7 percent), 1-for-3 from three (33.3 percent) and 5-for-6 from the free-throw line (83.3 percent).
Memphis was 7-for-25 from the floor (28 percent), 2-for-14 from three (14.3 percent) and 4-for-6 from the free-throw line (66.7 percent).
KU had 11 turnovers, while UM had seven. KU out-rebounded UM, 21-12, in the first half.
Memphis has just one assist. KU has only four.
Some thoughts
• I guess the pre-game concerns about KU's potential turnover problems were warranted. KU has looked sloppy offensively and has tried too many risky passes against an athletic Memphis team.
• Look for KU to force the ball inside in the second half. Self has already talked to his team during timeouts about its size advantage inside, and Memphis hasn't had an answer for the Jayhawks when they've gotten the ball inside. He'll have a little extra time to hammer the point home during this break.
• I would expect this to be closer to the norm as far as three-point attempts go for KU, as the Jayhawks went just 1-for-3 in the first half. Remember, KU shot 27 threes against Hofstra, making 10. I just don't see this as a team that will jack up a ton of three-pointers this year, especially with some of the weapons it has inside along with the quick guards it has on the perimeter.
KU 26/UM 20 — Halftime
Reed misses an open three from the corner in transition, but the Jayhawks pick him up on the glass. Henry gets an offensive board and Markieff Morris grabs an additional carom before getting hacked. He makes both free throws to push KU's lead to 22-17.
Both Morris twins are in at the same time. We haven't seen that too much so far this season.
Collins grabs a rebound off a Memphis miss inside, and he wastes no time racing it up the court. A quick pass to Taylor gets KU two free throws, as the sophomore is fouled from behind. Taylor makes both tries, and KU has its biggest lead at 24-17.
Aldrich gets called for a foul after pinning a block against the rim, and that's two whistles on KU's big man. He'll sit for the rest of the half. The replay showed the block was probably clean, but it's a tough judgment call for an official to make.
Following an offensive rebound, Williams puts a shot high off the glass and in for two. Self takes his use-it-or-lose-it timeout with 38.1 seconds left to set up for a final shot.
Big swing of momentum at the end of the half for KU, as a leaning attempt by Collins was blocked with 6 seconds left and taken the other way by Memphis. On the run, UM had the ball swiped away by Taylor, though, who threw it back up the court to Collins. The senior guard put in a layup with just tenths of a second remaining, giving KU a 26-20 lead at the break. KU gets a much-needed four- or five-point swing at the end of the half because of the quick hands of Taylor.
KU 20/UM 17 — 3:40 left in 1st half
Another steal by KU, but Marcus Morris can't handle a pass from Henry on the other end. The two teams trade turnovers.
Wesley Witherspoon airballs another three-point attempt for Memphis. Ugly game so far, as Henry tries an ill-advised bounce pass in transition that is stolen away.
Marcus Morris puts the ball in KU's playmaker's hands, as he lobs a pass over the top to Aldrich for an easy two.
The next possession, Marcus draws two players on a shot attempt, and though his try misses, Aldrich slams the follow home from the weak side. KU's advantage this game is obviously on the inside, but the Jayhawks have to be patient enough to take advantage of it.
Self agrees, as he isn't happy with a Reed three-point attempt. When Reed comes to the bench, the coach asks why he's shooting long threes when KU is scoring every time it gets the ball inside.
KU 15/UM 14 — 7:16 left in 1st half
Following a Henry travel, Self jumps off the bench and motions for Collins to check back in to replace Johnson. Once the freshman gets to the bench, Self greets him with a question: "What are you doing?"
Taylor's penetration opens the outside for a three from Collins, who swishes it. Aldrich gets the ball underneath the basket on the next possession, and he takes a dribble before putting in a one-handed slam.
KU is finally starting to find the mismatch against the undersized Tigers. Aldrich gets it again in the post, and after a few dribbles, he fades to a shot off his back shoulder for a smooth eight-foot turnaround that falls through. KU has its biggest lead at 15-9, and UM coach Josh Pastner calls timeout.
Kemp gets another three to fall, but Memphis' next attempt clangs off the glass. The Tigers' threes have either been perfect or way off. I think that's the third three-point attempt I remember for UM clanging off the backboard. The Tigers are 2 of 8 from deep.
Another block from Aldrich, and a quick pass upcourt leads to a transition opportunity. Henry misses a short shot, but he's fouled and will have two free throws after the media timeout.
KU 8/UM 7 — 11:55 left in 1st half
Taylor turns it over with a careless pass, but he hustles back to slap the ball away from Willie Kemp to prevent a layup.
Taylor turns it over on a poor entry pass to Marcus Morris. He just didn't have an angle to get it in there. Xavier will check in for Taylor at the next break.
Elliot Williams hits a three from the top to give Memphis its first lead at 5-4. KU, meanwhile, has six turnovers in less than seven minutes.
Henry once again shows his scoring ability, hitting a mid-range jumper over a defender. Any shot right now is better than no shot for KU.
Marcus Morris gets an entry pass from Tyrel Reed and he goes to work, wiggling around inside before putting in a short shot over a defender.
Markieff Morris takes a charge inside, and KU's defense continues to be impressive.
KU 4/UM 2 — 15:36 left in 1st half
Sherron Collins gets the Jayhawks off to a good start, rolling around a screen and rattling in an 18-footer. He roars his approval to the KU bench.
KU has struggled offensively in the earlygoing, turning it over a pair of times and also missing a couple of short shots. Luckily for the Jayhawks, they've made up for it on the defensive end, as Aldrich blocks a shot inside and also clears away a strong defensive rebound.
Xavier Henry gets KU out of an offensive slump, driving inside and putting a short shot in over two defenders to make it 4-0 KU.
Memphis' Will Coleman, a big man sub off the bench, puts in the Tigers' first points on a turn-around jumper at the 15:57 mark.
9:10 p.m.
KU's starters: Markieff Morris, Xavier Henry, Sherron Collins, Cole Aldrich and Tyshawn Taylor.
9:08 p.m.
OK, I take it back. At least 60-65 percent of the fans here are KU fans. Nice showing by the Jayhawks' supporters.
9:05 p.m.
It's a great atmosphere for a college basketball game with lots of blue. I'd say the two sides' fans are split about even, with KU's fans on one side and Memphis' pom-pom-yielding fans on the other.
8:45 p.m.
Here are some notes about Memphis:
• Ten of Memphis' 16 players are between 6-foot-2 and 6-foot-5. The Tigers have just three players 6-9 or taller.
• Memphis shot 48 free throws in its season-opener against Jackson State. To compare, KU shot 40 free throws in its opener against Hofstra.
• Memphis allowed 14 offensive rebounds to Jackson State in its opener. KU might be successful on the offensive glass tonight, as the Jayhawks had 18 offensive rebounds against Hofstra in their first game.
• Memphis had 14 assists and 14 turnovers against Jackson State.
• Duke transfer Elliot Williams, a 6-5 sophomore guard, led Memphis with 19 points against Jackson State. Williams started 12 games for Duke last year.
• Memphis coach Josh Pastner was a walk-on on the 1997 Arizona team that defeated KU in the Sweet 16.
• Memphis is 0-8 all-time against No. 1-ranked opponents.
7:55 p.m.
Welcome back to the Newell Post Live, coming to you from the Scottrade Center in St. Louis, Mo., where the Kansas Jayhawks are getting set to take on the Memphis Tigers.
With the Louisville-Arkansas game barely past halftime here, there's virtually no chance of this game beginning at the 9 p.m. start time. Plan your schedule accordingly.
I know it's early, but here's something I wondered about this team after three games: What is KU's biggest weakness?
Last year, the Jayhawks didn't always consistently hit the outside shot. Oftentimes, teams that used zone defenses gave KU fits.
This year, it looks like Xavier Henry's shooting range will make many coaches think twice about zoning the Jayhawks.
Rebounding shouldn't be a problem, either, with Cole Aldrich, Thomas Robinson and (the more athletic) Morris twins underneath.
Defensively, KU has had a high number of steals so far, and coach Bill Self's teams tend to only get better defensively as the season goes on.
About the only potential weakness I can come up with at this point might be turnovers. It was a problem for the Jayhawks last year, and with some young (Elijah Johnson) and sometimes careless (Tyshawn Taylor) players at the guard positions (along with Sherron Collins, who will have an occasional turnover here and there), KU still might have issues giving the ball away.
Again, that's just a guess for a weakness this early in the season. KU turned it over only 12 times against Hofstra, and that's an awfully good number.
We'll learn more tonight, as Memphis pressed some of the game against Jackson State and forced 20 turnovers. I don't know how much the Tigers will press the athletic Jayhawks, but we should get a better gauge of how well KU protects the basketball against UM.