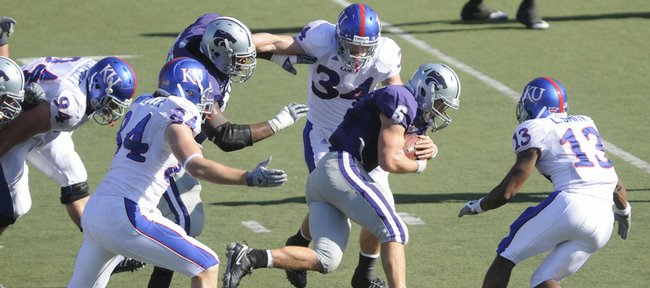 On the heels of a four-game stretch in which his team has reserved some of its worst play for the fourth quarter, Kansas University football coach Mark Mangino said Monday that the focus going forward will be making sure the Jayhawks figure out a way to buck their recent trend.

"One of the things that we need to focus on is being able to make stops in the fourth quarter and being able to score some more points in the fourth quarter," Mangino said during the Big 12 coaches teleconference. "Because that's been an issue."
And a serious one, at that.
In the past four weeks, the Jayhawks have given up 53 points in the fourth quarter — while scoring just 17 — and wasted a number of promising opportunities in the process.
With the exception of their Oct. 24 loss to Oklahoma, for instance, the Jayhawks have held a lead or been within a touchdown heading into the final quarter in each of their past five games.
What they haven't done, however, is manage to win a game during that stretch.
"I think there's fundamental reasons why it happens," Mangino said. "I think there's some young guys out there that don't understand the sense of urgency of fourth-quarter play. But it's our job to teach them, to get them better. And that's what will be our focus."
Bowl eligibility now goal: At 5-5 with two games remaining, Kansas needs one more victory to become bowl-eligible for the fourth straight season, a feat the program has never before accomplished.
And with a number of preseason goals having fallen by the wayside, earning that sixth victory will likely be the only way to salvage a season that hasn't gone as planned for a team that entered the year as a trendy pick to win the Big 12's North Division.
"Our kids have a lot of pride," said Mangino, whose team will play Texas on Saturday followed by Missouri on Nov. 28. "They work very hard, they've taken ownership of the program, they're invested in it. And although it's painful, we are still going to scratch and claw and try to find a way to get a win here to get bowl eligible. That's how we do it. That's who we are."
UT's Brown not fearing letdown: With just two regular-season games remaining in what to this point has been an unblemished season, Texas coach Mack Brown has seen enough of his team to know this: A late-season letdown is not imminent.
"I don't think at all," Brown said Monday. "This team has played well every week. Usually you get a pattern of teams through the year. Our 2007 team was a team that played up and down.
"Our 2005 team played pretty good every week. Last year, our team played pretty hard and pretty good every week, and this year is just an extension of last year's team."
What's more, Brown added, is that there no lack of motivational factors heading into this weekend's matchup with the Jayhawks.
For Texas, it will be the senior's final home game, and with a victory, the Longhorns would lock up their second Big 12 South title in the past five seasons.
"There's a lot of things on the line for us," Brown said. "You never know, but in viewing them yesterday in the team meeting, I think they're really excited about the challenge of Kansas coming in here and our seniors playing their last game at home."
KU football lands Turzilli: Andrew Turzilli, a 6-foot-4, 185-pound receiver out of Butler, N.J., has committed to play for the Jayhawks, according to Rivals.com.
Turzilli, who has caught 39 passes for 750 yards and 10 touchdowns as a senior this season, represents Kansas' 15th known commitment in the Class of 2010.
More like this story on KUsports.com