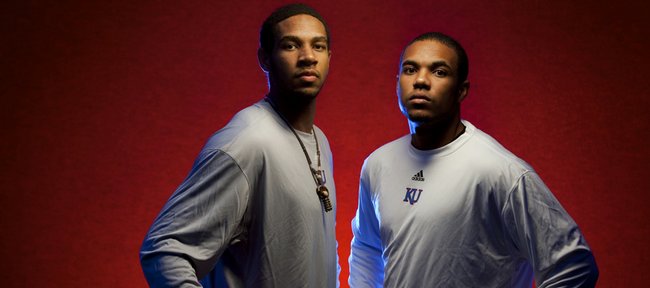 C.J. Henry, who played basketball at Memphis last season, remains good buddies with several of the Tigers.
"There's been some smack talk this week," said Henry, Kansas University's 6-foot-4 freshman combo guard.
"It'll be a fun game since I know some of the players," Henry added of today's KU-Memphis Hall of Fame Showcase clash (9 p.m., Scottrade Center). "It's just like playing AAU ball, you know most of the guys on the other team. It makes it more competitive since you have a personal relationship with the other team."
Henry transferred to KU last spring to remain a teammate of his brother, Xavier, who signed a letter-of-intent with Memphis, but was granted a release in response to Tiger coach John Calipari taking the Kentucky job.
"I help the (KU) coaching staff a little bit, let them know some of their strengths and weaknesses," Henry said of the Tiger players. "Obviously their players got better (over offseason). And there are new guys there. They've got a good team. I know they like to push the tempo."
Henry, who has practiced the past few days after missing two weeks because of a swollen right knee, on Monday was cleared by doctors to play tonight.
"It's all up to coach (Bill) Self. If we need me, I'll be in there, but my first game back ... nationally televised game ... I'm not expecting to get major minutes because that wouldn't be right. It wouldn't be fair to my teammates. I may not be ready, just conditioning wise. I think I'm fairly ready."
KU coach Self said Henry likely would not play today.
"I would probably guess, 'No,''' Self said. "He's feeling a little bit better. I don't know if I'll put him out there unless I feel he's close to being 100 percent."
Henry said he's tried to "stay positive" while battling his sore knee.
"I try to support my other teammates, help them do well if I'm not able to be out there," Henry said. "Stuff happens for a reason. It's kind of ironic I'm cleared to play coming back against Memphis, the school I went to last year, but I'm taking it day by day."
Memphis senior Willie Kemp says it'll be fun seeing Henry tonight.
"C.J was a very quiet guy when he was here, but he was very funny," Kemp said. "I know C.J. wishes he could be out there, but he will be a help to the team if he is playing or on the bench."
Kemp said the Tigers held no animosity toward Henry for transferring.
"C.J. is a great player. He had a decision to make to be with his brother. I can't blame him for that," Kemp said.
X's take: Xavier Henry said playing a school he signed with, "is not a big thing to me. We (he and C.J.) haven't talked about it at all. We look at it as another game. We have to go out and play hard."
Of his decision to ask out of his letter, Xavier said: "I like coach 'Cal.' He's the reason I went to Memphis and my brother. Once he (Calipari) left, we re-evaluated everything and changed schools."
Xavier said he's friends with "pretty much all the guys who didn't leave. Big Pierre (Henderson-Niles), (Doneal) Mack and (Roburt) Sallie — all of them. They are all right."
Self said it would not be a "huge deal" for the Henrys to go against Memphis.
"It'll be a high incentive game, just because it's a big game," Self said.
Morris' signed with Memphis: Marcus Morris and his brother, Markieff, initially signed with Memphis before asking out of their letters of intent. They chose KU over Villanova and St. John's.
"I didn't feel as though I had a strong bond with the coaches. I felt if I was going to college I should be talking to the coaches more, having a conversation about playing. Us (twins) and Calipari never really talked. As soon as I opened my recruitment and was allowed to talk to coach Self, whenever we were allowed to talk, we did. Even after I committed, we talked almost every day. That went a long way for me and my brother."
Robinson liked Memphis, too: KU freshman Thomas Robinson chose KU over Memphis in recruiting.
"Real close," Robinson said, asked how close he came to choosing the Conference USA school. "I thought it was a great place. When it came down to the end, I felt more comfortable here."
Recruiting battles: Self admitted it's wacky that so many Jayhawks considered attending Memphis.
"It's a crazy world. We've gone head to head with coach Calipari and his staff many times and will continue to go head to head with Kentucky," Self said. "Now that Josh (Pastner) and Cyp (U of M assistant Glynn Cyprien) and the staff are all in place, they'll recruit a very national level also."
Releford speaks: KU sophomore Travis Releford commented Monday for the first time on his decision to red-shirt.
"It was a very tough decision to make," said Releford, who said he made the decision last Tuesday, waiting until Friday to announce. "I sat down, talked to my family and coaches. I figured it'd be the best decision for me this year. I have another year to get better and improve on my game."
He said one of his teammates helped in the process.
"I talked with Brady Morningstar. He said it was one of the best decisions he's made," Releford said of Morningstar, who red-shirted in 2007-08. "A lot of people have made me feel comfortable about this decision. I think I'll make an impact on the team next year for sure."
Releford said he and fellow red-shirt Mario Little would attend all games this season.
"I'll cheer my team on, try to make the players better," Releford said. "I'll be at every game, having another year to work on my game."
Recruit attending: Brad Beal, a 6-3 junior from Chaminade High in St. Louis, will attend tonight's game. He's considering KU, Duke, Florida, Illinois, Missouri and Ohio State.
More like this story on KUsports.com